Bitcoin News: While all is not well with Bitcoin (BTC) in terms of its price point, all seems to be pretty well with the token in terms of publicity-wise. The latest data from Google Trends observe a rise in Bitcoin popularity, while it's price point falls below the $4500 mark.
According to Google Trend's data for 'Bitcoin', this week's proportion of searches runs the highest in comparison to any weekly period since April 8, at which time the price point ranged between $7000 – $10,00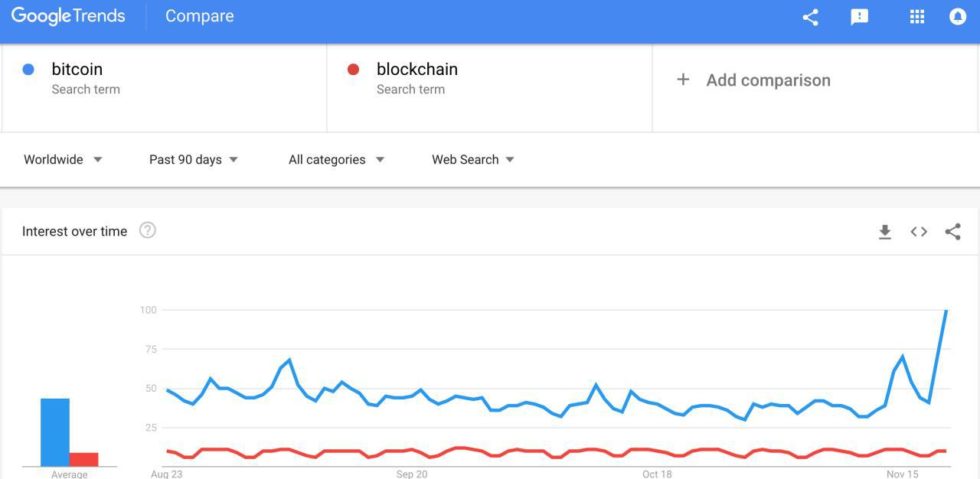 Notably, the interest in some related terms, such as 'is Bitcoin dead' and 'HODL,' was also highest since February this year when the price was trending down from all-time highs around $20,000.
Ordinarily, the decrease in price point will indicate 'risk' in investments, but in the case of BTC, where increasing awareness and interest is a major plus, we can adhere to the quote that states that 'any publicity is good publicity.'
The ailing market condition of BTC could be attributed to multiple reasons, whether the postponing of Bakkt's BTC futures launch from  December 12 to January 24 or due to the Bitcoin Cash hash war. While most traders hope for a reversal of the current bull market, experts believe that 2019, will be way better for the ecosystem.
Read more: Bitpay CCO Sonny Singh Claims BTC Will Jump Between $15000 to $20000 In 2019