How To Buy Bitcoin With Credit Card In India- A Step-By-Step Guide
The price of Bitcoin has been at its lowest since the end of December last year as of publishing this article. Everyone who wants to get in on the action now has the perfect time to buy bitcoins before its price shoots up again.
In fact, experts have been saying by the end of 2018, the Bitcoin could hit  $100,000, and if this happens, no one want's to miss this flight. If you have planned earlier or still planning to buy bitcoin, but being hesitant due to the lack of funds, there are always other ways to buy Bitcoin. One of them is credit cards!!
Also Read: Bitcoin Price To Touch $50,000 in 2018, Says Spencer Bagort, Partner At Venture Capital Firm – Blockchain Capital
Buying Bitcoin with a credit card can be as safe as other methods, but it can be a bit trickier and expensive. However; there is no shortage of options if you know the right place to look at. Here are some of the bitcoin exchanges that allow you to buy Bitcoin using a credit card:
Disclaimer: Please note that the methods below work only in India, and some other countries. Kindly check with these exchanges if they allow you to buy Bitcoins using credit cards in your country.
Unocoin
Unocoin is a popular Bitcoin Exchange and a bitcoin wallet service provider in India. Unocoin enables its users to buy Bitcoin online using debit and credit card, Net banking or PayUmoney. Below are the steps to get you started on the process of buying Bitcoins using credit card from Unocoin:
Initial Requirements
-A PAN card and phone number for verification
-Credit or Debit card
-A stable internet connection
Registration and Verification
Enter a Valid email ID and password on the home page, and click on REGISTER NOW button. An email will be sent to your email address, which you need to verify to follow rest of the registration process.
Depositing Money In Your Unocoin Wallet To Start Buying and Selling Bitcoins
You can start exchanging Bitcoins once you are a verified user. First, you need to have a Unocoin wallet ID. Follow these steps to get the ID and deposit money in your wallet from a credit card:
Verifying your account is must. Go to Account settings, and then to Bank Accounts as shown in the below screen: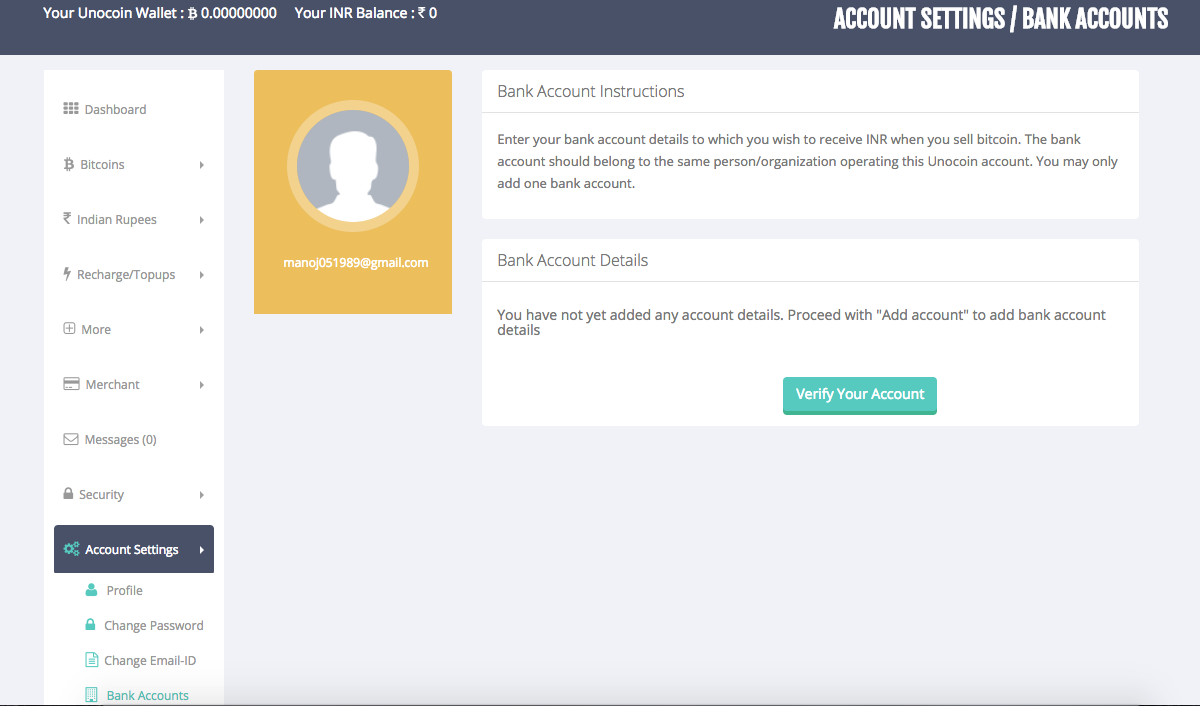 2.Enter your bank details and PAN card number on the next screen, and click on Next: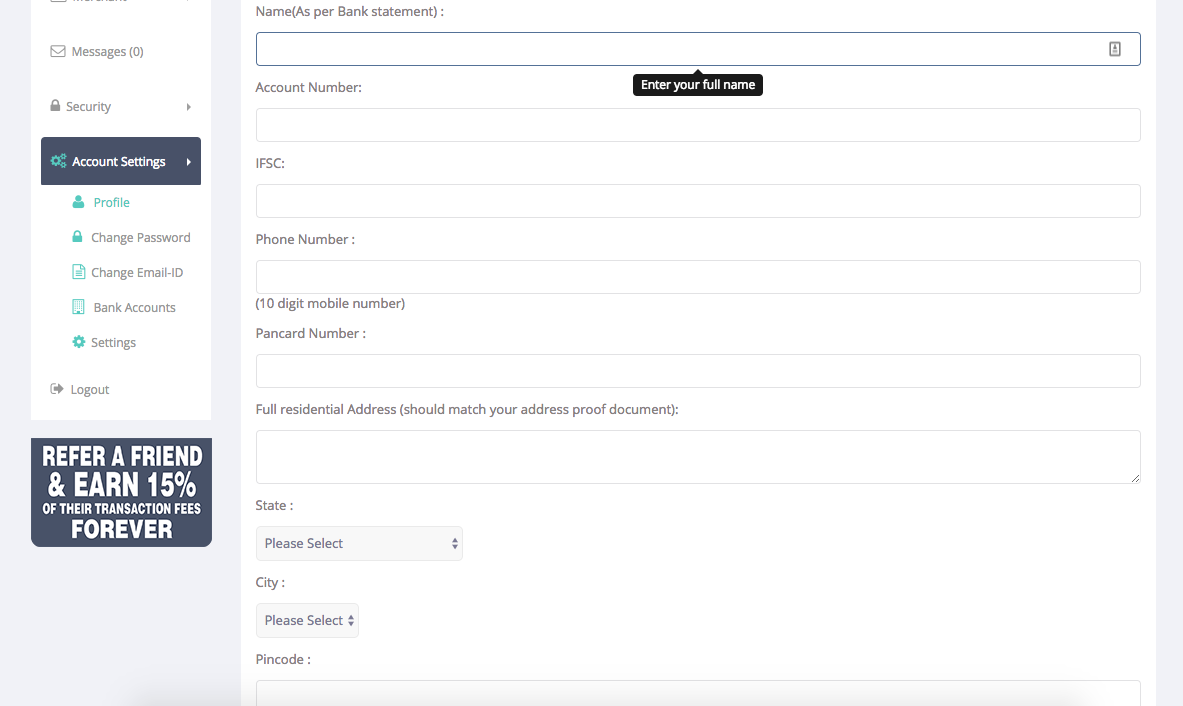 3. On the next screen, you need to upload a digital copy of your PAN card, a photograph, an ID proof, and Aadhar card.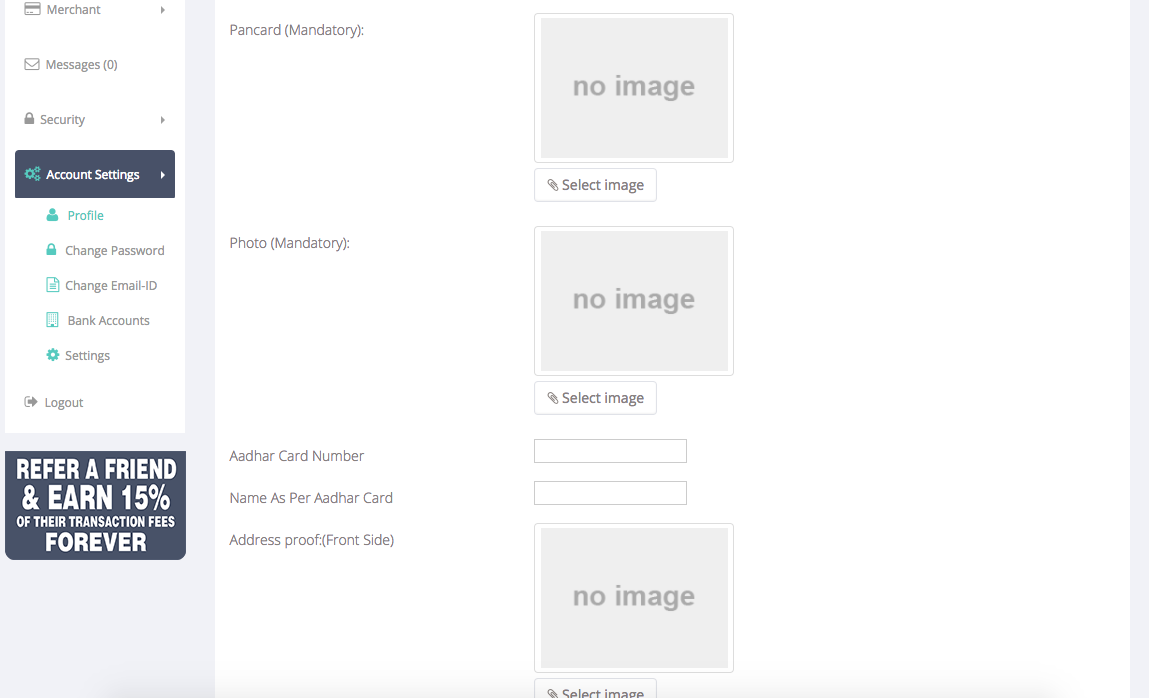 4. Unocoin team takes two to three days to verify the information and documents submitted by you. A verified account looks like the below image:

5. As you can see, you have three options to buy Bitcoin, i.e., INR Balance, PayUmoney, and Netbanking. Out of these options, only PayUmoney allows you to buy bitcoins with credit card.
How To Deposit Money In PayUmoney using Your Credit Card
Go to payumoney.com, and click on Create Account, and choose "Customer SIGNUP", displayed on the top right.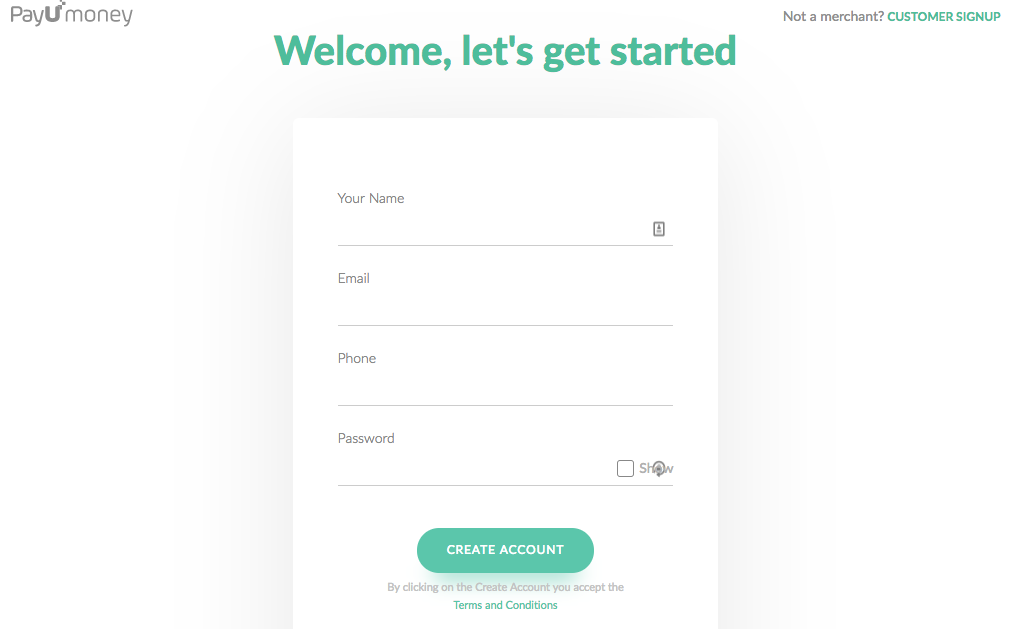 2) It will take you to Citrus Wallet as PayUMoney Wallet is now Citrus for customers. Choose "customer" from Login's drop-down options.
"It will take you to Citrus Wallet as PayUMoney Wallet is now Citrus for customers. Choose "customer" from Login's drop-down options.">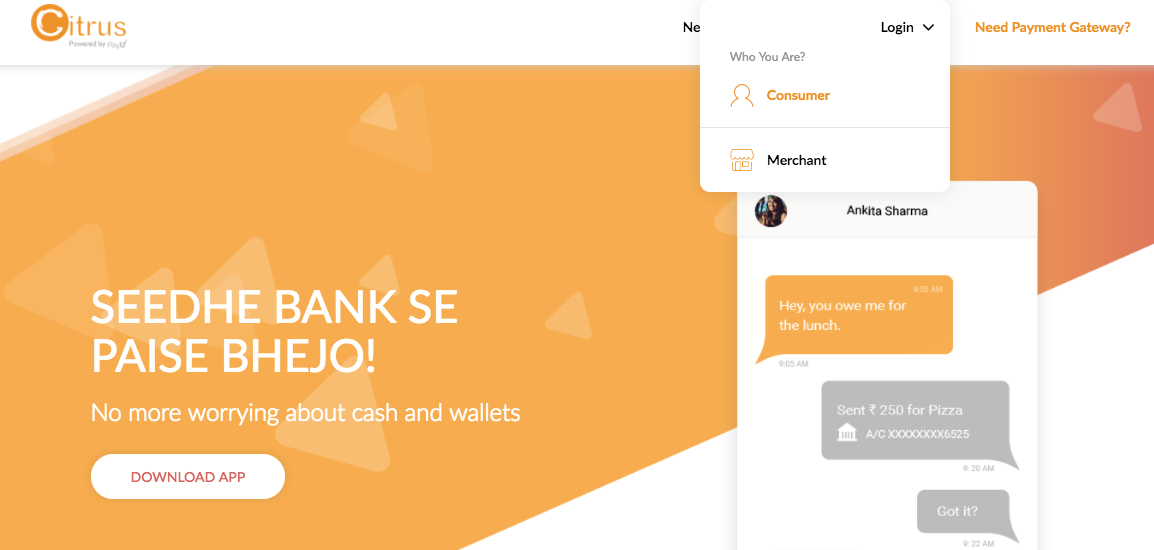 3) An OTP will be sent to your mobile number. Enter the OTP to verify your account, and click on account. Ensure that you use the same email address, and the phone number you used while registering for Unocoin Bitcoin Wallet.
4) Click on "Add Cash" displayed on the top right of the screen.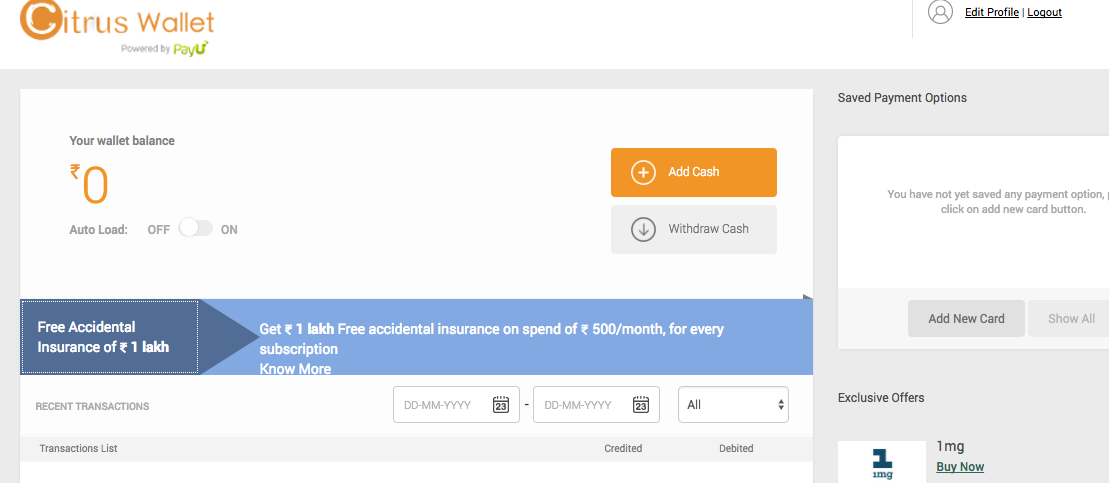 5) Chose the amount, and Card option on the next screen to deposit money in your Citrus account, and enter your credit card details.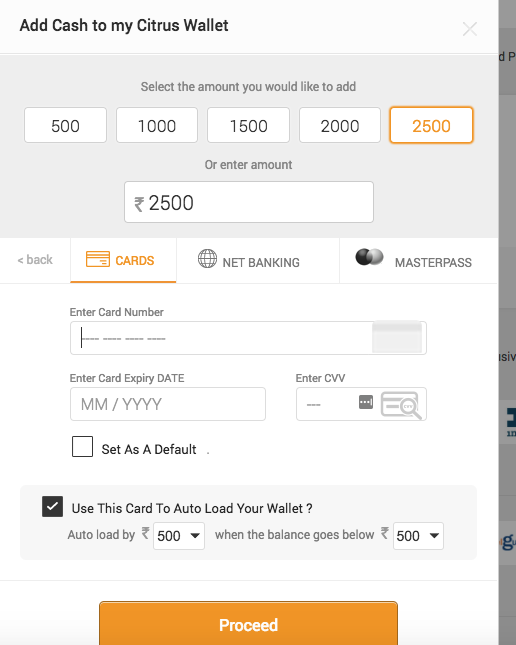 Note that PayUMoney allows you to deposit only INR 2500 at once.
6. Now go to the Unocoin website, click on Buy, and choose PayUMoney to add Bitcoins to your account.
7. The process of adding money is now completed from your end. Wait for 4-5 hours, and the Bitcoins will start showing in your account.
Xcoins is another platform to buy Bitcoin with credit . Not only bitcoins but Xcoins also allows to buy other cryptocurrencies like Ethereum, Litecoin,Monero and Dash using your credit card. Follow these steps to buy bitcoins with your credit card on Xocins:
Sign Up for the website using your email address.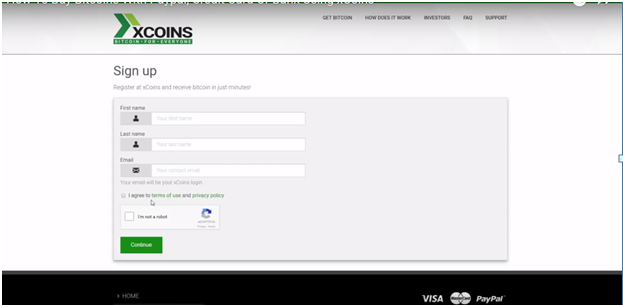 2. Their interface is quite simple with three options available, i.e., Get Bitcoin, Lend Bitcoin, and My Wallet.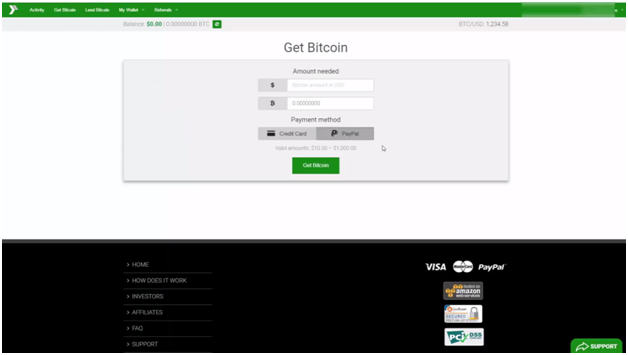 3. Click on Get bitcoins and follow the further steps.
After completing all the steps, nter your credit card details, and verify the transaction. However, since you are using Xcoins for the very first time, it will take you to a page asking for your ID card as it is required for the first-time borrowers.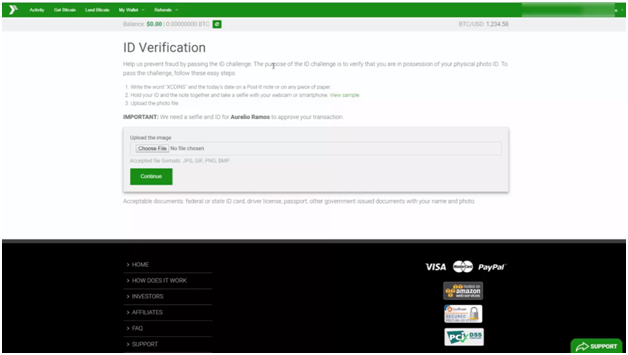 4.Upload your ID card as per the guidelines mentioned on the page. Within a couple of hours, your transaction would be approved by the Xcoins team.
Paxful allows you more than 300 ways to buy bitcoins using your credit card. It has a simple user interface, allowing you to make transactions easily. Use these steps to buy Bitcoins using Paxful:
1. Go to the website Paxful.com, enter the amount in INR and select the " ANY Credit Card" option on the left, and click on Buy Bitcoin Now.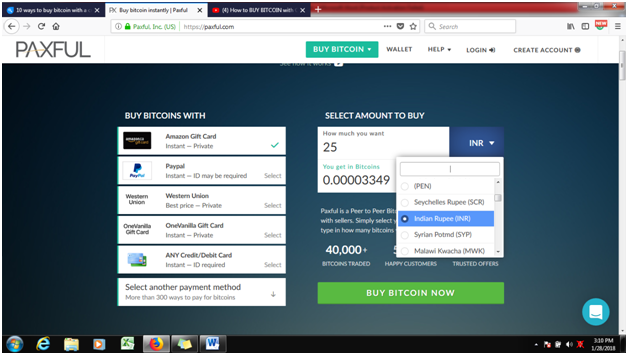 2. The next screen will show you the offers posted by the seller. In the image below, you can see the seller is offering Bitcoins by asking you for almost no verification.
(Since there were no current offers in India, the below image is for USD, just to show how it is done.)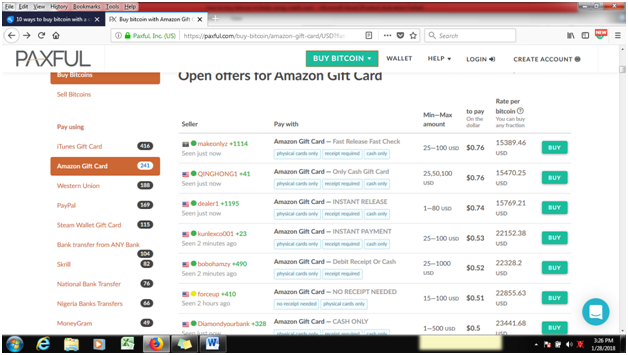 3. Click on the Buy tab, and sign up for a free account to make the trade using your email.
4. Confirm your email, and click on the Buy button to start chatting with the buyer.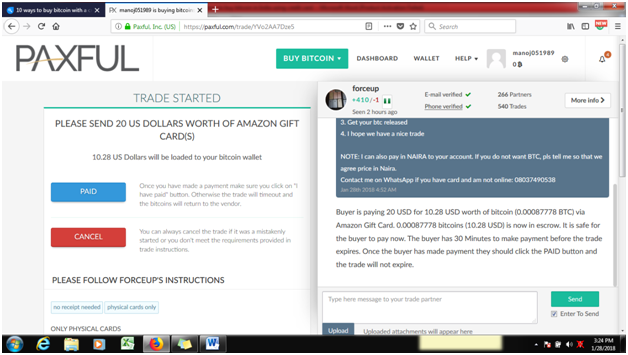 5. Upload the requirements of the buyer if there are any, and start chatting. You can even contact the sellers.
6.  Use your credit card to pay for the Bitcoins, and click on the Paid button, located on the left-side of the page.
7. Within a couple of hours, you will receive Bitcoins in your Paxful wallet: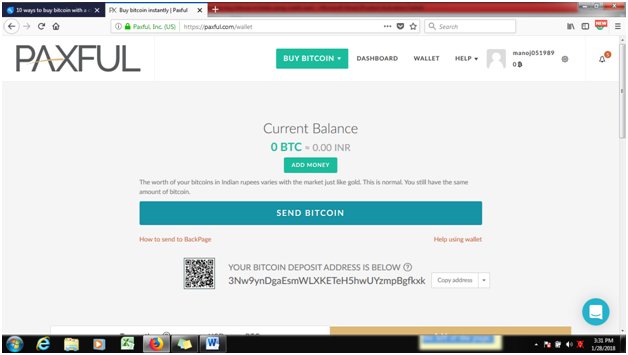 You can choose to send Bitcoin to your other account or to sell it at a profitable rate.
Coinmama
Coinmama offers one of the most secure and safe ways to buy Bitcoin with credit card in India. There are more than 12 million active users on this platform, making it one of the most used platforms for buying Bitcoins. Follow these steps to buy Bitcoins using credit card on Coinmama:
1) Go to coinmama.com, and enter your email address.
2) Verify your email address. Click on the "Verify your account" option displayed on the menu of your account.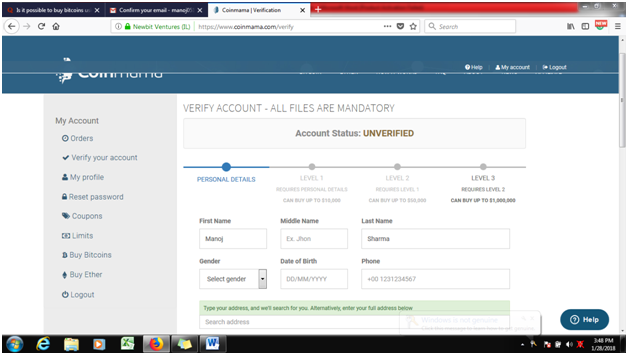 3) Enter your information as mentioned on the ID you are going to upload on the next screen.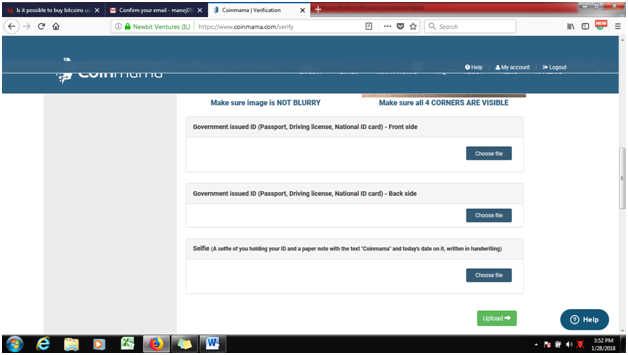 4) Once you upload all the required files, Coinmama team will take some time to verify your account details. Once it is verified, you will be able to purchase up to a certain limit. To buy beyond that limit, you will have to submit a couple of more details.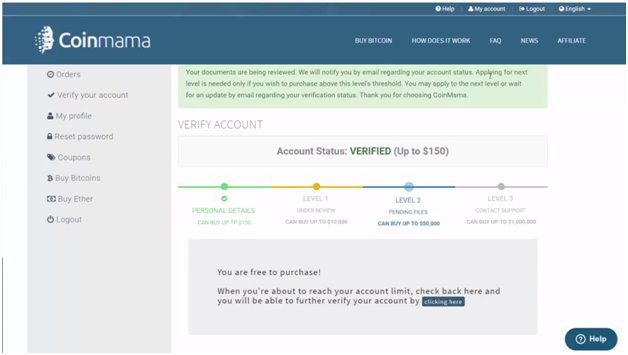 5) Now, go to your account, and enter the amount you would like to spend, and click on "Buy Now" tab.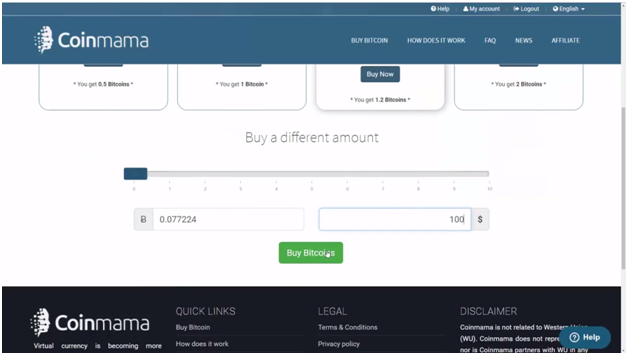 6) Choose "Credit Card" from the method of payment. Next screen will ask you to enter the wallet address. Make sure you enter the address, and not the ID.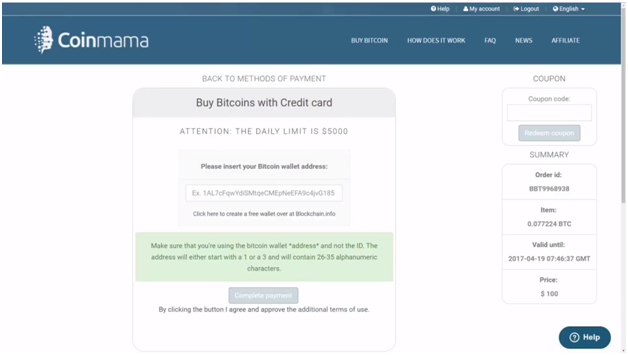 7) If you don't have your wallet address, you can create one on any Bitcoin wallet. Here is a list of best bitcoin wallets available.
8) Now complete the payment by entering your credit card details.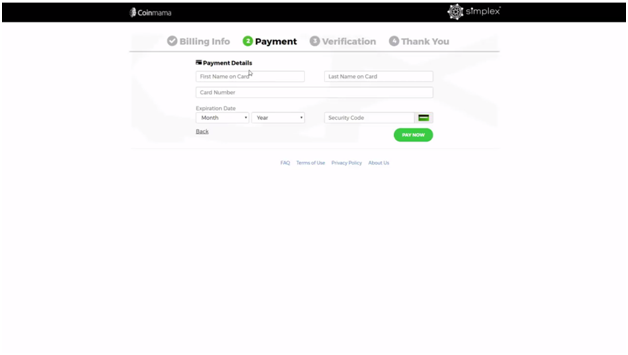 9) After completing the process, the status will show you "In Process" until the Bitcoin starts showing into your account.
Bitstamp
Bitstamp is another website that allows you to buy Bitcoins with credit card and Bank transfer. Bitstamp is one of the oldest platforms that has survived the hackers' attacks. Read these steps to get started with the process:
1) Go to bistamp.net, and enter. Enter your information and complete the registration. Verify your account by following the same steps written for above platforms.
2) Click on the "Deposit" option on your account, and click on the "Credit Card" tab on the left-hand side of the menu.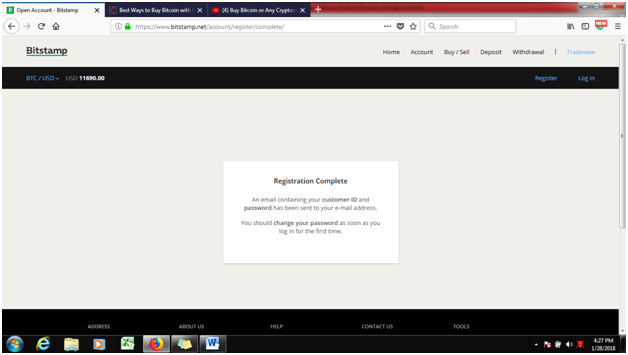 3) Follow the simple process of filling the credit card information, and verifying the payment to receive the fund in your Bitstamp account.  You also need to submit a photo of you holding the credit card used for the payment. Make sure it is a high-quality photo, where your card's first and last 4 digits MUST be visible.'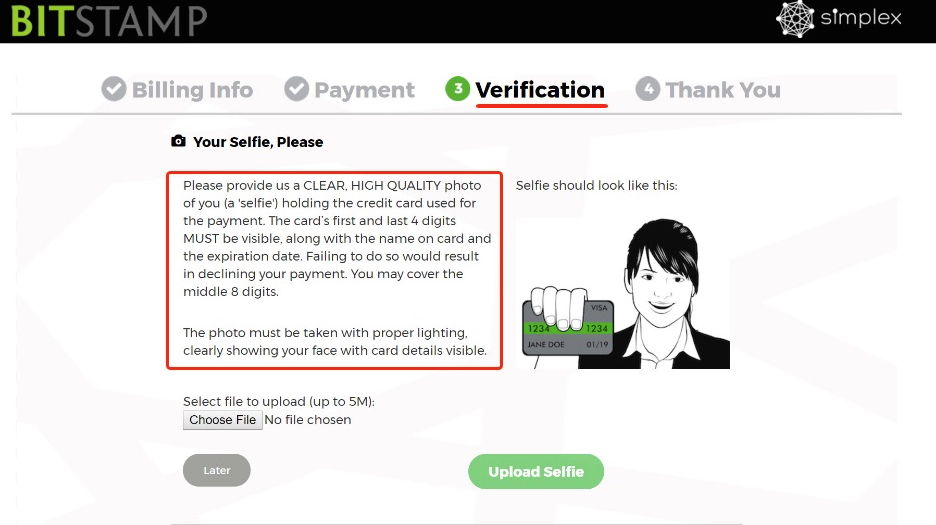 4) Once you receive funds in your account, you can start buying on Bitstamp using a simple process of Buying.
Some More Options To Buy Bitcoin With Credit Card
There are many other options available to buy bitcoin with credit card in India. For example, CEX.io, however: this website has currently stopped accepting requests from India, but may start in the future.
Indacoin, 24/7Exchange, and BitPanda also allow users to use credit cards to buy Bitcoins from them. Though these platforms are good, the reviews are not satisfying, and we do not recommend anything to users that we haven't used personally.
The Risk In Buying Bitcoin With Credit Cards
Buying Bitcoin with credit cards is similar to purchasing anything else online with the credit card. The important aspect to note here is the merchants you are buying from should have a good reputation.
Conclusion
Hopefully, with this step by step guide, you will be able to buy Bitcoin with credit cards. We suggest to do your own research before buying bitcoin with credit card  using the above mentioned platforms as we do not take any responsibility for your losses.You must know that you are investing in a volatile market so as to make perfect use of your credit card. That's pretty much for now! We will keep you posted as soon as other platforms start entering in the field.In the meanwhile, if you have any queries, let us know in the comments section below.
KryptoMoney.com publishes latest news and updates about Bitcoin, Blockchain Technology , Cryptocurrencies and upcoming ICO's.
Subscribe to our newsletters and join our Telegram Channel to stay updated.