In recent years in the field of decentralized storage and data retrieval, the data retrieval speed of the InterPlanetary File System (IPFS) has been a major pain point (issue for a long time). However, a paper published in SIGCOMM, an international communications network summit, which is a technical breakthrough for blockchain storage industry for many years.
Enhancing Data Retrieval Speed in IPFS by Using ICN and NDN Networks
From 24th to 26th September, 2019, SIGCOMM summit held successfully in Macau, China. This is a famous summit organized by Association for Computing (ACM)  cooperation with Cisco, Huawei, Intel and other international top network infrastructure manufacturers in communication network field. ACM contains multiple professional organizations, and Special Interest Group on Data Communication (SIGCOMM) is only one of organizations.

Meanwhile, SIGCOMM has a vital feature. The organization has extremely high standards on paper's quality and quantity. The papers selected for the conference will not only have a fundamental contribution, but also have a leading influence and a solid system background. In terms of quantity, SIGCOMM will only accept about 30 papers in conference every year, and its acceptance rate Only around 10%. Of course, basically all  papers accepted by SIGCOMM will be widely cited. Therefore, it is an honor for all researchers in the communication network field to publish papers at the top conference, SIGCOMM. This shows that this technology will inevitably bring a dramatic change in the blockchain storage space.
On the afternoon of September 25, 2019, eight computer scientists from University of London, the University of California, Los Angeles, and Osaka University in Japan published a paper about a proposal of brand-new IPFS data retrieval , which attracted the attention of scholars and experts in decentralized storage field. The paper illustrate that IPFS data retrieval capability improved to more than 20 times by NDN technology.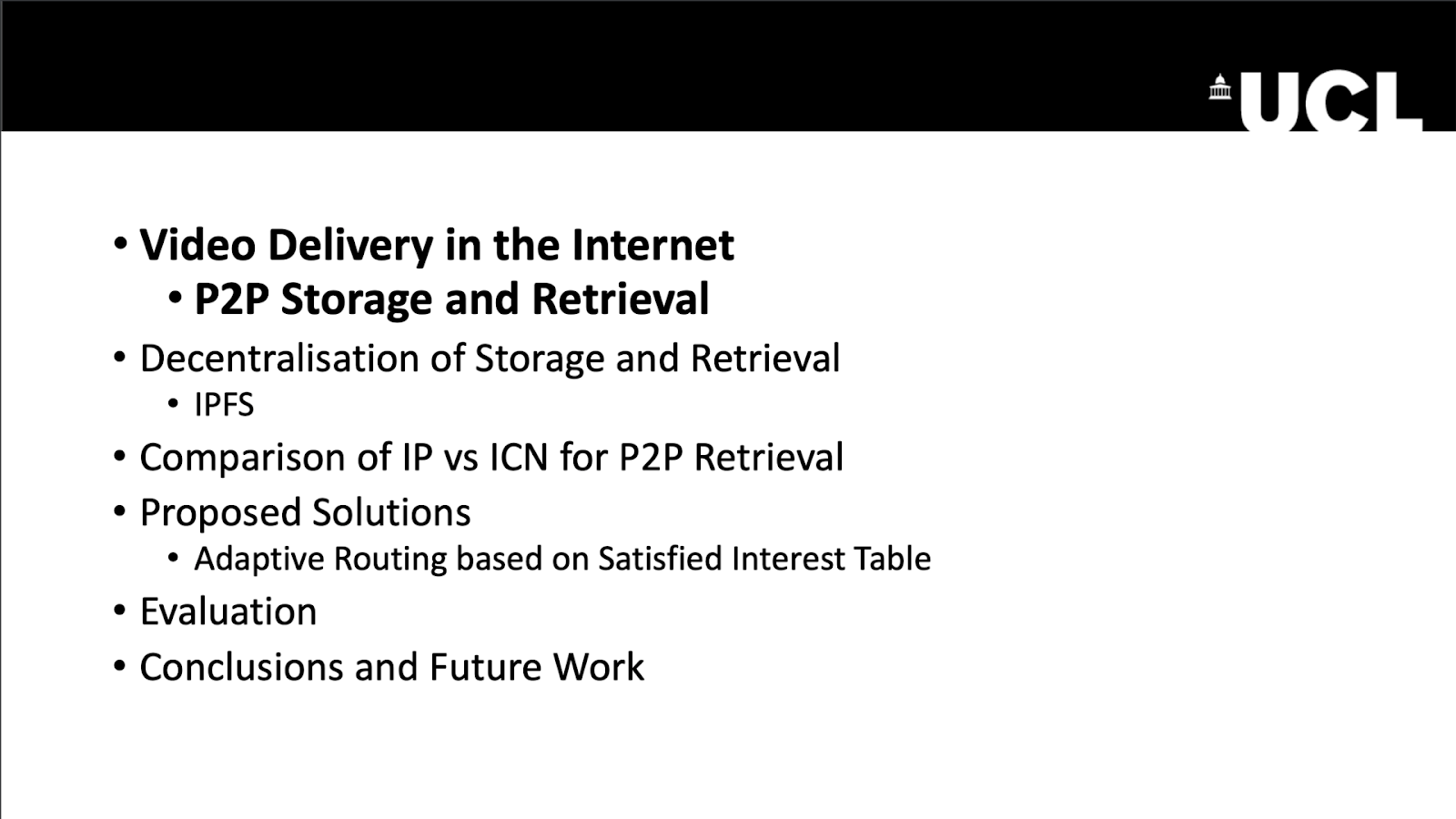 The Future Direction of Technology: Decentralized Storage and Data Retrieval
In this conference paper, 8 scientists introduced the demand of video content distribution on the Internet in the first place, thus explain their thoughts with the field of P2P storage and retrieval. They all agreed that IPFS as representative, the decentralized storage and retrieval will be the development of future-direction for industries and technology.
In addition, scientists compared the performance differences of IP and ICN / NDN networks in P2P retrieval from a professional perspective respectively, 
Also, it pointed that shortcomings of data retrieval performance in IPFS, and proposed a based on Satisfied Interest Table (An algorithm with Satisfied Interest Table) for adaptive routing algorithm, which can increase the retrieval speed of existing IPFS networks by dozens of times.
In the summary, scientists elaborated preparations for future work. They hope to further integrate blockchain and NDN technology, and ultimately promote the comprehensive innovation of blockchain storage technology.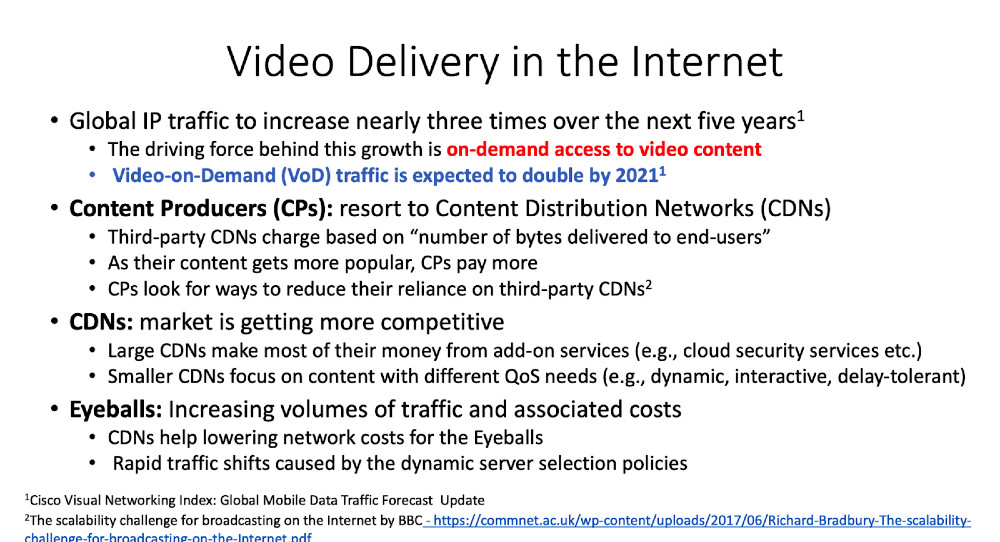 Over the past five years, global IP traffic has increased suddenly triple, and the core driving force behind the increase in traffic is rapid demand from public for video content. According to authoritative data, the amount of video demand data will double again by 2021. Currently, many content producers rely heavily on CND vendors to distribute their content to more end users. Although, the more popular content producers are willing to pay more traffic distribution fees, these content producers generally tend to reduce this part of the cost.
On the other hand, there is highly competitive in the CDN market. The network and hardware costs for large CDN companies are very high. At the same time, CDN services profits are relatively low, and the source of profits mainly depends on additional services. Under the circumstances, peer-to-peer (P2P) network have incredible advantages.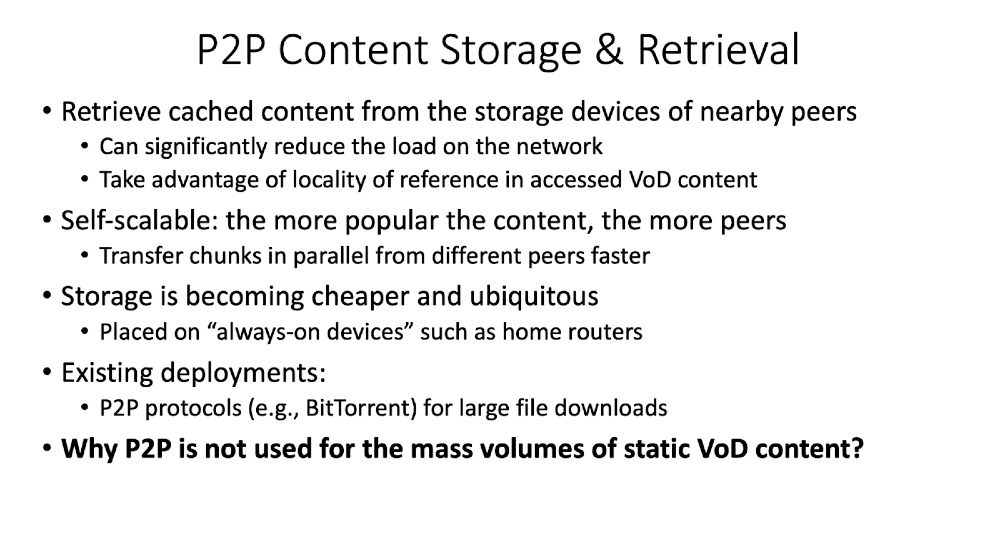 In general, a peer-to-peer network can retrieve content through the storage devices of nearby nodes, thereby reduce loading for the entire network. What is more, the peer-to-peer network has self-enhancement capability. The content become more popular, the more nodes are caching content data, so the cost of storing data becomes very low. However, the current peer-to-peer network is mainly used for downloading large files, and it has not been popularized among user group in-general. To some extent, the peer-to-peer network has certain commercial potential.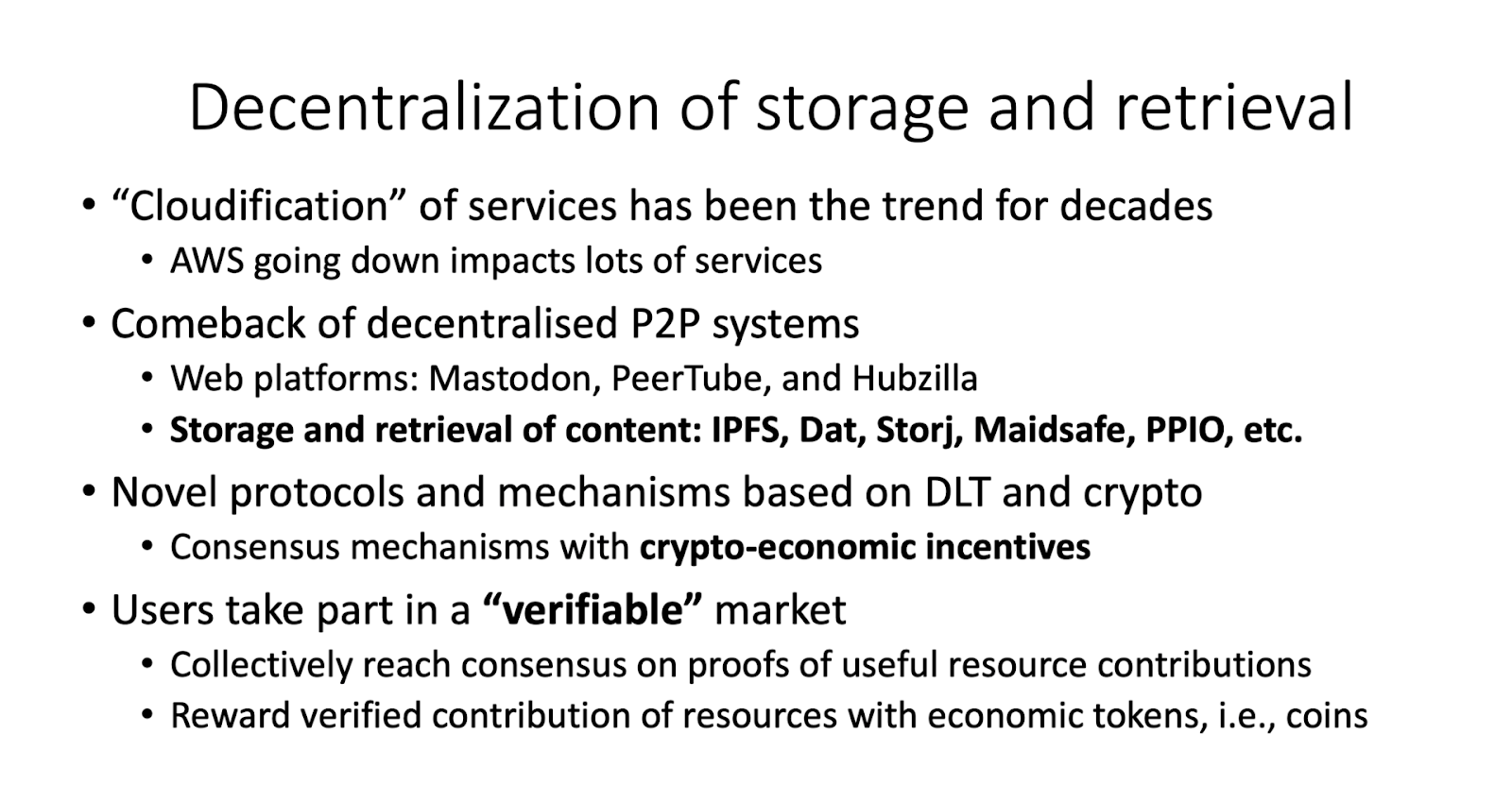 Above the concept of point-to-point network, the industry has further developed the distributed storage concept. Distributed storage provides decentralized data storage and data retrieval capabilities. Distributed storage based on new protocols and mechanisms of the distributed ledger and cryptography, through the consensus mechanism and cryptographic cryptocurrency, to provide certain incentives to resource providers. Moreover, it can help market participants reach consensus on proofs of useful resources contributions in distributed storage, through the way of verifiable market involving multiple parties, so as to benefit multiple parties.
With continuous development of Internet business needs, content of data is already the largest demand side of Internet traffic today.Under such a background, the traditional TCP / IP architecture with the host addressing as the core architecture design, in today's content is the main traffic with demand, which disadvantages are gradually exposed. Since 2010, the content-centric network (ICN) architecture design different from TCP / IP has gradually appeared in the field of scientific research, and has received support from a large number of universities, enterprises and governments. In recent years, open source scientific research projects represented by NDN and CDN are among these representatives.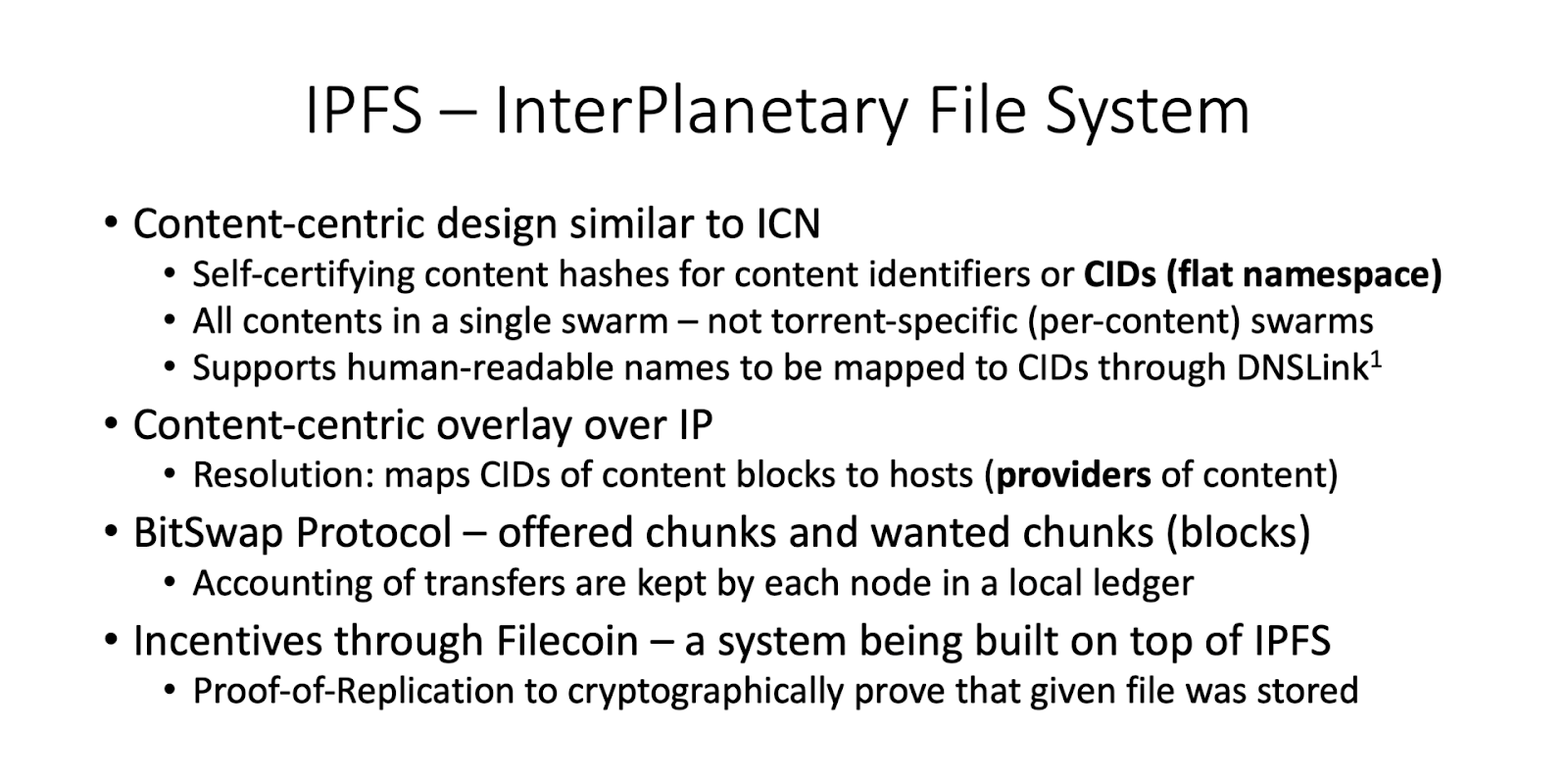 The IPFS interplanetary file system(IPFS) is a content-centric design similar to ICN and NDN networks. The system map the CID of the content to the host through a self-verification content hash of the content identifier, and human-readable names to be mapped. In addition, IPFS provides data block transmission services through the BitSwap protocol, and rewards resource providers through FileCoin.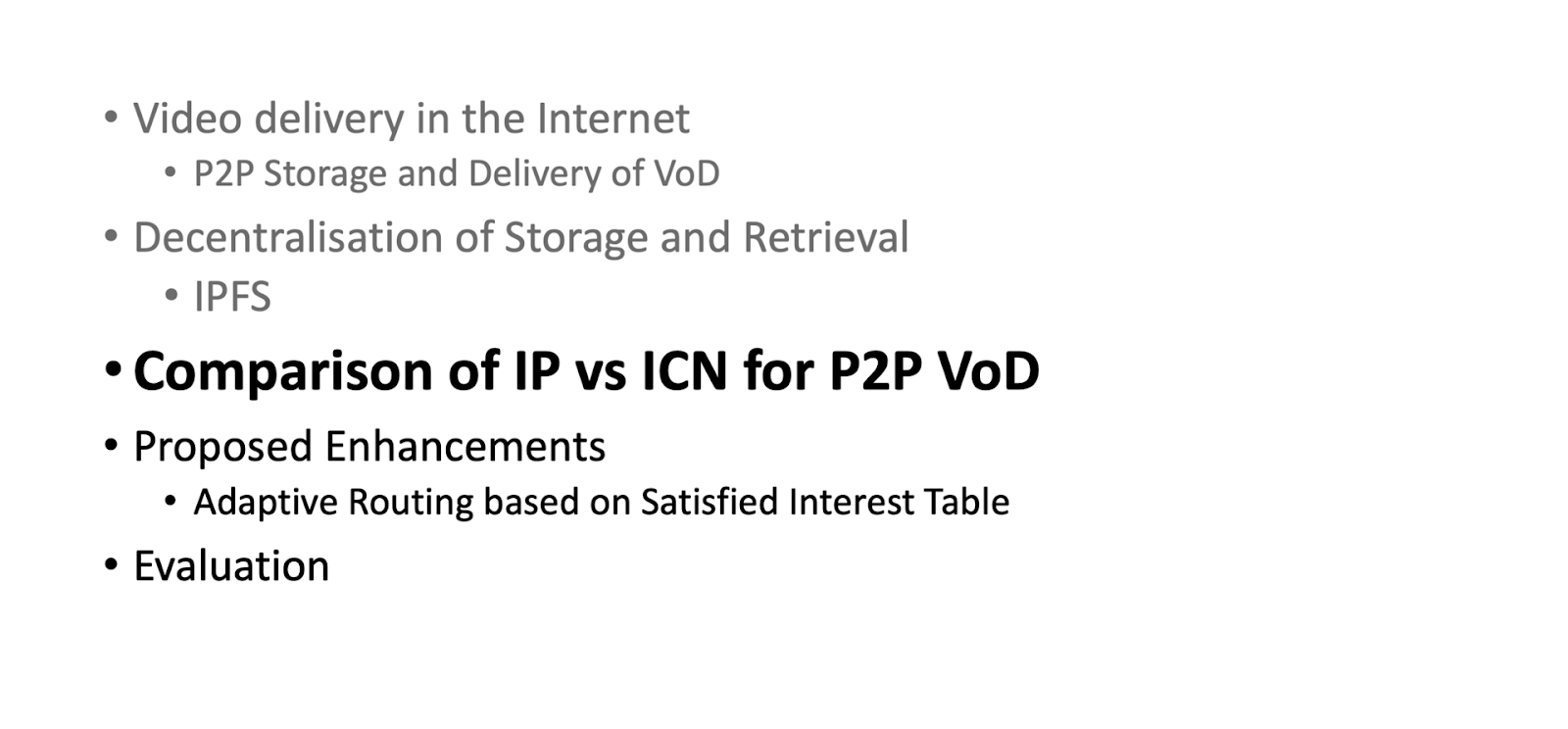 In the paper, scientists designed a test to verify the performance difference between the pure IPFS system and IPFS system in NDN network in terms of video data transmission.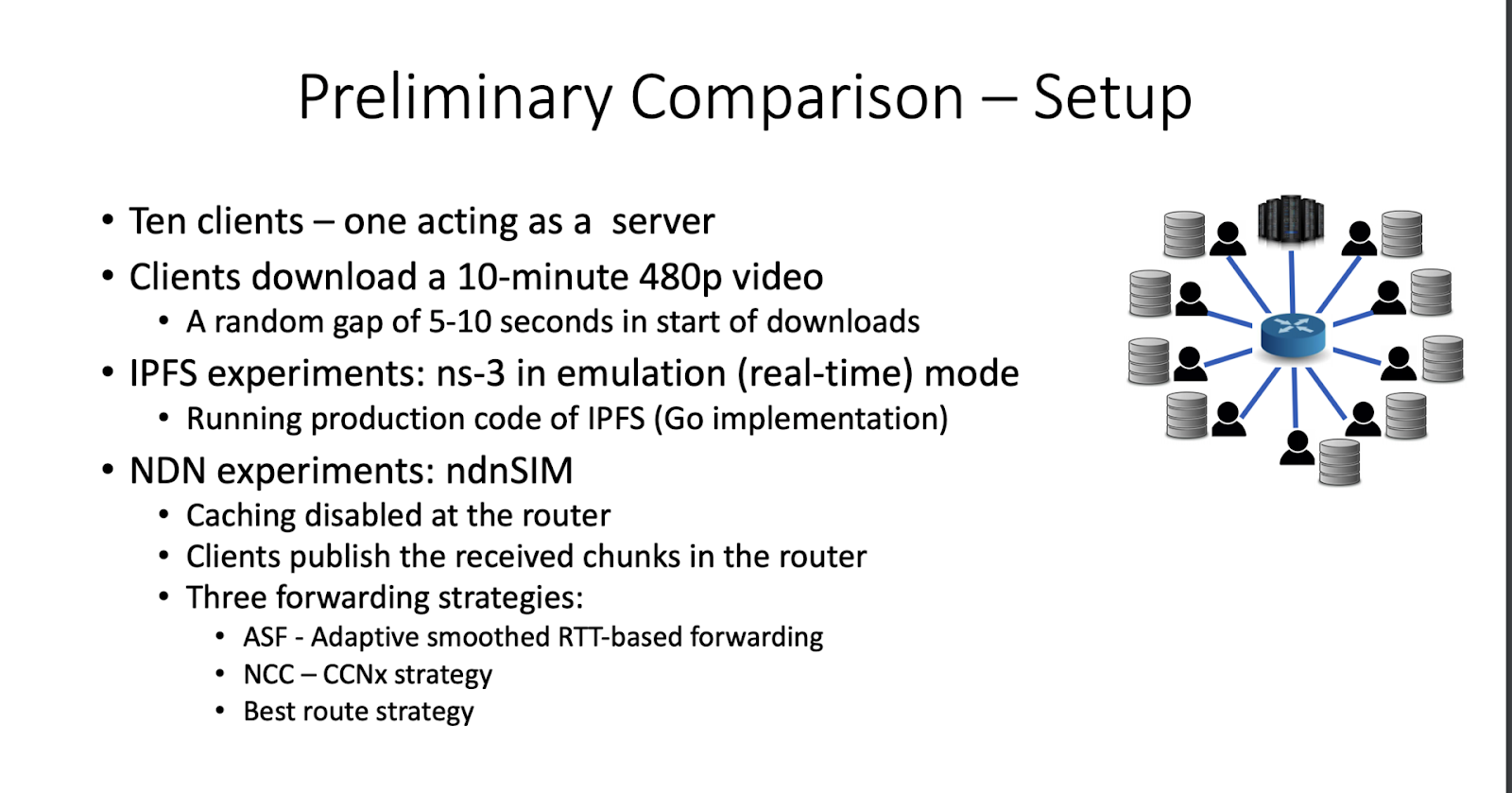 Above picture shows some parameter settings from the experiment. A video file with a length of 10 minutes with a resolution of 480P is used for the experiment. The paper uses NS-3 to run the IPFS product model. NDN uses the NDN SIM client end. The routing cache function is temporarily disabled. There are three forwarding strategies of NDN are: ASF, NCC and Best route strategy respectively.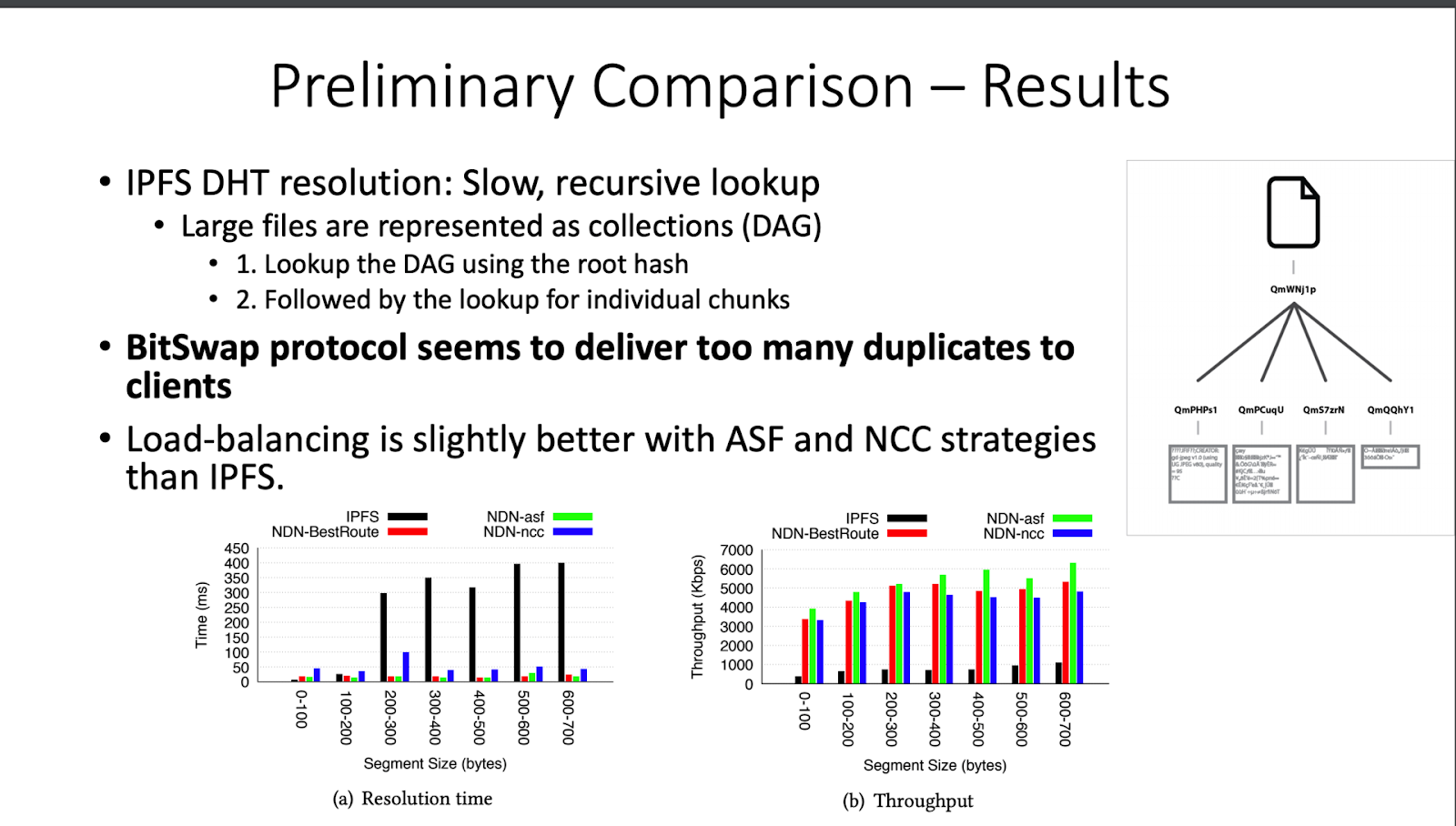 Finally, the conclusion of the paper is: the retrieval performance of the pure IPFS system is relatively low, mainly due to fetching address speed issue of the DHT technology used by IPFS, and the transmission efficiency of the BitSwap protocol is too low, and it will pass different nodes transmit duplicate file fragments at the same time, causing some loss.
The comparison data shows that NDN-based IPFS has a 20 times improvement in addressing performance compared to pure IPFS; Moreover, NDN-based IPFS has a 20-times increase in throughput compared to pure IPFS.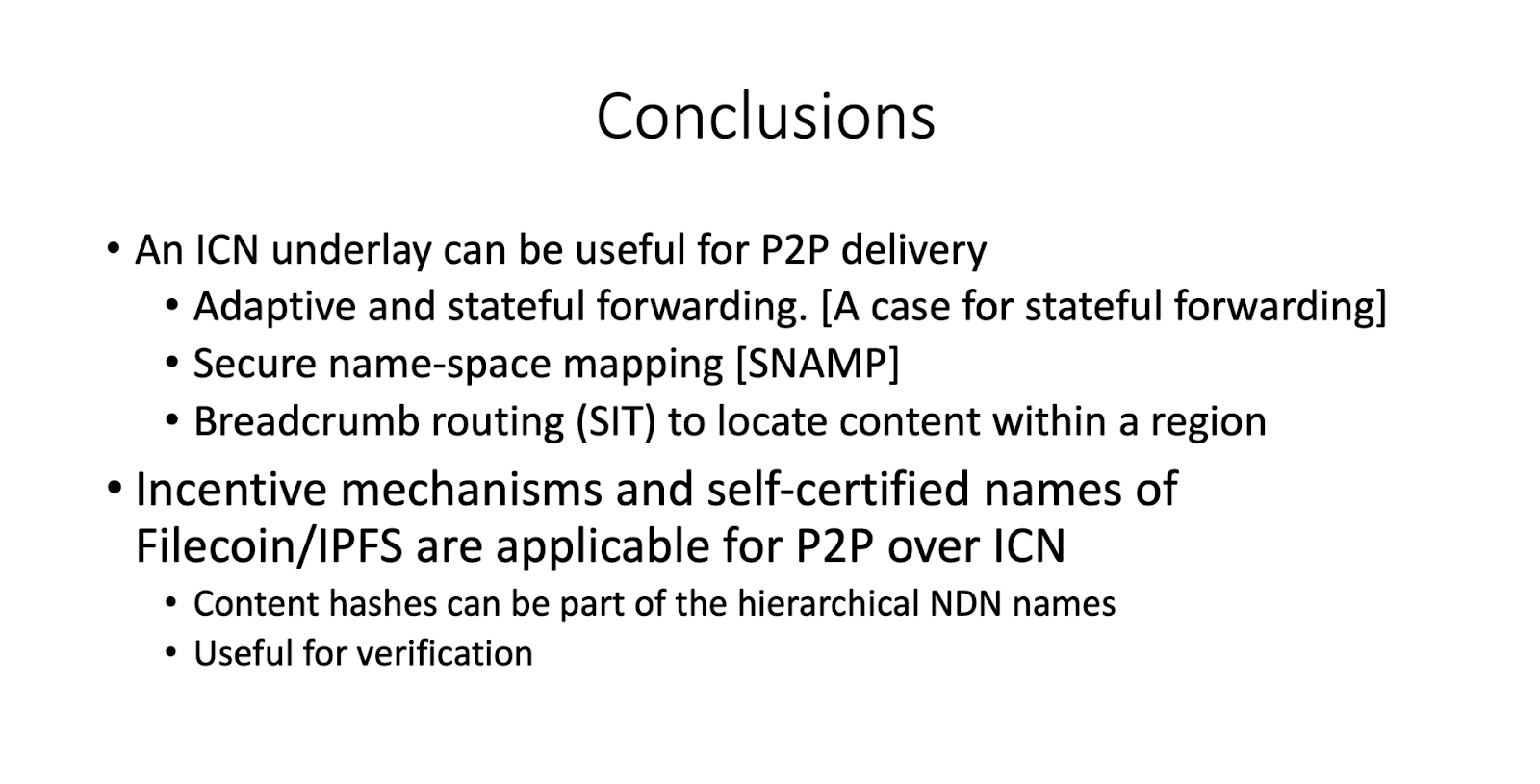 The paper's authors believed that ICN / NDN communication protocol built on the existing P2P distribution network is very valuable.  It adopts adaptive state forwarding, use SNAMP to ensure the security of the namespace, and use SIT routing to find content in the same area of ??the network, for ensuring that NDN network is more efficient than the IP network. In addition, Filecoin / IPFS's incentive mechanism and self-verification naming are also available in ICN / NDN-based networks. The content hash in the IPFS network can be part of the naming of NDN architecture.
Summary
In the current Internet, large-scale content delivery such as video on demand (VoD) requires a large investment in a large-scale distributed infrastructure. Content providers (CPs) often request third-party content delivery networks (CDNs) or build their own expensive content delivery infrastructure to cope with peak demand and maintain an adequate quality of service (QoS), while Internet service providers (ISP) needs to reconfigure its network.
According to the paper, it explains the industry has taken the direction for the first step to improving the IPFS system. This solution uses the user's storage space as a CDN cache and delivers content with sufficient quality (that is, similar to CDN) while retrieving content. as reward users' resource usage in the market. As similar candidates for such systems, it considers P2P storage recently and delivery systems that use new mechanisms, such as rewarding useful work (such as storage), while ensuring fairness and accountability through proof of password.
During the speech in SIGCOMM, the author introduced the popular Interstellar File System (IPFS) and studied its performance of delivering VoD content locally within the ISP. Their research results show that running IPFS (running on top of IP) has performance limitations, and supplementing it through the ICN network layer can significantly improve the quality of delivery. Then, they proposed and compared several forwarding strategies for ICN, which can effectively complete routing requests and balance the load between peers with limited uplink resources.
We believe that ICN / NDN technology applies into IPFS, the field of decentralized storage is bound with a new technological revolution. Let us look forward to it.
Reference: https://discovery.ucl.ac.uk/id/eprint/10085612/
Disclaimer: This is a paid article. KryptoMoney does not endorse and is not responsible for or liable for any content, accuracy, quality, advertising, products, or other materials on this page. Readers should do their own research before taking any actions related to the company. KryptoMoney is not responsible, directly or indirectly, for any damage or loss caused or alleged to be caused by or in connection with the use of or reliance on any content, goods or services mentioned in the article.