Latest Initial Token Offer (ITO) – VALID
In the digital era, every individual creates a treasure trove of data through the mere action of spending time online. This data is collected by large corporations which derive large profits by selling it to data consumers, such as Advertisers and Researchers.
In 2015, the data broker market is said to have earned USD 156 billion by selling personal data belonging to individuals such as you and me [1]. This is besides the several hundreds of billions earned by technology giants such as Google, Facebook, Apple and Microsoft. However, increasingly, individuals are aware of the value of their personal data and are awake to the threat of losing their privacy in the digital age.
The European Union's General Data Protection Regulation (GDPR), scheduled for implementation in May 2018, seeks to address this challenge. The regulation will be implemented within the EU and EEA region and apply to all legal entities selling to, and storing personal information about, residents in the EU/EEA, including companies located outside the EU. This regulation is aimed at shifting the balance of power over personal data back into the hands of the user.
Introducing VALID – Personal Data Management for the Digital Age
This context provides an opportunity for projects such as VALID that will empower users with control over their personal data.
VALID is a self-sovereign, blockchain-based digital identity and personal data platform connecting identity owners with data consumers. It is the next iteration of the Procivis digital identity platform, which draws on its eID+ e-government platform, already functional in the Canton of Schaffhausen.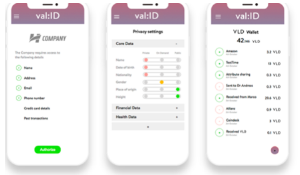 The VALID platform will consist of a mobile wallet (VALID wallet) for users to manage their personal data as well as an application (VALID marketplace) for data consumers to buy that data. On the marketplace, users will be remunerated instead of the intermediaries: This means that if the VALID user opts to select a service via the VALID platform?—?a hotel reservation, say?—?the hotel will remunerate the user directly for the advertising message. VALID's user revenue model will be a function of several parameters, including the nature and reliability of data contained in users' accounts, the privacy settings and sharing preferences as defined by the user, and the degree of desirability of any particular dataset, as perceived and bid for by participating data consumers. Irrespective of the choices made between the two parties, VALID does not receive any fee or commission for the transaction. VALID, by design, will not be able to access, read or collect any information contained in users' wallets thereby removing the risk of creating "honey pots" for hackers
 About Procivis AG
Procivis was founded in October 2016 by blockchain entrepreneur, Daniel Gasteiger.  The company is driven by a clear mission: to empower individuals everywhere by providing them with trusted and compliant digital identity solutions they can fully own and control. With its eID+ platform, Procivis is already working with governments interested in the potential of this approach. VALID is the next step in the company's mission, delivering a fully self-sovereign digital identity solution which will serve as a foundation for the emerging peer-to-peer economy.
The VALID extended team consists of prominent figures from various disciplines including Malik El Bay, ex-CEO at Modum, Eva Kaili, Member of European Parliament and Monique Morrow, ex-CTO at Cisco. With a revenue generating product in eID+, a strong mission and a stellar team, Procivis AG's VALID is a project to watch out for.
Valid ITO (Initial Token Offer)
Initial Token Offering (ITO) of VALID tokens will commence on 24 February 2018 and end on 17 March 2018 (or earlier, when the hard cap of USD 25,000,000 is reached). The VALID token enables buy and sale transactions between users and data consumers on the VALID marketplace and provides a unit of value. The VALID team is also accepting a select group of ambassadors to grow and engage with the VALID community.
References
[1] Goodman, M. (2015). Future Crimes: Inside the Digital Underground and the Battle for Our Connected World. London: Random House.