As the Bitcoin price is increasing day by day, so is the number of hacks and security threats. It is always suggested to store your bitcoins in bitcoin hardware wallets and never on cryptocurrency exchanges. Bitcoins worth millions of dollars have already been stolen from these exchange by hacking.
The biggest example is of Mt. Gox Bitcoin Exchange.
Mt. Gox was a bitcoin exchange based in Shibuya, Tokyo, Japan which was Launched in July 2010. By 2013 and into 2014 it was handling over 70% of all bitcoin transactions worldwide, as the largest bitcoin intermediary and the world's leading bitcoin exchange.
But in February 2014, Mt.Gox suspended trading, closed it's website and bitcoin exchange services and filed for bankruptcy. Why?
Mt. Gox announced that approximately 850,000 bitcoins belonging to customers and the company were missing and likely stolen, an amount valued at more than $450 million at the time. Although 200,000 bitcoins have since been "found", the reason(s) for the disappearance—theft, fraud, mismanagement, or a combination of these—were initially unclear. This is the reason why it is never advised to store your Bitcoins on Cryptocurrency Exchanges.
Although storing bitcoin in Software Wallets like Desktop Bitcoin Wallets or Mobile Bitcoin Wallets can be a solution to above problem, still it is not suggested for those who wish for Long-Term HODL!!!
Those who wish to store bitcoins and forget are recommended to use Paper Wallets or Bitcoin Hardware Wallets. Users who wish to transact their bitcoins once in a blue moon are recommended to use hardware wallets instead of paper wallets.
In case you are not sure how to protect your valuable bitcoins and other altcoins, I suggest you to read this detailed article about "How To Protect Your Cryptocurrencies" which will explain you the following terms:
What is a Cryptocurrency Wallet,
What is Public Key,
What is Private Key,
Types of Wallets
Hot Storage Wallets ( Online Wallet/ Exchange Wallets/ Cloud Wallets, Desktop Mobile Wallets , Multi-Signature Wallets )
Advantages & Disadvantages of Hot Storage Wallets
Cold Storage Wallets ( Hardware Wallets, Paper Wallets )
What is Hardware Wallets
What is Paper Wallets
How to create paper wallets
Coming back to Bitcoin Hardware Wallets, here is a list of top 3 best bitcoin hardware wallets. But before that, let us understand quickly what is a bitcoin hardware wallet.
What is a Bitcoin Hardware

Wallet?
Bitcoin hardware wallers are a usb/flash drive kind of devices which are designed to store private keys of the bitcoins in an offline environment. Before storing bitcoins into the the hardware wallets, the device first generates private keys ( password ) and digital signatures which are used to transact bitcoins from the wallet.
While setting up the hardware wallet, the device also generates the seed words ( or recovery phase) which is used in case the hardware wallet is destroyed or lost to recover the wallet on another new hardware wallet device. The user must remember and write down the recovery phase, make atleast 2-3 copies of it and store it safely.
NOTE: The private key and recovery phase should never be shared with anyone, until and unless you trust them.
This recovery phase is not stored by the company on it's servers and hence, the user has full control of it's bitcoins or altcoins. It is impossible to hack the device without the recovery phase or private key.
List of Top 3 Best Bitcoin Hardware Wallets
While doing  intensive research and studying the reviews of every bitcoin hardware wallet device, I have prepared a list of Top 3 Best Bitcoin Hardware Wallets which are perfect to store your valuable Bitcoins and other cryptocurrencies as well. Lets start from bottom to top.
NO.3 – Keepkey Bitcoin Hardware Wallet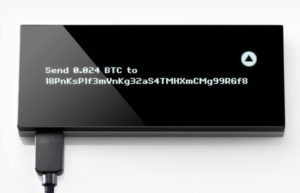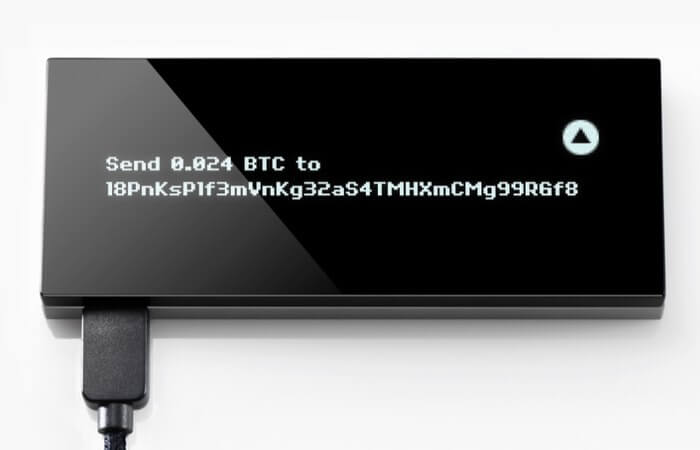 Keep Key wallet is a major hardware wallet. The private keys are generated using its exceptional hardware-based random number generator, combined with the randomness provided by your computer. It also has a larger display to give you clarity on every digital asset on the device.There's also the ability to exchange between cryptocurrencies directly from the device using Shapeshift.
Price of Keep Key Wallet
The Keep Key hardware wallers cost $129.
Compatibility
KeepKey wallet has been tested on Windows, Mac, and Linux. The Chrome app is also available on each of these platforms.
Cryptocurrencies

Supported

By Keep Key Hardware Wallet
At the time of publishing this article, Keep Key supports storage of following cryptocurrencies:
Bitcoin (BTC),
Bitcoin Cash (BCH),
Ethereum (ETH),
Litecoin (LTC),
Dogecoin (DOGE)
Dash (DASH)
Name Coin
The KeepKey Hardware Wallet also has the OLED Display & Buttons
Keep Key is available on Amazon.
No.2 – Trezor Bitcoin Hardware Wallet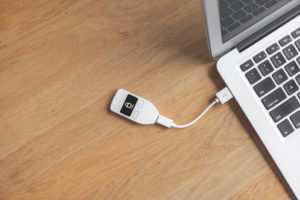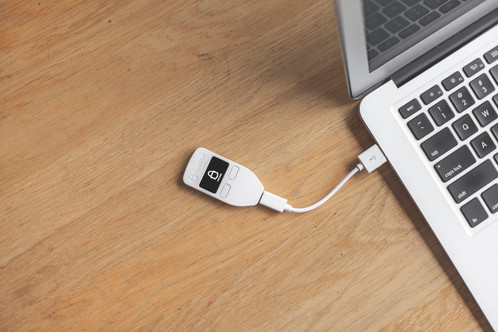 Trezor is a tiny computer, which is like a pendrive that generates Private keys offline. Created by SatoshiLabs Trezor claims to br "the original and most secure hardware wallet".Trezor has a screen built-in to show seeds and to copy down the data during backup. Because it is an offline wallet, Trezor offers extra security as the seed isn't displayed. Bitcoin users can add an additional passphrase to the 24-word security to provide extra security to your crypto. In case you forget your passphrase, they have a well-designed and secured process to recover it.
Water-resistant and sturdy, the Trezor features a small display for confirming transaction details, 2FA, password manager, and a variety of other features.
Price of Trezor Wallet
The price of Trezor is €89
Compatibiltiy
Windows, Linux, OS X (10.8 or higher). You can also use your TREZOR with Android devices which have USB On-The-Go (aka USB Host) and with apps such as TREZOR Wallet, Mycelium, and Multibit HD.
Cryptocurrencies Supported By Trezor Hardware Wallet
At the time of publishing this article, Trezor supported the storage of following cryptocurrencies:
Bitcoin (BTC),
Bitcoin Cash (BCH),
Bitcoin Gold (BTG),
Litecoin (LTC),
Dash (DASH),
ZCash (ZEC),
Ethereum (ETH),
All ERC20 Tokens,
Ethereum Classic (ETC),
Expanse (EXP)
Ubiq (UBQ)
NEM (XEM)
NameCoin
DogeCoin
The Trezor Hardware Wallet also has the OLED Display & Buttons
Trezor is available on Amazon.
No.1- Ledger Nano Bitcoin Hardware Wallet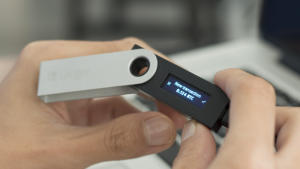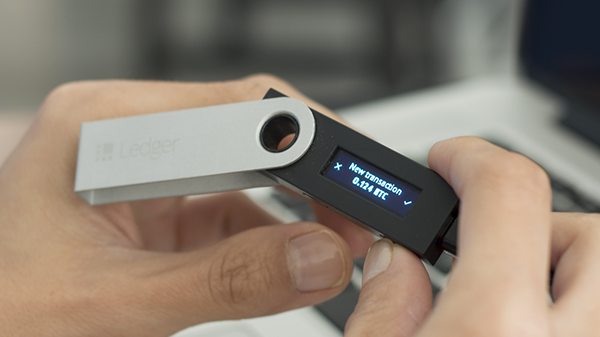 The Ledger Nano is a solid multi-cryptocurrency hardware wallet for storing cryptocurrencies. It is built with a unique operating system called BOLOS, which is integrated into the secure chip on Ledger Wallets line. The device uses a small OLED display and side buttons that are pushed to confirm transactions. It securely hosts applications and data. Fido 2YF in Ledger Nano provides a secure factor authentication to users including Dropbox, Facebook, Google and online merchants.
Besides, the device has unlimited capacity; basically means you can add and remove apps without losing coins.
The company also makes the Ledger Blue, an enterprise-grade hardware device, which has a larger screen, added security features.
Price of

Ledger

Wallet
Ledger NANO S Costs 79.00 €  while Ledger Blue Costs 229.00 €.
Compatibilty
Windows (7+), Mac (10.8+), Linux
Cryptocurrencies Supported By Ledger Hardware Wallet
At the time of publishing this article, Ledger Nano S supported following cryptocurrencies:
Bitcoin (BTC)
Bitcoin Cash (BCH)
Bitcoin Gold (BTG)
Ethereum (ETH)
Ethereum Classic (ETC)
Litecoin (LTC)
DogeCoin (Doge)
Zcash (ZEC)
Ripple (XRP)
Dash (DASH)
Stratis (STRAT)
Komodo (KMD)
Ark (ARK)
Expanse (EXP)
Ubiq (UBQ)
Vertcoin (VTC)
Viacoin (VIA)
Neo (NEO)
StealthCoin (XST)
Stellar (XLM)
Hcash (HSR)
Digibyte (DGB)
Qtum (QTUM)
Pivx (PIVX)
The Ledger Hardware Wallet also has the OLED Display & Buttons. Ledger is available on Amazon.
Some additional Bitcoin Hardware Wallets
Bitlox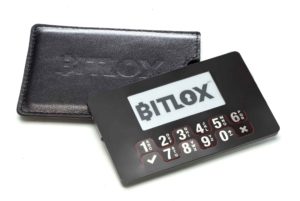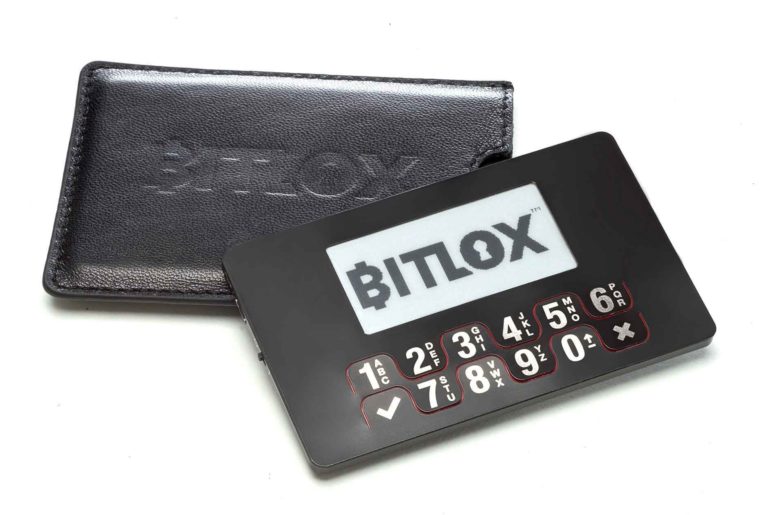 Bitlox, looks totally different from the above mentioned hardware wallets.Also,instead of connecting Bitlox to laptop via USB, it gets connected with Bluetooth only. The wafer thin device, resembles like a smart card.
List of Cryptocurrencies Supported by Bitlox
At the time of publishing this article, Bitlox supported storage of only Bitcoin. Though it has mentioned on it's website to add Ether and other Altcoins soon.
Price of Bilox Hardware

Wallet
The price of Bitlox hardware wallet at the time of publishing this article was $100.
Conclusion
Weather or nor you want to hold your bitcoins or other cryptocurrencies for long term, I strongly suggest you to buy hardware wallets as soon as possible. With increasing number of thefts and cryptocurrency exchanges being hacked, your hard earned money in the form of bitcoin or other cryptocurrencies are at a huge risk. So, don't wait and buy bitcoin hardware wallets.
KryptoMoney.com publishes latest news and updates about Bitcoin, Blockchain Technology , Cryptocurrencies and upcoming ICO's.
Subscribe to our newsletters and join our Telegram Channel to stay updated.
Rohit Kukreja is a Commerce graduate with Financial Markets expertise involving Stocks, Forex, Futures & Options Market and now Bitcoins & Cryptocurrency Markets. Blockchain Enthusiast but not a techie, Rohit is an active member of various Blockchain & Crypto communities all over India.