NEO price has dropped more than -4.25% in the past 24 hours and it seems the price will likely continue the downward trend in its medium-term outlook.
The bears kept exerting their pressure on the price of NEO as it plummeted to $8.85 last Thursday, which is the week's low. Later on, it bounced back when the price touched its 50-day Exponential Moving Average (EMA), while the Bulls pulled the price back to $8.51 in the supply zone.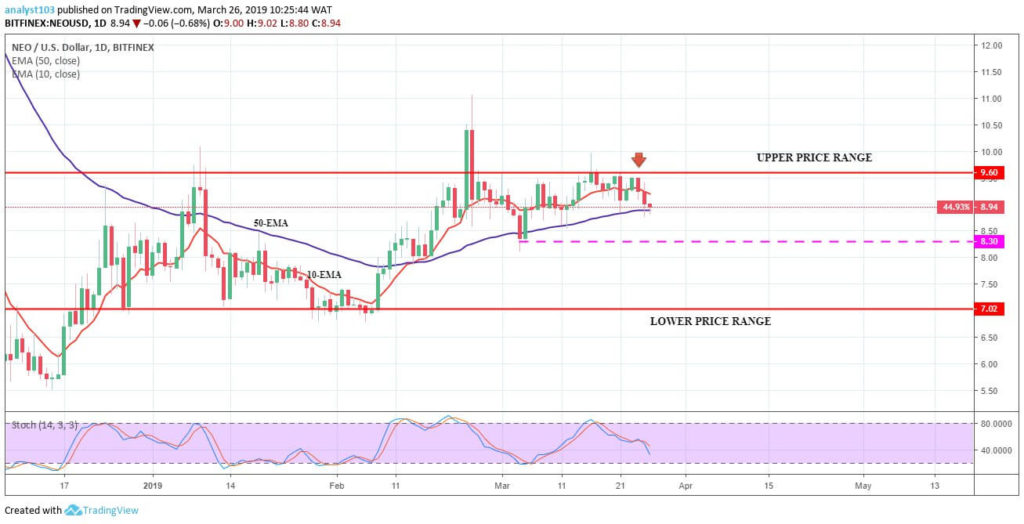 This week, the price of NEO opened on a bearish note with the formation of a bearish railroad on Sunday, showing that selling pressure will continue during this week's trading sessions. As the chart shows, NEO's price is now below the 10-day EMA and is already down to $8.76 in the demand zone. Meanwhile, the Stochastic Oscillator is pointing down at 40, an indication of downward momentum.
The digital coin is in a range trading between $9.60 in the upper supply zone as well as the $6.20 in the lower demand zone. While a breakout or breakdown will occur, patience is needed before taking a position.
Supply zone: $15.00, $20.00, $25.00
Demand zone: $2.00, $1.00, $0.50