NOVAM – The Latest Cybersecurity Tool To Protect IoT
NOVAM uses distributed ledger technology and Artificial Intelligence (AI) to automatically monitor and mitigate IoT threats from the secure boot chain, operating system,mobile application and network. NOVAM also provides auditing & regulatory compliance integration to threat monitoring and detection services to ensure system events are included on an immutable distributed ledger.
These technologies will help increase the accuracy of the NOVAM health check. The use of Machine Learning (ML) and probabilistic mathematics will give features like a security system that is ever alert, always present and device agnostic. NOVAM will protect endpoints and networks by monitoring and mitigating threats automatically on global Internet of Things devices and will boost the efficiency of these systems.
How Does NOVAM Works?
Watch the video below to understand how does NOVAM Works:-
Understand in details about NOVAM on their official website:- https://novam.ai
NOVAM was inspired by the human immune system in order to change the way people think about cybersecurity, in an agnostic, autonomous, self-detecting, self-healing approach. The goal of NOVAM project is to protect IoT devices in connected environments with connectivity, security, scalability and adaptability in mind.
NOVAM's Health checks enable users, devices and applications to verify the software packages and hardware components are uncompromised and unmodified by malware or other cyber security threats, across the entire secure bootchain on device.
What Does NOVAM Offers?
NOVAM Offers the following:-
Endpoint Protection
Network Protection
Audit & Regulatory Compliance
Device & System Mitigation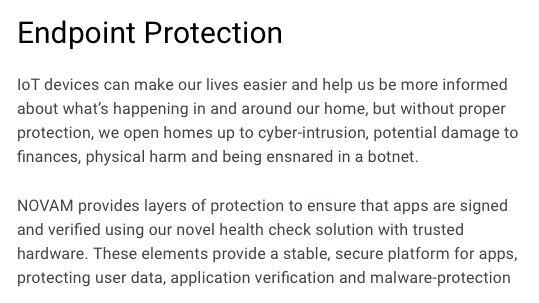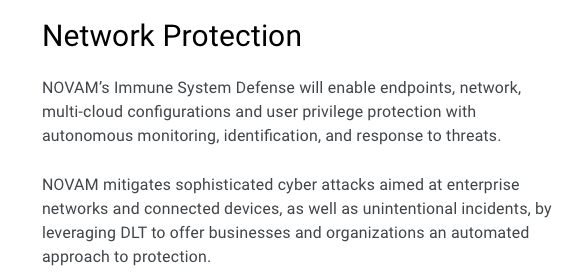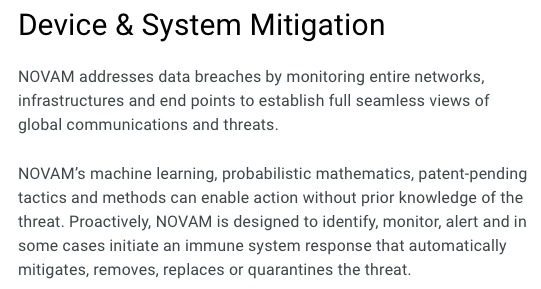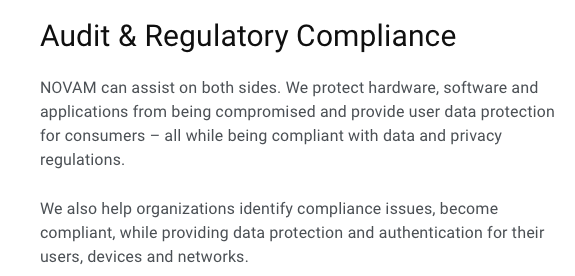 NOVAM's approach to providing endpoint, network, and information security is powered by:-
Advanced machine learning algorithms,
Unsupervised learning,
And Autonomous self learning defence mechanisms.
The self defence mechanism uses the algorithms that aim to detect, filter, investigate, and respond to threats in real-time and provides vital resource assistance to security investigators. Their algorithmic response allows it to automatically detect and filter cyber threats. This helps in determining threat importance by weights and scales and provides analytical foresight. It can only take several minutes for malicious malware or ransomware to cause crisis in a global network.
Is NOVAM Using Blockchain?
NOVAM is not using a traditional blockchain architecture like Bitcoin or Ethereum. We are using a Directed Acyclic Graph architecture for security, scalability and interoperability with enterprise systems.
NOVAM allows complete visibility into all the endpoint activities with minimal impact on the performance. It provides autonomous threat monitoring and mitigation.
NOVAM's 5 Step Process Device Health Check
It initiates a health check for the device. This occurs when both in the boot process and during runtime, and includes the entire chain of trust or an individual statistic like firmware, operating system or applications
The state of device is recorded on an enterprise specific CDN which can be used as an external element for future devices health checks.
It provides subsequent health checks, comparing the internal and external state of device with NOVAM stored in internal and external states, signed by the vendors to determine if the device is healthy or not.
When the device is considered healthy and unmodified no mitigation occurs.
If the device is considered unhealthy, mitigation occurs.
NOVAM's team will directly work with the manufacturers and developers to ensure the health check is recorded accurately and will be updated automatically on all devices. APIs will be accessible and will help manufactures and developers to manage their products and services to ensure compliance, auditing and investigation.
This will be an emerging technology that creates an enterprise-ready solution designed to assist identity management, verification, cyber controls and self healing systems that automatically counteracts cyber threats, while assisting security teams.
To know more about NOVAM, visit their official website:- https://novam.ai