BitMEX funding rate is practically calculated by what extent BTC price on BitMEX is trading close to the index price, the index price is also determined by compiling stats off the crypto exchanges.
Mostly all crypto derivative exchanges employ a funding rate on perpetual contracts. The funding rate is predetermined by the market trends and changes with time. Whenever the funding rate marks positive, Longs pay Shorts.
Bitcoin had found itself in a steep recovery over the past week. Last Wednesday, the flagship crypto-asset surged from $ 9,100 to $ 9,700 in barely 24 hours. This singular activity made the crypto asset print a funding rate of 0.14% within an 8-hour range. It maintained this rate for just a few hours, before sitting at 0.12%. Recall that the funding rate is predetermined by the market, so printing a funding rate of 0.14% goes a long way in speculating the vibrancy of the market.
The relatively high funding rate of 0.14% could be traced to strong capital inflows for crypto derivative exchange, BitMEX. 5th of February is recorded as the day in this year that had the biggest net flow of Bitcoin into BitMEX, noted Jai Prasad, a crypto analyst at Token Analyst and Seed Invest.
A Twist of Events
Within a six-day range, BTC price surged to a high of $ 10,200 from $ 9,100 capturing a market gain of 9.2% within this period. A wave of elation blew across the market as BTC had broken off caps of its social volumes. Several analysts are in support of the view that bullish sentiments have taken hold of the markets. On the flip side, there are apprehensions as FOMO (fear of missing out) grips the market.
Specifically, BitMEX's funding rate has crossed into the negative zone, which points to the fact that BTC price may experience a pullback, a recent analysis suggests.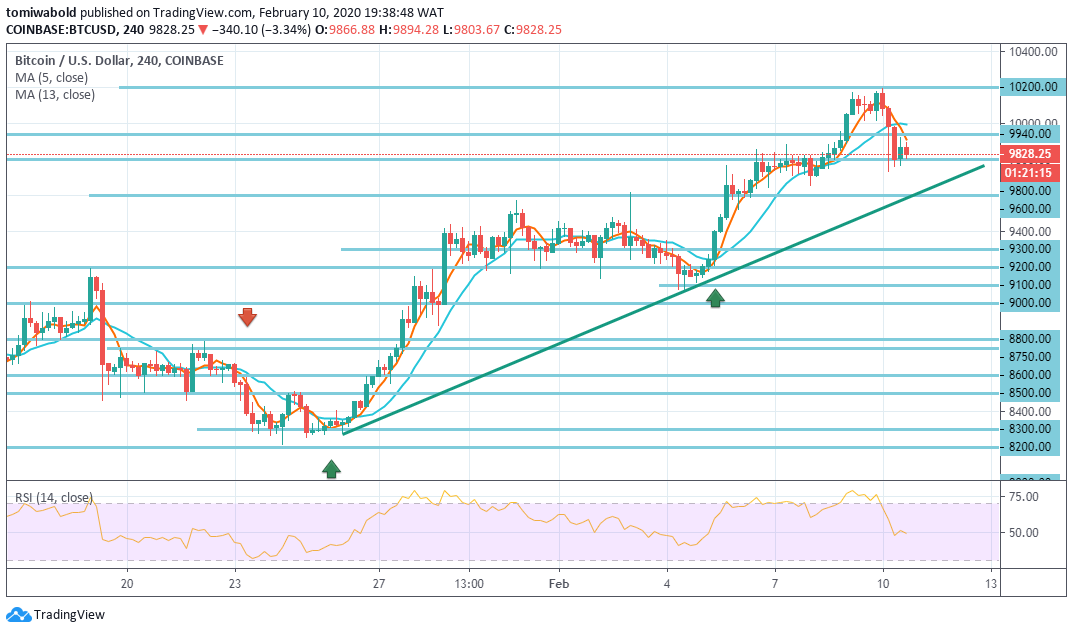 Based on historical antecedents Alex Krüger, an economist found out that whenever funding rates spike above 0.12% (which equals a total of 131% when calculated annually), it is often followed by a drop in BTC price in the days that followed. Referring to previous events, he categorically stated that an average drop of 7% was seen in BTC price in the next five days that followed the funding rate hitting this value.
An exception to this scenario was seen in early 2019 so yes, there may be exceptional cases. But it follows that the funding rate above 0.12% has been an antecedent for large BTC pullbacks.
He foresees BTC price to range around $10k this Monday if the crypto asset follows the laid down historical pattern, which may drag the crypto asset slightly lower than its recent price.
Kruger sees the possibility of a retracement afterward which may erase the gains, BTC has gathered the past weeks it had an uptrend.
Image Credit: Shutterstock