Launched in April 2014, Monero (XMR) is a privacy-focused, secure and untraceable cryptocurrency which originated as a fork of ByteCoin. On the Monero website, it says 'Monero is a cash for a connected world. It's fast, private, and secure. With Monero, you are your bank. You can spend safely, knowing that others cannot see your balances or track your activity.'

This it does by using ring signatures and stealth addresses launched on the CryptoNote protocol. Monero has a dynamic block size and fees with an unlimited supply of tokens in contrast to Bitcoin's pegged supply of 21 million.

Monero is based on a proof-of-work algorithm, however, XMR mining doesn't require ASICS devices like Bitcoin but it can be undertaken on a normal computer.

Ranking 15th largest by market cap, Monero has a circulating supply of 17.66M, while its year to date returns stand at 107.93% with a daily transaction count of 12,408. Though Monero (XMR) is significantly down from its all-time high of $542.33, Monero has been on an uptrend since the start of July. Earlier, XMR had been caught in a bout of sideways trading and stagnancy.

XMR/USD Daily Chart
Recently, XMR saw its biggest increase in the Hashrate since its inception in 2014. At the moment, Monero (XMR) is trading at $94.52 gaining 0.54% since the day's start. This is notable as Bitcoin and major Altcoins except Chainlink traded down earlier in the day.
XMR Bulls Reawaken After Historic Hashrate Surge!
A few days back, Monero Hashrate surged from 1.67 GH/s on 5th August to 2.2 GH/s on 6th August 6. This 77% gain of 0.52 GH/s within a 24-hour range is the largest recorded since Monero's inception. Monero (XMR) consequently went to set fresh ATH of 2.82 GH/s, up by 105% from the mid-February ATH.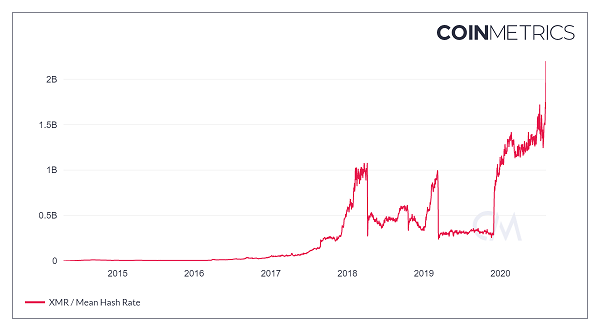 Monero Hashrate. Courtesy: CoinMetrics.
Although the detailed reason for what led to the surge in Monero hashing power is yet unknown, an analyst attributed it to the proceeds of a hack, but this is yet uncertain at the moment.

Monero's uptrend saw a bit of flattening in August, XMR bulls, however, seem to be reawakened with the asset being among the day's top gainers, noting gains of over 17% on the charts on the back of Bitcoin's gains. Monero was also inching closer to its February 2020 highs.
Key Facts to Note!
Monero Remains the Foremost Privacy Coin: In population whereby the need for privacy is on the rise, here Monero presents a unique selling point.

Though there are still a lot of debates arising on the need for a privacy coin amid heightened regulations, recent reports show that Monero is still the foremost privacy-focused cryptocurrency. Only Bitcoin has been able to match its trail of adoption on a dark web net where privacy is utmostly needed.

Monero May Be Set to See Increased Adoption in the Days Ahead: In a recent compilation of comments submitted to the Office of the Comptroller of the Currency on National Bank by Coin Center, the view that banks should support privacy coins be obligated to do so was aired. This is stated:
"We argue that Banks should not only be able to use trustless mixing tech (Coinjoin) or privacy-enhanced crypto (Zcash/Monero) but that they may be obligated to do so to protect the privacy of their customers."
If this holds, Monero may be set to see increased adoption in the days ahead.

Monero Set to Release a New Version of White Paper: The Monero (XMR) project is at the edge of releasing its new white paper. Earlier in the past, several exchanges delisted Monero due to its untraceable nature, this may greenlight the process of XMR listing and clarify on legal issues about XMR privacy-focused essence.
Image Credit: CoinMetrics, Shutterstock