In this Ripple price prediction, there is a possibility for the XRPUSD pair to rally towards $0.49 supply level if the bulls gain enough momentum to break up the $0.46 supply level.
Ripple Price Technical Prediction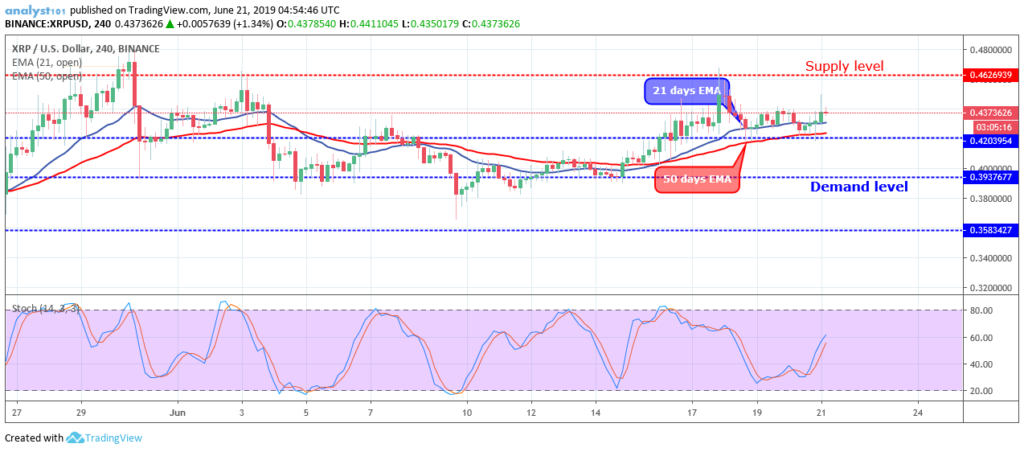 Ripple (XRP) price is on the ranging mode on the medium-term outlook. Ripple price was moving higher a few days ago to the extent that the $0.42 level was broken upside and the bullish momentum extended to the supply level of $0.46. However, the bulls met resistance with the formation of Doji candles followed by the big bearish candles that pulled Ripple price down to the demand level of $0.42. The bearish pressure subsided as they were unable to pull Ripple price below $0.42 due to the confluence at the mark. Also, the Bulls failed to push Ripple price higher; which then led to consolidation.
The 21 periods and 50 periods Exponential Moving Averages (EMAs) are flat horizontally at $0.42 area and the price of Ripple is trading over and around the two EMAs. In the meantime, the Stochastic Oscillator period 14 is at 60 levels with the signal lines pointing up to indicate a buy signal.
There is a possibility that the price of Ripple will rally towards $0.49 supply level if the Bulls gain enough momentum to break up the $0.46 supply level. On the downside, consolidation may continue if the Bears continue to defend the $0.46 level.
XRPUSD Price Short-term Prediction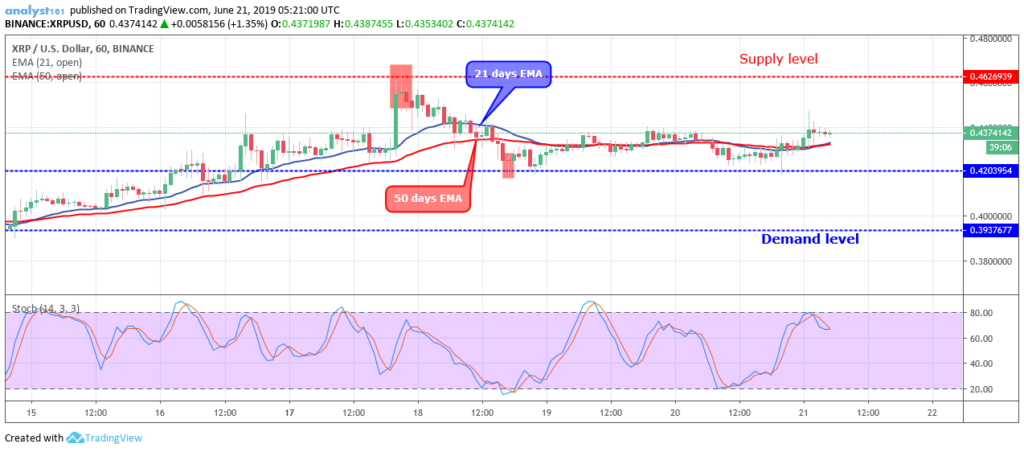 XRPUSD price is consolidating in the short-term outlook. On June 17, XRPUSD price reached the supply level of $0.46. A bearish reversal candle pattern called Evening star appeared at the level and the price dropped to the $0.42 demand level. The said level hold XRPUSD price as the Doji candle formed at the level and the Bulls have no pressure to push it up, then consolidation began.
XRPUSD price is hovering over the 21 periods and 50 periods EMAs and both are interlocked to each other which indicate that consolidation is ongoing in the XRP market.
Supply levels: $0.46, $0.49, $0.54
Demand levels: $0.42, $0.39, $0.35
Disclaimer
Arathur Stephen is not registered as an investment adviser with any federal or state regulatory agency. The Information above should not be construed as investment or trading advice and is not meant to be a solicitation or recommendation to buy, sell, or hold any cryptocurrencies. The information is solely provided for informational and educational purposes. Always seek the advice of a duly licensed professional before you make any investment.