In this Ripple price prediction, XRPUSD declined to $0.39 level before pulled back. Can we expect the bearish trend to continue after the pullback? Read on!
Ripple Price Medium-Term Prediction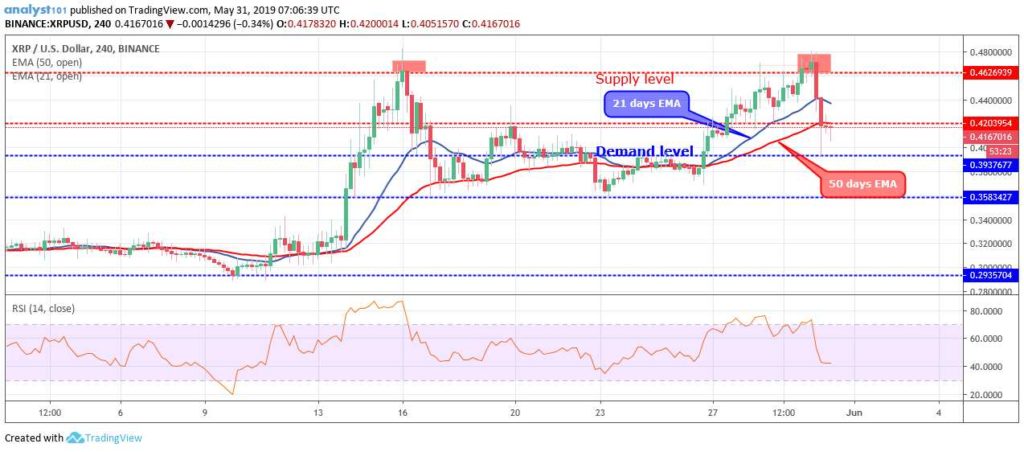 Ripple (XRP) price is bearish on the medium-term prediction. Over the past few days, XRP has been on a bullish trend that placed the price above the $0.46 level on May 30. While the Bears temporarily lost their control and Ripple price increased, a big bearish candle emerged suddenly and the price decline.
As it was predicted, the bulls were unable to maintain the $0.42 demand level as the bears intensified their downward pressure, which then resulted in the price of Ripple dropping to $0.39 demand level. However, the Bulls fought back and pushed the price back up, this was noticed as the big bearish candle turned to a lower long-tailed bearish candle. The price of Ripple broke through the $0.46 level and penetrated the 21 and 50 Exponential Moving Averages (EMAs) and also penetrated the barrier at $0.42 former demand level.
In the meantime, XRP price is trading below the 50 periods and 21 periods EMAs. The relative strength Index (RSI) period 14 is at 40 levels with the signal line pointing down, which is an indication of a sell signal. On the downside, we can expect Ripple price to further decline to a previous low of $0.35 as long as the Bears maintain or intensify their downward pressure. On the upside, Ripple price may jump and rally towards $0.46 level if the Bulls further defend $0.39 demand level.
XRPUSD Price Short-Term Prediction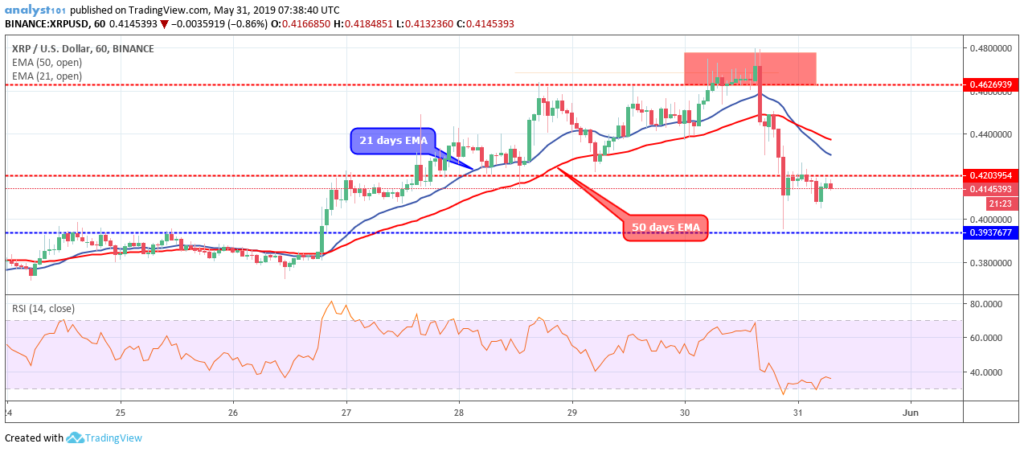 XRPUSD price remains in the bearish trend zone on the short-term outlook. The Bullish momentum was terminated after it broke up the supply level of $0.46. The bearish trend was triggered after a bearish engulfing candle formed which pull down the price below $0.42 level and further extended to $0.39 level before it was pushed back.
In the meantime, the 21 periods EMA has crossed the 50 periods EMA downside, XRPUSD price is now trading below the two EMAs. The RSI period 14 is below 40 levels bending down which indicates a sell signal.
Supply levels: $0.42, $0.46, $0.49
Demand levels: $0.39, $0.35, $0.29
Disclaimer
Arathur Stephen is not registered as an investment adviser with any federal or state regulatory agency. The Information above should not be construed as investment or trading advice and is not meant to be a solicitation or recommendation to buy, sell, or hold any cryptocurrencies. The information is solely provided for informational and educational purposes. Always seek the advice of a duly licensed professional before you make any investment.