In this Ripple price prediction, if the bulls break the trend line, XRPUSD price will be in an uptrend. On the downside, if the bulls fail to break the trend line, the XRP price will continue its downtrend.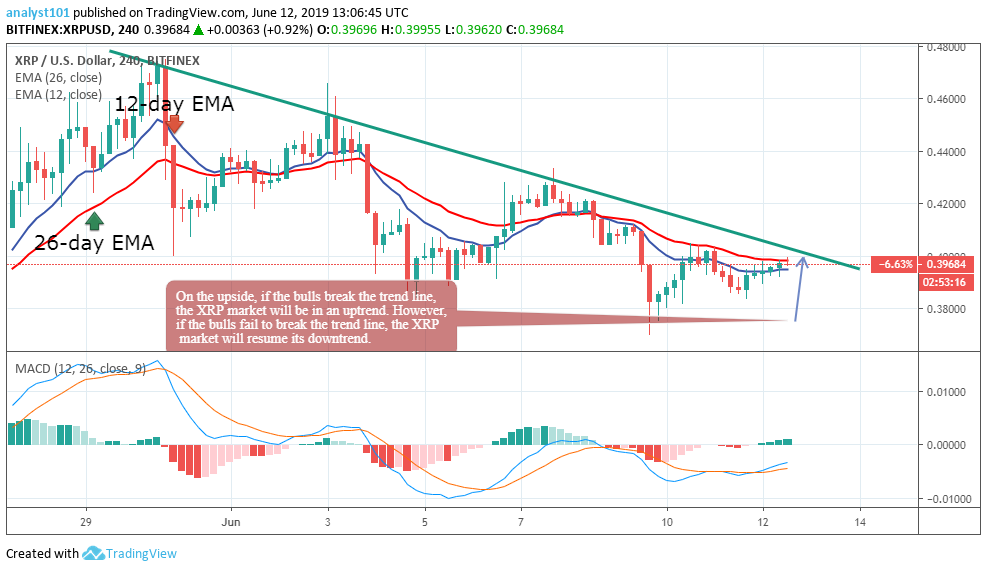 Ripple (XRP) price was in the bearish trend zone yesterday as it was making a series of lower highs and lower lows. As a result, a trend line was drawn yesterday to help determine how long the downward trend will continue. The bearish trend will be discontinued if the trend line is broken and a confirmation candlestick is opened and closed in the opposite of it.
As the chart shows, the trend is ongoing as it has been unbroken. On May 11, the price of Ripple made a bullish move but met resistance near the trend line. However, today, May 12, Ripple price is making an upward move to retest the bearish trend line. So if the bulls are able to break the trend line, Ripple price will resume the upward move. On the other hand, if the bulls fail, to break the trend line, the price will resume its downward trend. In the meantime, the Moving Averages Convergence Divergence (MACD) line and the signal line are below the zero line which is an indication of a sell signal
XRPUSD Price Short-term Prediction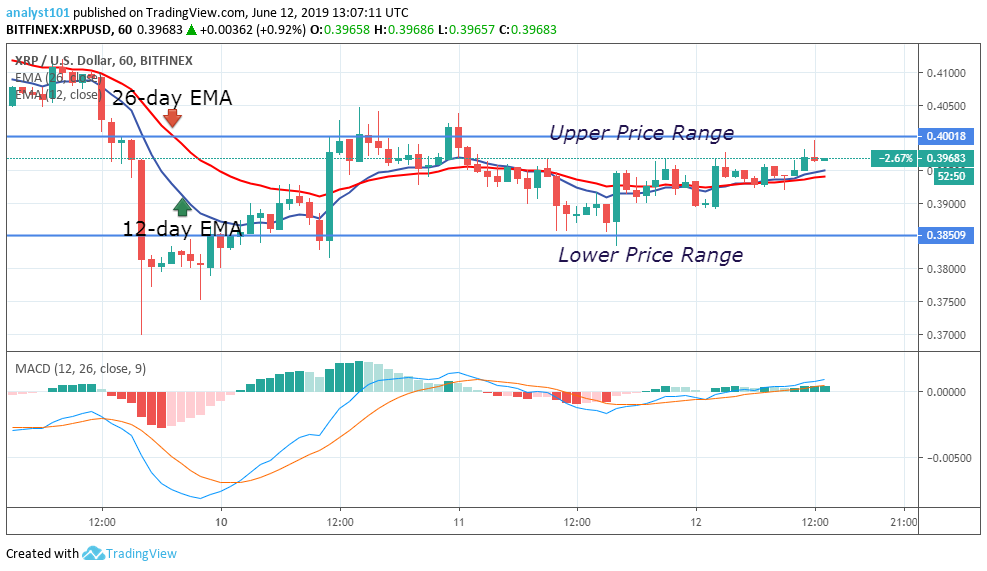 Looking at the 1-hour chart, XRPUSD price was in a sideways trend zone. XRPUSD price is trading in a tight range between the levels $0.38500 and $0.4000. The 12-day and the 26-day Exponential Moving Averages (EMAs) are horizontally flat indicating the sideways trend.
XRP has the appearance of small body candlesticks like the Doji and the spinning tops which is an indication that buyers and sellers are indecisive. In the meantime, the MACD line and the signal line are below the zero line, indicating a sell signal.
Resistance Levels: $ 0.44, $0.46, $ 0.48
Support Levels: $0.38, $0.36, $0.34
Disclaimer
Arathur Stephen is not registered as an investment adviser with any federal or state regulatory agency. The Information above should not be construed as investment or trading advice and is not meant to be a solicitation or recommendation to buy, sell, or hold any cryptocurrencies. The information is solely provided for informational and educational purposes. Always seek the advice of a duly licensed professional before you make any investment.