In this Ripple price prediction, The XRPUSD pair is bearish. If the price continues it fall, it will find support at the $0.31 or $0.32 price level. What is next? Read on!
Ripple Price Prediction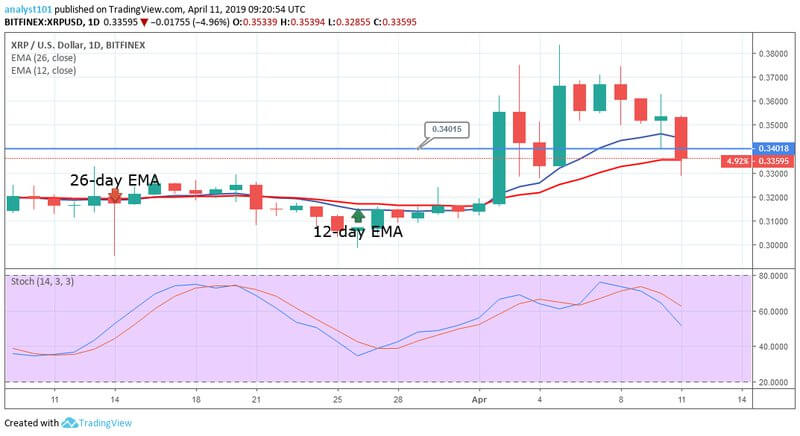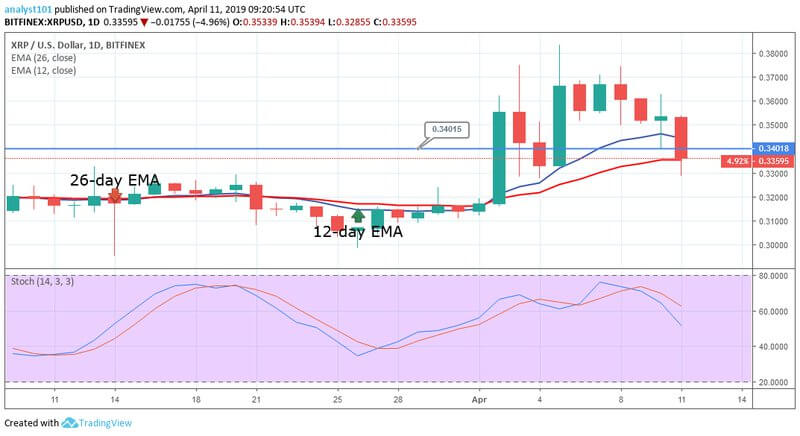 Ripple (XRP), the 3rd largest cryptocurrency by market capitalization is in a bearish trend. The price OF XRP has started declining and is now approaching the $0.33007 levels. Bullish gains would have been eroded if Ripple price drops to the low at $0.31715.
The reason for the bearish trend was because the bulls were unable to break the $0.37 resistance level. It is also possible is that there were no buyers at the upper price level.
Looking at the daily chart, the bears have broken the price level of $0.34 which means that the XRP price likely continues the bearish trend. If this happens, the price will decline to the previous price levels of $0.28 and $0.34. So if price breaks down, the price of Ripple will find support at the $0.31 or $0.32 price level.
On the positive side, if XRP bulls break above the Exponential Moving Averages (EMAs), the price will commence its upward trend. In the meantime, the Stochastic is in the overbought region while below the 80% range which indicates that the price Ripple is in a bearish momentum and a sell signal.
XRPUSD Short-term Price Prediction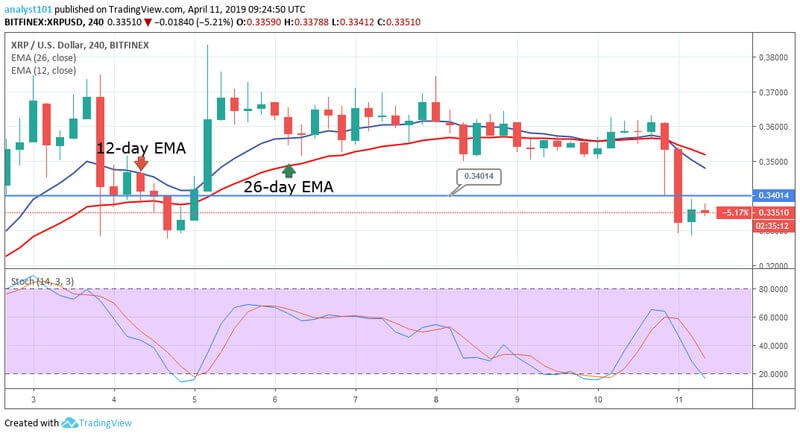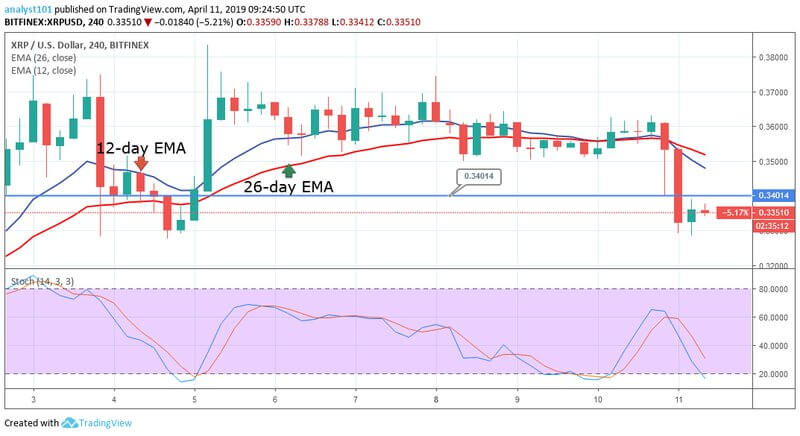 Looking at the 4-hour chart, the XRPUSD pair is in a bearish trend zone. The bulls had continually tested the $0.37 resistance level to break it. However, they were resisted at each attempt and the price dropped to the support of the EMAs. Just yesterday, April 10, the bulls reached the high of $0.36118 but they met resistance as the bears broke the 12-day EMA as well as the 26-day EMA.
Moreover, XRP bulls broke the $0.34 level as the price entered the previous range bound zone. XRP price is now below the EMAs, as it may fall and revisit the lower price range. In the meantime, the stochastic indicator is in the oversold region while below the 40% range. This indicates that the XRPUSD pair is in a bearish momentum and a sell signal.
Resistance Levels: $0.56, $0.58, $ 0.60
Support Levels: $0.33, $0.31, $0.29
Disclaimer
Arathur Stephen is not registered as an investment adviser with any federal or state regulatory agency. The Information above should not be construed as investment or trading advice and is not meant to be a solicitation or recommendation to buy, sell, or hold any cryptocurrencies. The information is solely provided for informational and educational purposes. Always seek the advice of a duly licensed professional before you make any investment.