In this Ripple price prediction, the XRPUSD pair is bearish, and if the downward trend continues, XRP will decline to $0.31. 
Ripple Price Prediction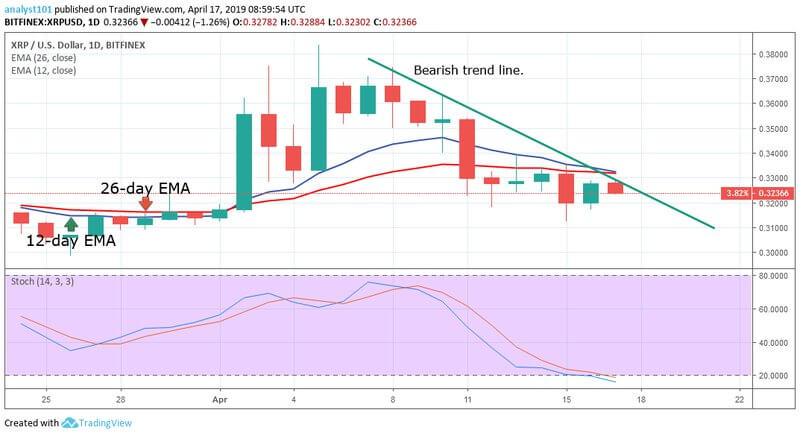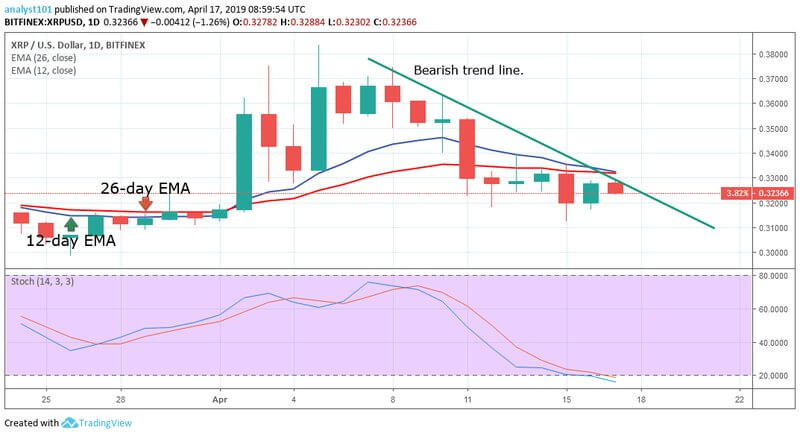 Ripple price is in a bearish trend while fluctuating around the $0.32 level. On April 16, XRP was in a bullish trend as its price rose to $0.3277 but soon dropped back from said level.
On the downside, if the bears break the current price level, XRP may decline to either $0.30 or $0.31, although a price breakout over the said mark is still possible. A line was drawn to determine the duration of a potential bearish trend.
On the upside, if the price breaks the price level of $0.32 and the rally holds on to the $0.33 price level Ripple will commence its upward trend to test the $0.34 and $0.37 levels. In the meantime, the Stochastic indicator is in the oversold region while below 20 which indicates a bearish trend.
XRPUSD Short-term Price Prediction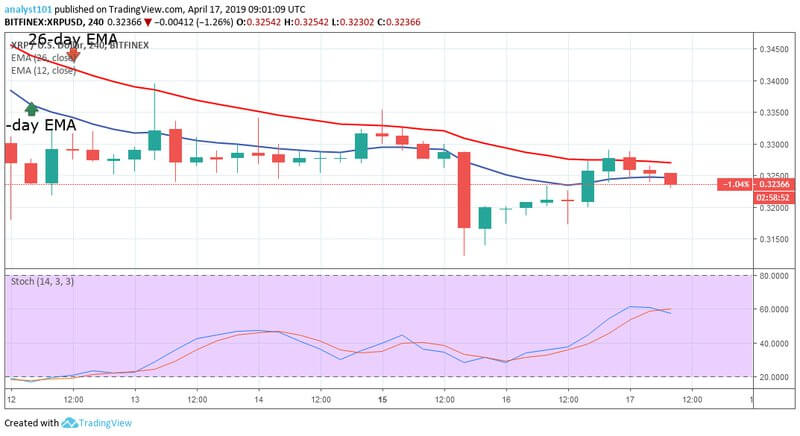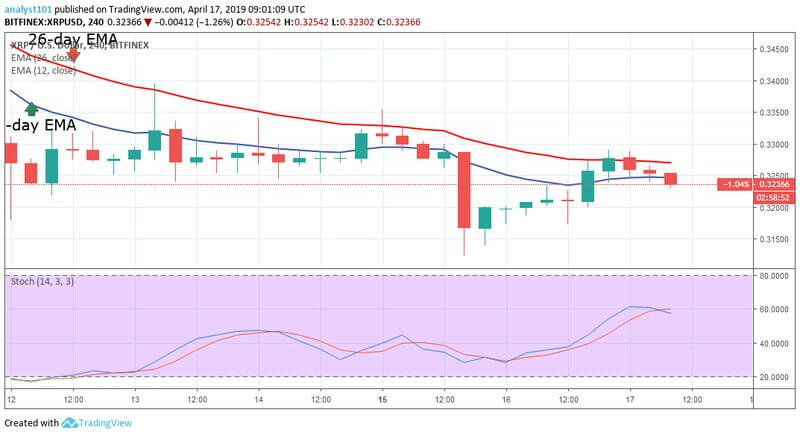 As the 4-hour chart shows, the XRPUSD price is in bullish momentum. Yesterday, April 16, XRP bulls broke the 12-day Exponential Moving Average (EMA) but they, however, met resistance at the 26-day EMA. If a bearish trend is to continue for the pair, the price will fall to the $0.31 level.
However, if the 12-day EMA support holds, the XRPUSD price will commence its bullish trend to test or break above the $0.33 resistance. In the meantime, the Stochastic indicator is in the oversold region while above 40, thus suggesting that the price Ripple is in a bullish trend and is a buy signal.
Resistance Levels: $0.56, $0.58, $ 0.60
Support Levels: $0.33, $0.31, $0.29
Disclaimer
Arathur Stephen is not registered as an investment adviser with any federal or state regulatory agency. The Information above should not be construed as investment or trading advice and is not meant to be a solicitation or recommendation to buy, sell, or hold any cryptocurrencies. The information is solely provided for informational and educational purposes. Always seek the advice of a duly licensed professional before you make any investment.