A Beginners Guide Of How Traditional Lending Is Blended With Crypto-Collaterals By Secured Automated Lending Technology (SALT)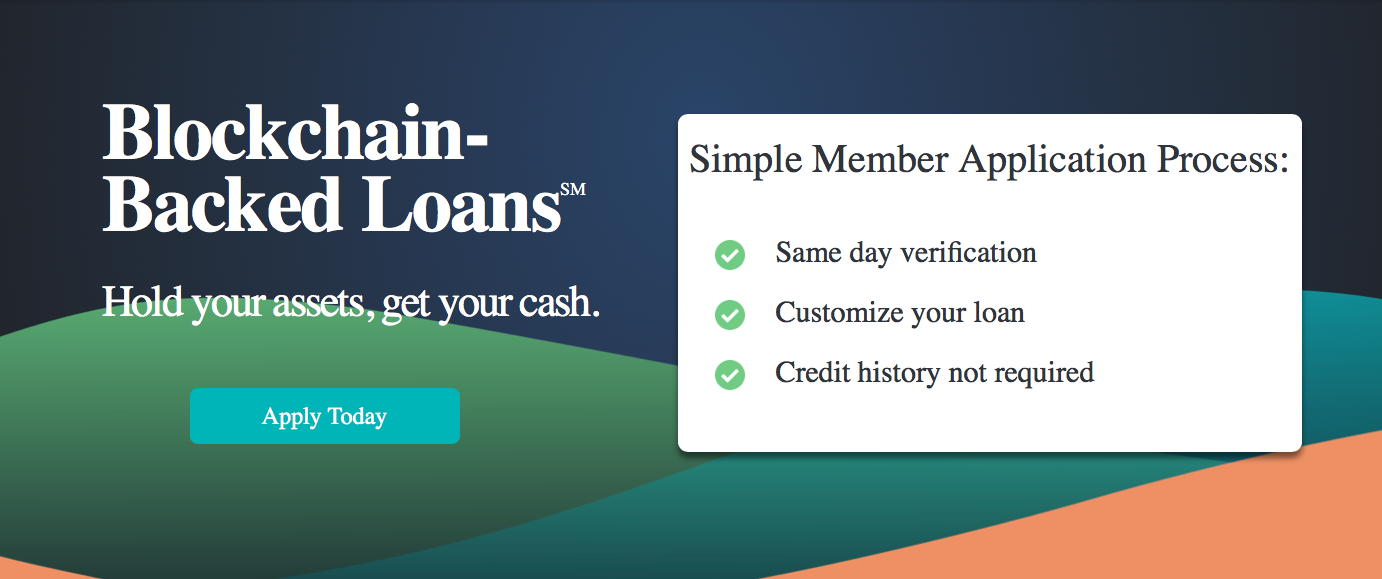 SALT, short for Secured Automated Lending Technology, is a membership based financial enterprise revolving around the blockchain-backed loans trademarked by the company is slowly emerging as the foremost lending platform. SALT Blockchain Lending is the first asset-backed lending platform to give blockchain asset holders access to liquidity without them having to sell their cryptocurrencies.The SALT Platform allows holders of blockchain assets to leverage their holdings as collateral for cash loans.
The SALT platform facilitates loans collateralized by cryptocurrencies such as Bitcoin, Ethereum, etc. In this type of loan, a blockchain asset such as Bitcoin is handed over as collateral in exchange of fiat currencies. As a stark contrast to traditional home or auto loans, you can make use of the same for catering to your business or personal needs. Users can thus get cash by holding on to their assets as SALT makes the leveraging process for getting cash loans easier.
SALT Blockchain Lending provides investors with an innovative and secure opportunity to lend against a high-growth asset class through a fully-collateralized debt vehicle. SALT Blockchain Lending is traditional lending secured by non-traditional collateral.
Becoming A SALT Member
It's pretty easy to sign up as a member by entering your email, username and password which is verified by the Google Authenticator app on registration. An Ethereum address also needs to be entered which you own the private key to. However, you should not use an address of any cryptocurrency exchange. Once the registration process is complete and you have gained email address confirmation, you can access the dashboard for uploading your photo ID and paying for the membership level you wish to proceed with. You might be subject to Anti-Money Laundering (AML) and Know Your Customer (KYC) restrictions while applying for a loan.
SALT Lenders
Lenders had previously shied away from associating with cryptocurrencies given its complicated nature. But the backing of adequate infrastructure, security and compliance has brought along a sigh of relief as lenders can now accept crypto collateral without having to incur any additional cost pertaining to their current processes. The lenders however have to pay SALT membership fees in exchange of these services.
SALT Beneficiaries 
Individuals such as long-term investors and day traders as well as enterprises such as payment processors, remittance services, gaming platforms, ICOs, exchanges, miners and banks can make use of this dynamic blockchain technology based lending platform.
The Loan Process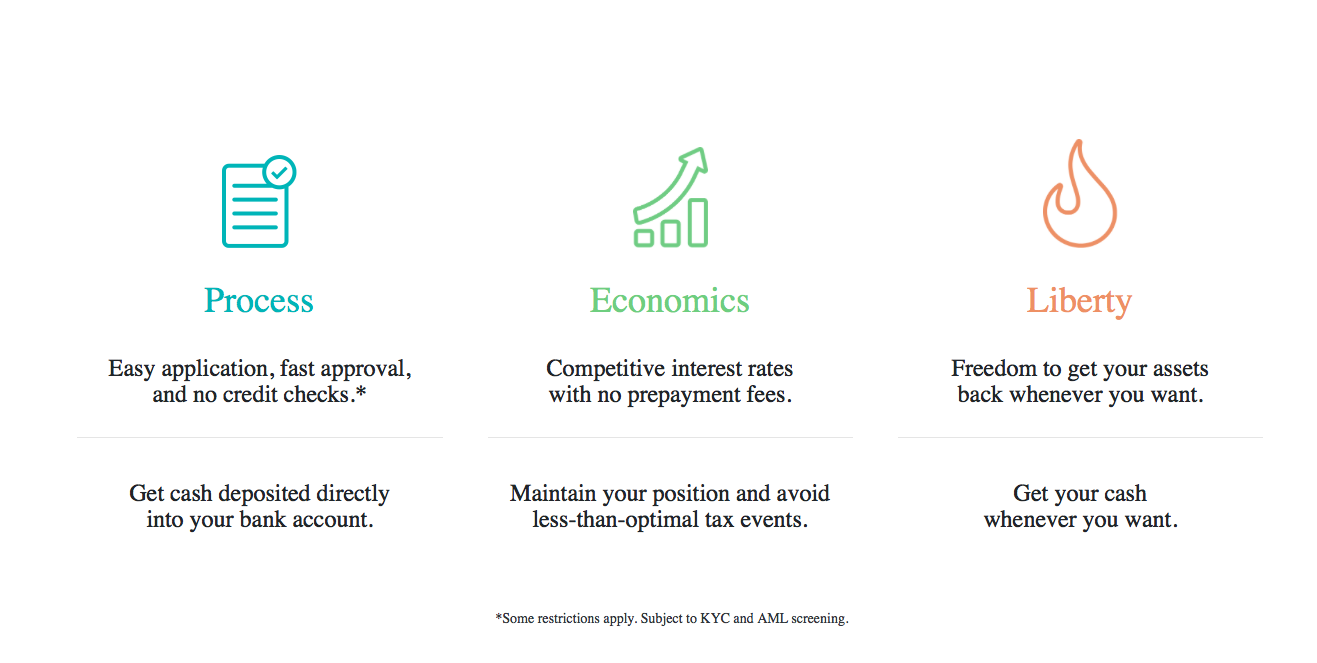 The loan process in SALT platform also differs substantially from traditional finance as SALT never asks about credit score. Instead it determines the terms of your loan by using the value of your cryptocurrency collateral. Lenders post their terms of work for kicking-off the loan process. Borrowers can look through the available options and choose the one which fits them best. Once a particular loan is selected, cash funds are committed by loaners while you provide collateral to a smart contract. These cash funds are remitted directly to your bank account and you start paying monthly instalments based on the terms of loan. The collateral gets released by SALT from the smart contract once the loan is paid-off for being returned back to you.
SALT Oracle – Smart Contracts In Salt Platform
Smart contracts are created for each loan by the SALT Oracle which also triggers the events of loan. The Oracle keeps a tab on loan payments and changing value of crypto collateral for lowering the risk of default. The loan-to-value ratio calculated from the loan terms is derived by dividing the amount of loan by the amount of collateral. Thus, if you avail of a $100,000 loan secured by Ether worth $125,000, then the ratio would be: $100,000 / $125,000 = 0.8 This ratio decreases as you pay off the loan paired with the decreasing amount of outstanding loan. However, this ratio might increase if a decline in market price cause the collateral to reduce. You might be required to provide more collateral or pay-off an additional loan amount if the ratio increases beyond the initial loan-to-value ratio. These ratios are tracked autonomously by the SALT Oracle which notifies the borrower whenever it becomes exorbitantly high. Velocity of price decline determines the time which a borrower has for correcting the ratio.
Salt Loan Eligibility
To be eligible for a SALT loan, you must hold at least one SALT membership, own an asset on a blockchain to meet the eligibility and screening requirements of SALT
User Experience
This streamlined lending platform was created to manage loans in an intuitive manner by providing borrowers with a straightforward application to monitor activity, collateralize blockchain technology based assets and manage repayments. Coupled with its professional design and easy to comprehend user interface, you can gain instant access to desired information pertaining to automatic payments, loan collateral and balances without breaking a sweat.
Preferring Collateral Over Credit Scores
As mentioned previously as well, rather than credit scores, SALT focuses on collateral for loans which can help dramatically with the efficiency. Credit scores were traditionally opted for by lenders given the cost and difficulties involved in liquidating, transferring and storing assets. This method however proved to be inefficient leading to less cash access and higher rates of interest for a borrower. The distributed ledgers of SALT allow you to transfer and store assets in a revolutionary manner by recognizing your assets rather than focusing on the credit standing.
SALT Rates
The competitive rates offered by SALT devoid of any prepayment fees can help you attain economical deals without having to let go of the assets which matter the most. You can also maintain your stand with SALT while keeping away from less than optimal tax events.
SALT Benefits
The complete freedom guaranteed by SALT in terms of taking your assets back whenever felt necessary without having to pay an exorbitant penalty has added to its popularity in recent times. You can also avail loans for an array of requirements whether it is personal or business needs. SALT is the one of the few platforms facilitating loans on blockchain with deeds, derivatives and diamonds slowly heading towards this platform. You also do not have to pay capital gains taxes while using SALT as you are taking a loan and not converting crypto to fiat.
SALT Tiers
You need to first become a member for using the SALT lending platform. There are three levels of membership:
Base (1 SALT/year)
Premier (10 SALT/year)
Enterprise (100 SALT/year)
You can borrow greater quantum of money by opting for higher membership tiers which also provide you with flexible loan terms and additional currencies. Other perks such as portfolio management, customizable loan terms, access to new products, ability of using SALT credits for reducing interest payments, and credit/debit cards are also enjoyed by Premier and Enterprise tier members. Cold storage enterprise wallets and API integration is offered only by Enterprise. All the tiers are stacked with educational resources, market data and loan management web portal. They also do not charge any penalty on prepayment.
SALT Tokens | SALT Coin
With 69,098,925 SALT tokens being in current circulation out of the total supply of 120,000,000 ( as on the date of publishing this article ) members can readily use these ERC20 tokens for paying off 25% of their loans. They can also be redeemed for receiving better loan rates, paying loan interest and purchasing items from SALT's online store.
SALT Coin Trading & SALT Token ICO
The SALT ICO was held in Q3 2017 wherein membership token could be purchased for $3.00 – $7.00 depending upon the time of purchase. The price of SALT tokens underwent the common "post-ICO" dip before climbing up the ladder to a little over $7 in 2017 October. It again fell down to $2-$4 correspondingly and stayed at that range until December 2017 following which the price started to rise up steadily jumping to an all-time high of $17 recently coupled with the announcement that lending had finally begun on the platform. This price is expected to rise further. However, you need to consider the extreme irrationality and unpredictability of crypto market wherein anything can happen.
Buying SALT Coin | From Where To Buy SALT Tokens | How To Buy SALT Cryptocurrency?
The SALT Coin is listed on and can be purchased from the following list of cryptocurrency exchanges :-
Binance,
Bittrex,
LATOKEN,
Upbit,
Huobi,
Liqui,
OKEX,
Gate.io,
TIDEX
How To SALT Coin in India ? From Where To Buy SALT Tokens in India ?
You can buy SALT tokens from the following list of cryptocurrency exchanges in India:-
Where To Store SALT Tokens? | SALT Coin Wallets 
Since SALT is an ERC-20 token, so SALT tokens can be stored in wallets that supports storage of ERC-20 Tokens like:
MyEtherWallet (MEW),
MetaMask,
Coinomi,
Ledger Nano S,
Trezor, etc
Here is a full list of wallets that are compatible and supports storage of ERC-20 tokens:- Best Wallets To Store Your ERC20 Tokens Jaxx is recommended by SALT's official website. Jaxx is available on iOS, Windows, Linux, Mac, Android as well as a Chrome extension. You can also opt for hardware wallets such as Ledger Nano S and Trezor for securing your tokens from ill-intended software and hackers.
Team Behind SALT Cryptocurrency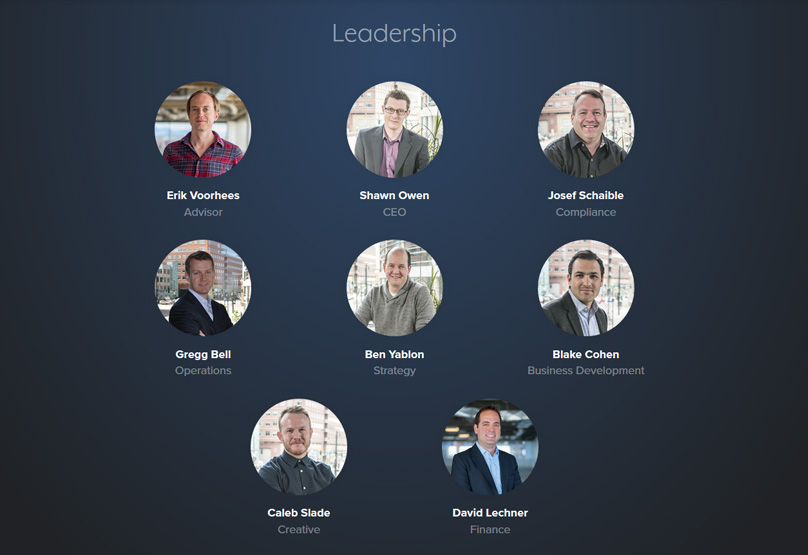 The leadership team at SALT comprises of :-
CEO Shawn Owen,
Advisor Erik Voorhees,
Gregg Ball for operations,
Compliance specialist Josef Schaible,
Blake Cohen for business development,
Ben Yablon for strategy,
David Lechner for finance,and
Caleb Slade for creative department.
The product and technology team includes:-
CTO Phil Cowan,
System architect Chris Johnson,
Product lead Jeff Vier,
Application development Dave Daniel,
core developer Patrick Medaugh,
Mobile and web developer Chris Ellis,
UI/UX Lead Justin Ellis, and
Blockchain developer Sean Luther. Jon Shapiro has joined the team as blockchain advisor while Josh Datko is looking after security, Michael Perklin after blockchain security, Richard Levin after outside counsel and Marion Keyes after tax matters.
Expert Speak
Shawn Owen was recently quoted as saying that:
 "Currently, if you are a holder of blockchain assets, a large piece of your financial wealth is not being recognized by lenders. With SALT, we see a future where virtually all of the world's value is on blockchains, and lending is reflective of our globally-connected, digitized lives."
Owen was intrigued by the idea of a lending platform billions of dollars' worth untapped cryptocurrency which led him to quit his full-time job in 2016. "I saw this trend where the vast majority of Bitcoiners just wanted to hold on to their assets. With this realization, the light bulbs all went off, which prompted me to go full blast with SALT. I haven't really looked back since," he added. Eric Voorhees, belonging to SALT's board of directors feels that,
"SALT's disruptive innovation is an important project for broadening the usefulness and global reach of blockchain technology."
Progress Of SALT Platform
A big milestone was crossed by SALT in January 2018 when it started advancing loans to the top-tier members officially. The platform has gained a member strength of 50000 and has funded more than $7000000 loans backed by Ethereum and Bitcoin. The team is planning to launch credit cards this year coupled with creation of loan funds and its expansion into accepting other cryptos as collaterals. Elix and ETHLend have started providing decentralized lending on ethereum blockchain after completing with the ICOs and adding up to the level of competition for SALT which is the present market leader in blockchain-based loans. While these two projects have taken a peer-to-peer approach, SALT is focusing mostly on institutional cash loans backed by cryptocurrency.
SALT Useful Links Resource List
Conclusion
SALT is gaining rapid popularity in the crypto world with its innovative approach in using blockchain assets as collateral rather than seeking out credit scores. Additional benefits like lack of prepayment fee is making SALT all the more appealing as users are benefitting from its wide-reaching features and limitless possibilities. The project is also catering to the burning issue of illiquidity by opening up entirely new forms of loans. The SALT lending platform shall soon be made open to borrowers belonging to various tiers for taking advantage of this ground-breaking service and bringing the worlds of traditional finance and crypto under a common roof.
Get latest Cypto news and updates on KryptoMoney.com
Also Read:-
Rohit Kukreja is a Commerce graduate with Financial Markets expertise involving Stocks, Forex, Futures & Options Market and now Bitcoins & Cryptocurrency Markets. Blockchain Enthusiast but not a techie, Rohit is an active member of various Blockchain & Crypto communities all over India.