Just a week after India received its first so called "Bitcoin ATM" ( which actually was not) the legality of it is under question as the Central Crime Branch (CCB) sealed the ATM Kiosk and arrested the second co-founder of Unocoin, the firm behind the ATM, just a day after the first was arrested.
While the crypto enthusiasts in India embraced this innovation at the Kemp Fort Mall in Bengaluru, the said "ATM" violates the RBI norms and thus the two co-founders of Unocoin Sathvik Viswanath and Harish B V was arrested by CCB. Harish BV, 37 was arrested on Tuesday followed by Viswanath's, 32 arrests a day later on Wednesday.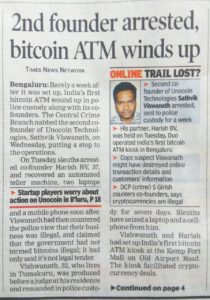 Upon the arrest of Harish, two laptops, a mobile phone, a device for cryptocurrencies and Rs 1.79 lakh cash were seized by the police. Viswanath countered the police's view about the illegality of their business, he claims that bitcoin is not accepted as a legal tender by the Indian government but it has not deemed the cryptocurrency as an illegal tender.
Hailing from Tumakuru, both the co-founders started Unocoin Technologies Private Limited, aimed to undertake business in virtual currency. According to the officials, the ATM Kiosk inaugurated last week did not secured prior permissions from the competent authorities. Viswanath was first produced before a judge at his residence, who remanded him under police custody for seven days.
Following the arrests, the authorities issued another warning and suggests people to not to fall into the pit of illegal cryptocurrency in lieu of making some quick bucks. The Reserve Bank of India told the Supreme Court, during an ongoing proceeding against the cryptocurrency ban exercised by the former, that allowing cryptocurrencies like Bitcoins will only encourage illegal transactions. The authorities further added that bitcoins cannot be recognized under the current legal regime.