The most used fiat-pegged stablecoin, Tether (USDT) hits an all-time high of 38,150 on March 31. Marking a new milestone in reference to the number of daily transactions, since its launch in 2015.
As per the blockchain data from Coin Metrics, mentioned below is a chart by the website on Teather's All-time transaction volume: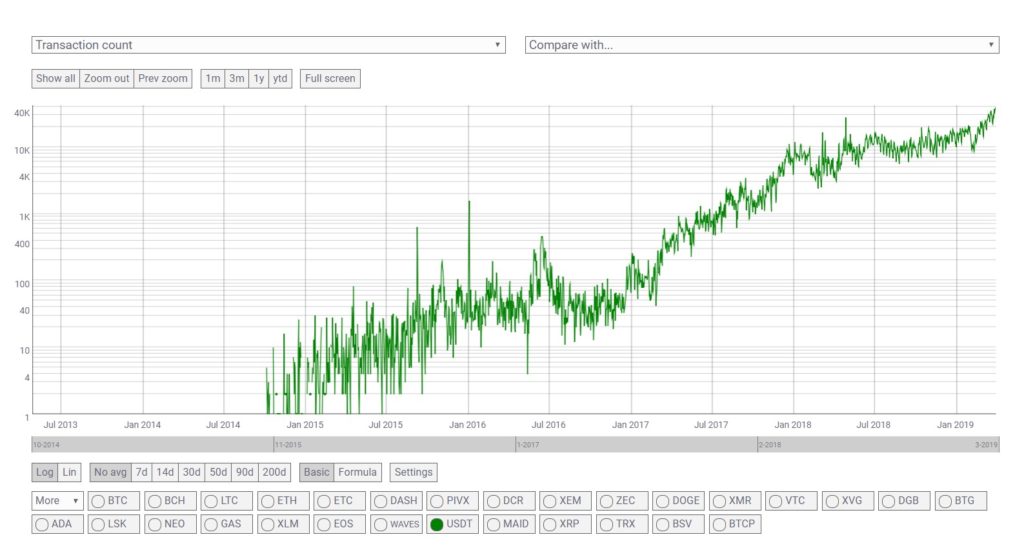 At the press time, Tether is ranked the second top cryptocurrency by daily trading volume at $9.4 billion. According to data from CoinMarketCap, Bitcoin's (BTC) daily trading volume amounts to $10.2 billion.
In the crypto community, Tether has often invited controversies and have had been criticized for Bitcoin price manipulation back in 2017. In fact,  Michael Novogratz, a notable crypto investor, and entrepreneur also condemned Tether for its purported lack of transparency.
Though the token was initially claimed to be pegged to the United States dollar on a 1:1 basis, it was also suspected of operating a fractional reserve while issuing more tokens than they have backing for, and sending them to Bitfinex crypto exchange. After a  subpoena by U.S. regulators was conducted to both Bitfinex and Tether, the latter ordered an unofficial audit.
In the audit, the stablecoin was found to have the appropriate amount of backing dollars. As this controversy settled down, in Mid-march, more troubles brewed for Tether. Social media users noticed an update on Tether's website, saying that USDT is not fully backed by U.S. dollars and may include other assets and receivables from loans made by Tether to third parties.
Stablecoins have been gaining much traction across the ecosystem, just recently the Universal Protocol Alliance "http://kryptomoney.com/universal-protocol-alliance-will-launch-a-euro-pegged-stablecoin-in-april/">announced the launch of its own euro-pegged stablecoin in April. Tech giant IBM also reportedly plans to introduce a stablecoin targeted as cross-border payments solution.
Read more:Coinbase Now Introduces Cross-Border Payments
Image Source – Stock Photo Secrets
Price Analysis of Popular Cryptocurrencies 
Bitcoin Price Analysis – BTC Bulls Dominate The Market
"http://kryptomoney.com/ethereum-price-analysis-ethusd-bullish-breakout-looming/" target="_blank" rel="noopener noreferrer">Ethereum Price Analysis – ETHUSD Bullish Breakout Looming
Ripple price analysis – XRPUSD Rally Seem Likely