What is Tezos- World's First Self-Ammending Blockchain Platform
Tezos is the world's first self-evolving blockchain platform for Smart Contracts and Decentralized applications (dApps) .
Tezos is similar to other smart contracts and dApp platforms such as Ethereum, NEO, QTUM, ICON, Waves, etc but with one major difference, i.e, Tezos is is a self-amending blockchain which can evolve as per the needs of the industry without getting forked from time to time. In Tezos model, the stakeholders governs the protocol. Tezos has set out to establish a true digital commonwealth, a network in which all people involved can let their voices be heard and have a shared loyalty.
As per the Tezos Website:-
"Tezos is a new decentralized blockchain that governs itself by establishing a true digital commonwealth."
Commonwealth means a group that chooses to be linked together because of their shared goals and interests. Tezos aims to have their token holders make decisions together to govern the platform and improve it over time.
Tezos was one of the biggest ICO of 2017 which raised a total of $232 Million worth of Bitcoin and Ethereum. Since then, it is in spotlights and hence, it becomes utmost important for any crypto/blockchain enthusiast to know more about Tezos.
How Does Tezos Work?
The Network Shell
Tezos leverages a "Network Shell" to enable it's self-amending features. In order to understand how Network Shell works, I am breaking down a typical blockchain protocol into 3 layers:-
The Network Protocol
The Transaction Protocol
The Consensus Protocol
What is Network Protocol?
The Network Protocol or commonly known as the "Gossip Protocol" is the way how how transactions are broadcast across the network between nodes. The Network Protocol also includes:-
Downloading the Blockchain,
Broadcasting Blocks to Networks,
And Discovering Peers.
What Is Transaction Protocol?
The Transaction Protocol is defined by the scripting language used in developing Cryptocurrency. For example, Unspent Transaction Output Model (UTXO) in the case of"../bitcoin/" target="_blank" rel="noopener noreferrer"> Bitcoin.
Continuing the example of Bitcoin, the transaction protocol contains the codes which mines Bitcoins, uses digital signatures to verify the transaction. Everything that is a part of making a transaction happen is contained in Transaction Protocol. Any changes made in this protocol are "Soft Forks" which does not affects the consensus mechanism and thus does not splits the chain into two different chains, as compared to "Hard Forks"
What is Consensus Protocol?
The Consensus Protocol, as the name suggests is a ways used in the Blockchain to achieve consensus across all the nodes in the network. For example, Bitcoin uses "../what-is-proof-of-work-pow/" target="_blank" rel="noopener noreferrer">Proof-Of-Work (POW) as it's consensus mechanism. Tezos uses an advanced form of "../what-is-proof-of-stake-pos/" target="_blank" rel="noopener noreferrer">Proof-Of-Stake model known as "Delegated Proof-of-Stake"
Any changes in consensus protocol is usually termed as "Hard Forks" which results in splitting of original chain into two different chains. (As happened in the case of"../bitcoin-cash-explained/" target="_blank" rel="noopener noreferrer"> Bitcoin to Bitcoin Cash). Tezos is basically solving this problem where in, any changes in Consensus Protocol won't result in splitting of the original chain.
Working of Network Shell
The Network Shell of Tezos Combines the second and third protocol i.e Transaction and Consensus Protocol into "Blockchain Protocol".The blockchain protocol is effectively a consistent set of concurrent mutations to the global state of the blockchain where the blocks of the blockchain are defined as the operators acting on the state of the chain. Therefore, the blockchain protocol becomes introspective, allowing blocks to act on the protocol itself. This has important ramifications as it allows for the self-amending ability of the platform where stakeholders can vote directly on protocol upgrades to the system.
The network shell acts as an interface between the network protocol and the blockchain protocol. In doing so, it is the network shell's responsibility to maintain the best chain known to the client.
Tezos is written in OCaml language and the network shell is capable of recognizing 3 objects.
Blocks,
Transactions, and
Protocols
Modules in OCaml can be used to directly mutate (amend) the existing protocol. Also, the network shell, importantly, functions as the deterrent of the network from DDoS attacks. The most prominent feature of the Tezos platform is the ability to implement protocols that are capable of amending themselves. This happens at the protocol level, but on the surface is popularly known as its on-chain governance feature.
Tezos Features
Following are some of the features of Tezos:-
Tezos Governance
As mentioned above as well, Stakehoders govern the Tezos Platform. All stakeholders can participate in governing the protocol and vote on any proposed protocol upgrades. The initial voting mechanism is pre-defined but the governance process can even change the voting mechanism itself as the network progresses. There are many conditions that can trigger a protocol change, most notably a simple stakeholder vote.
Self-Amendment
The self-ammeding feature in Tezos platform helps  in upgrading the blockchain without undergoing any hard fork and splitting the chains into two.
Smarter Contracts & Formal Verification
Tezos uses Michelson, which is the functional programming language for writing "../what-are-smart-contracts/" target="_blank" rel="noopener noreferrer">smart contracts on it's platforms and DApps. Formal verification essentially allows developers to mathematically prove the correctness of their smart contract code.
The self-amendment feature helps in the upgrading of blockchain without undergoing a hard fork. And hard forks are generally not good for the community as it destroys the network effects for which the community has worked so far for.
Proof Of Stake
Tezos uses an alternative Delegated Proof-of-stake protocol named as Liquid Proof-Of-Stake to achieve consensus. It requires stakeholders to stake a certain number of Tezos coins to participate in attaining consensus. In case of Tezos, the process of staking Tezos coins is known as "BAKING". Through baking, the participating nodes can earn more TEZOS coins (XTZ).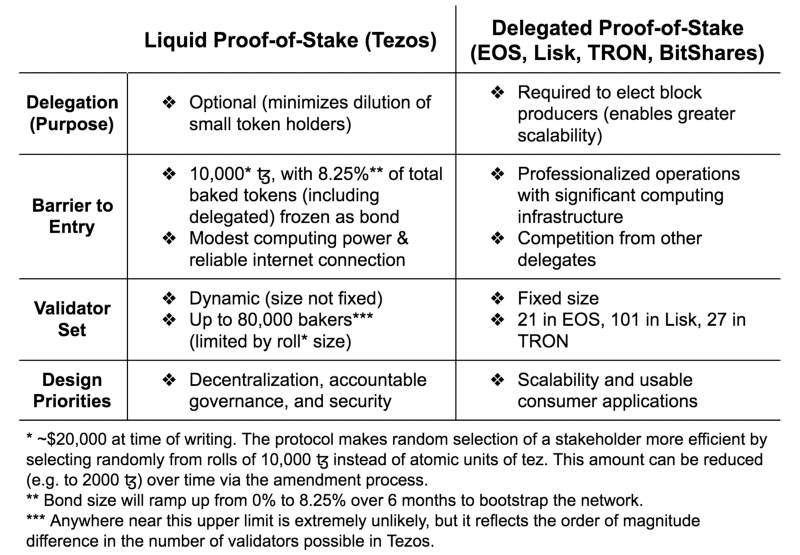 Difference Between Tezos And Ethereum
Following are the points of difference between Tezos and Ethereum:-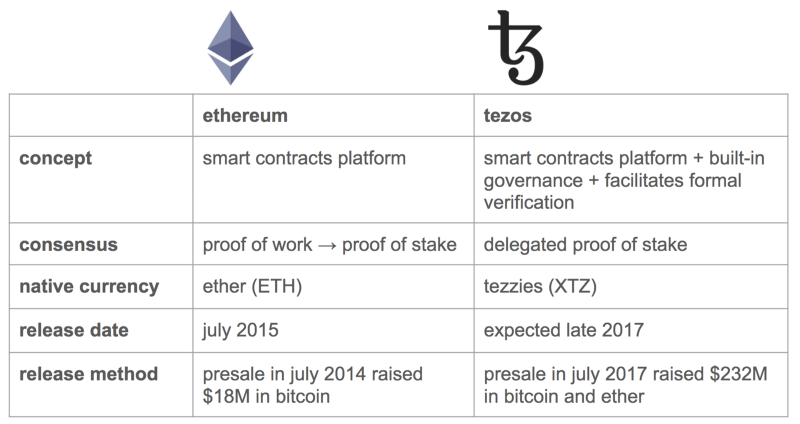 How To Buy Tezos? | From Where To Buy Tezos Cryptocurrency?
Tezos cryptocurrency is listed on and can be purchased from the following"../top-cryptocurrency-exchanges/" target="_blank" rel="noopener noreferrer"> list of cryptocurrency exchanges:-
HitBTC (XTZ/BTC, XTZ/ETH, XTZ/USTD)
Gate.io (XTZ/BTC, XTZ/ETH, XTZ/USTD)
Coinone (XTZ/KRW)
Gatecoin (XTZ/BTC, XTZ/USD)
How To Buy Tezos Cryptocurrency in India?
At the time of publishing this article, no cryptocurrency exchanges in India had listed Tezos (XTZ) cryptocurrency. Thus, if you are willing to buy Tezos cryptpcurrency, you can buy from the above mentioned cryptocurrency exchanges, in exchange of Bitcoin (BTC) or Ethereum (ETH).
Tezos Wallet | Where To Store Tezos Cryptocurrency
Tezos has it's own blockchain and thus it has it's own wallets. Do not transfer coin to any ERC-20 wallets. Following are some wallets which are meant to store Tezos Cryptocurrency:-
Desktop Wallet: "https://github.com/kukai-wallet/kukai/releases">Kukai
Mobile Wallet: "https://wallet.tezbox.com/#/new">TezBox, Tezos.blue ("http://tezos.blue/">iOS, Android, Windows)
Web Wallet: "https://kukai.app/">Kukai, "https://wallet.tezbox.com/#/new">TezBox
As it is a pretty new entrant to the crypto market, finding a hardware wallet for Tezos is not possible as of now.
Tezos Team
The Tezos project is the brain-child of Frenchmen Arthur Breitman. Breitman has significant experience working for large corporates like Morgan Stanly and Goldman Sachs. Arthur Breitman is a computer scientist and mathematician who has experience working in the financial sector.
Arthur manages the Tezos project along with his wife Kathleen. Kathleen Breitman also has experience in the financial sector, working previously for renowned companies such as Bridgewater Associates and R3.
Following are Tezos team members:-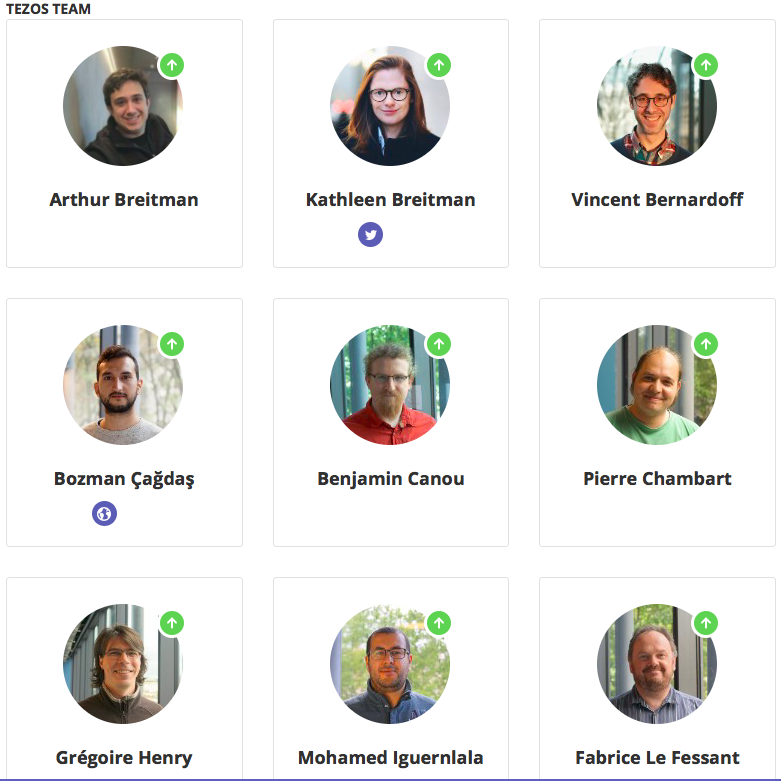 Tezos Advisors
Following are the advisors to Tezos project:-

Tezos Official Resource Links
Some official links that will keep you updated on Tezos:
"https://tezos.com" target="_blank" rel="nofollow noopener noreferrer" style="color: #0c71c3;">Website
"https://tezos.com/static/papers/white_paper.pdf" target="_blank" rel="nofollow noopener noreferrer" style="color: #0c71c3;">Whitepaper
"https://gitlab.com/tezos/tezos" target="_blank" rel="nofollow noopener noreferrer" style="color: #0c71c3;">Gitlab
"https://twitter.com/tez0s" target="_blank" rel="nofollow noopener noreferrer" style="color: #0c71c3;">Twitter
"https://medium.com/tezos" target="_blank" rel="nofollow noopener noreferrer" style="color: #0c71c3;">Blog
"https://www.youtube.com/channel/UCMeXYClRGsIfqS_sqMeolqQ" target="_blank" rel="nofollow noopener noreferrer" style="color: #0c71c3;">YouTube
"https://www.tezos.community/" target="_blank" rel="nofollow noopener noreferrer" style="color: #0c71c3;">Community
Conclusion
To conclude, Tezos is an open source, self-ammending blockchain platform enabling writing smart contracts and building dApps on it's platform. Although there are many similar platforms offering same facilities, Tezos is different as it has a unique on-chain governance mechanism which prevents any kind of hardforks and thus uniting the community. Tezos is still not listed on any major cryptocurrency exchanges. As of now, Tezos is a good pick to add in the portfolio and we can expect huge price rise once it is available on any major crypto exchange such as Binance, Bittrex, OkEx, etc.