Chainlink, 11th cryptocurrency by market cap has performed remarkably well over the past few weeks. The crypto asset which has a market cap of $1.3B and a 24-hour volume of $530.38M has been strongly outshining the flagship cryptocurrency, Bitcoin in the time being.
The only crypto that has kept up the pace of Chainlink's bullish momentum is Tezos, although Bitcoin rose beneath the $6,600 level to break the $7,000 key resistance level, Chainlink's bullish momentum had however been sustained as it rose from its $3.00 lows to trade as high as $3.84 on Saturday.
Analysts are anticipating another breakout rally that could bring it back up to its early-2020 highs of $4.97 if the bullish momentum extends. This bullish momentum may be steered partly by the amazing community support that has been built around Chainlink, as data from IntoTheBlock, metrics shows a spike in chainlink mentions on leading social platforms. At the moment, Chainlink is trading at $3.65.
Stats Reveal an Increase in Chainlink Community Support Across Social Platforms
Chainlink's vibrant community is seen as IntoTheBlock, on-chain analytics reveal that the community has bloomed recently across several social platforms. The stats reveal a steady rise in the counts of Chainlink inclusive statements on platforms such as Twitter likewise a steady climb in the figures of contributors on GitHub.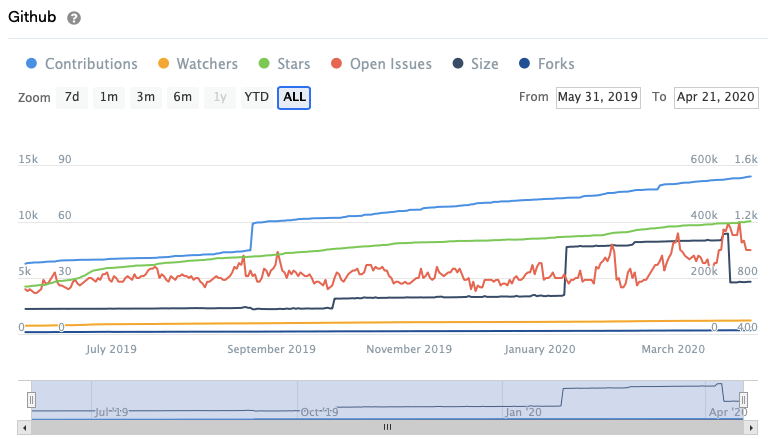 GitHub, a United States-based company brings together the world's largest community of developers to discover, share, and build better software.
After being the top performing crypto asset of 2019, Chainlink went on to set fresh all-time high when crypto market prices tanked following the coronavirus outbreak.
Tyler Winklevoss Stamps Chainlink
The duo of Cameron and Tyler Winklevoss are popularly known as investors who bought a huge amount of Bitcoin and subsequently regarded to have one of the biggest holdings of Bitcoin. When Bitcoin grew to over $20,000, their net worths increased enormously.
With a staunch belief in crypto, the duo initiated the Gemini cryptocurrency exchange as a bridge to connect the Fintech with users at scale.
In his latest tweet, Tyler Winklevoss stated how much he admired the dedication of the LINK community while stating that they are committed to an interest that had potentials, calling it a "real promise." He went on further to liken their passion and commitment to that of the early Bitcoin and Ethereum network users.
In the news recently, Chainlink unveiled its collaboration with the DeFi Money Market (DMM), which gives higher yield income markets on the Ethereum mainnet supported by tokenized real-world assets.
Image Credit: Chainlink Github (via IntoTheBlock), Shutterstock