Just like the last man standing, Chainlink (LINK), 11th cryptocurrency by market cap has remained resilient, unabated despite the raging tide of volatility that swept through the market in the last few days. In a surprising feat, the crypto rather went to hit an all-time high.
The most interesting fact about this crypto is that analysts see its bullish trend sustained in the longer term as it hit a resistance level turned support which will spur a rally. Chainlink is noted to have performed above expectations in the previous year 2019 and this year 2020.
The asset did not only hit a new all-time high in its USD pairing, but it also had a superb performance setting a new all-time high in its BTC pairing.
Chainlink (LINK) is a decentralized oracle service, which seeks to bridge smart contracts with data from the real world. LINK's immense gains could be traced to a new partnership deal with Polkadot, a blockchain interoperability platform and also the raging coronavirus epidemic.
Chainlink's (LINK) Bullish Momentum to Be Sustained
Chainlink's bullish momentum is quite significant in its timing, happening during a crypto meltdown in which major cryptos like Bitcoin and major Altcoins suffered immensely from the activity of the bears.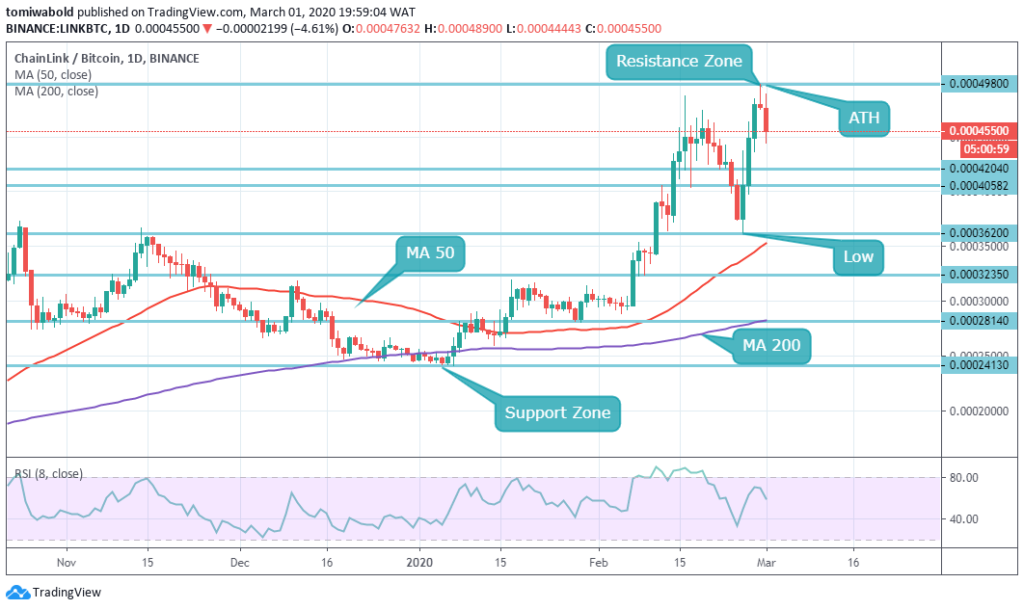 Its unabated strength has spurred the crypto to hit all-time highs, setting an ATH of $4.88 in its USD pairing. The most significant which threw the crypto market into euphoria is a fresh ATH of 0.000498BTC in its Bitcoin pairing.
It had surged from its low of 0.000362BTC to achieve this surprising feat. Currently, LINK/BTC trades at 0.000455 as of when publishing.
Although trading marginally down from the ATH it had earlier set in its USD pair, chainlink currently trades at $3.84 losing nearly 5%, also presently receding from daily highs of $4.24.
A twitter renowned cryptoanalyst, Crypto Michaël sees the crypto's bullish trend to be sustained in a long term leading to further gains, this he alluded to the crypto's recent rally in its BTC pair which serves as bolstering support for an impending rally. In the past few days, it was seen that the bulls have demonstrated greater strength against the bears, therefore this might give credence to this proposition.
Image Credit: Shutterstock