Bitcoin News: The ailing price point of Bitcoin (BTC) in 2018, inspired a lot of non-believers to point fingers at the digital asset and create doubt around its future prospect. However, the token hasn't cracked under such pressure and entered 2019 with lots of positive stats, one of which is that the number of Bitcoin ATMs across the globe has been doubled this year.
According to a chart from the CoinATMRadar there has been significant growth in the number of BTC ATMs. Jameson Lopp, Software developer, and CasaHodl CTO,  points out in a Tweet:
The number of Bitcoin ATMs doubled to 4,000 in 2018, continuing a 3 year trend of 100% year over year growth. pic.twitter.com/mfYDxxkT1l

— Jameson Lopp (@lopp) December 29, 2018
To be precise the number was actually 4,109 on December 31, 2018. While the naysayers will point out 4,000 ATMs not that great a number and a few Bitcoin ATMs per country doesn't make the cut either; it is important to note that a 100 percent YOY growth has been observed despite the bear market the token has faced in 2018.
The question is does any other traditional institution managed to report a 100 percent YOY growth, well certainly not the European Banks.
European Banks
BTC has been facing much opposition from some, it is time to point out the condition of  European banks to those some. The global powerhouses have singlehandedly created financial chaos and malaise around the world, all thanks to their expensive and outdated technology, punishing interest rates, and their fair helpings of money laundering scandals. According to FT:
Poor profitability, outdated business models and negative rates have driven investors away en masse.
This year, the European bank stocks have fallen by an average of 25 percent, eliminating all the gains they made over the last six years. Amongst the 16 largest banks across the Eurozone and Switzerland, none has managed to trade above book value. The controversy-plagued Deutsche Bank dropped at one-quarter of its book value and diving by some 53 percent in 2018.
Notably, a  drastic decline in ATMs has been observed in the UK, as per the "https://www.statista.com/statistics/291638/number-of-cash-machines-in-the-united-kingdom/" target="_blank" rel="noopener">chart from Statista.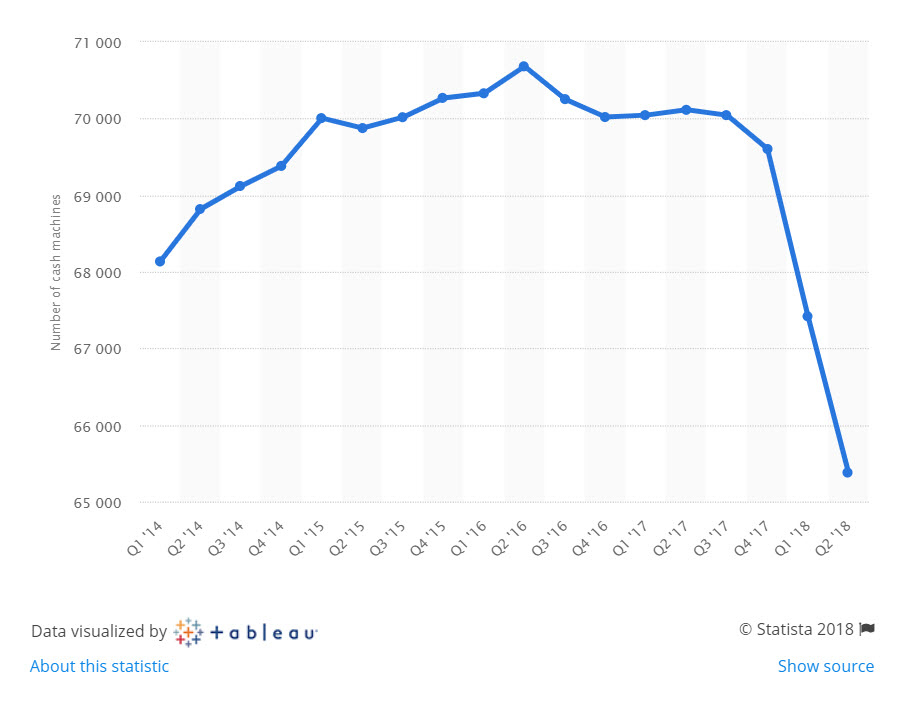 Bitcoin's Subreddit growth in 2018
Bitcoin has also observed an interesting rate of growth on social media as well. The Bitcoin Subreddit r/Bitcoin, the number one forum for discussing all things Bitcoin has reached over one million subscribers this year. In terms of stats, despite the bear market, it has observed a  61 percent growth for the whole of 2018.
In all fairness, the BTC's Subreddit grew is quite less than its 2017 growth of around 200 percent. However, also taking into account the near 80 percent drop in its value this year, the 61 percent increase is a great feat.
Most importantly for Bitcoin lovers, the  infrastructure is improving and knowledge is spreading, the ShapeShift Co-Founder and COO Jon perfectly summed up this equation:
2018 has been a year of growth and fast-paced technological innovation for companies across the industry. Yes, the bear market matters, but it's a period of time with a beginning and an end, part of a cycle that repeats itself over the years.
Read more: Chinese Survey Reveals, 98% Know About Cryptocurrency and 40 % Wants to Invest In Bitcoin