Cryptocurrencies such as Bitcoin was introduced as a peer-to-peer mode of payment. Later, Ethereum was introduced which had the characteristics of Bitcoin plus another feature of developing Smart Contracts for self-executing contracts, powered by Ether token. Numerous cryptocurrencies are added since then. While Bitcoin/Ethereum is to some extent being used for making transactions, but majorly it is used as "Investments" or "Store of Value" along with other cryptocurrencies. But did you know that you can lend your cryptocurrencies to earn interest or borrow money against your cryptocurrencies to achieve your personal goals? Yes, there are various crypto lending platforms on which you can borrow/lend crypto coins. In this article, I have listed "Top 15 Best Cryptocurrency Lending Platform."
But before I get to the list of top crypto lending platforms, let me first give a short introduction to "How Does Cryptocurrency Lending platform works?"
[toc]
How Does Cryptocurrency Lending Platform Works?
Cryptocurrency lending platform works by connecting borrowers to a network of lenders registered on the platform. To borrow an amount, the borrower needs to first deposit his/her crypto assets on the platform as "Collateral". The lender can lend the amount to borrower and earn interest over it. Once, the borrower repays the loan with interest, he/she get's back his/her crypto assets from the crypto lending platform.
For lenders it could be an opportunity to earn some interest by lending it to other users. Borrowers would be able to avoid the pressure to sell cryptos when they feel that price may rise in future.
There are a few ICOs dubbed as lending ICOs that conduct on cryptocurrency lending platforms and makes the entire process more democratic. Below is a list of "Top 15 Cryptocurrency Lending Platforms" on which you can borrow cryptocurrency or lend cryptocurrency.
List Of Top 15 Cryptocurrency Lending Platforms
SALT 
SALT, short for Secured Automated Lending Technology, is a membership based financial enterprise revolving around the blockchain-backed loans trademarked by the company is slowly emerging as the foremost lending platform. SALT Blockchain Lending is the first asset-backed lending platform to give blockchain asset holders access to liquidity without them having to sell their cryptocurrencies.The SALT Platform allows holders of blockchain assets to leverage their holdings as collateral for cash loans.
SALT is a platform based on the Ethereum blockchain that enables the user to convert their crypto assets into cash loans. The users basically borrow from the liquidity pool of SALT tokens.
The eligibility criteria for the loan are fairly lenient, the borrower compulsorily needs to buy the SALT subscription.  Multiple levels of subscription packs are available as per ones' usage. The amount of loan is equivalent to the crypto assets the borrower submits as collateral.
SALT platform does not check the user's credit score, it just relies on know your customer (KYC) and anti-money laundering checks to confirm the legitimacy of the borrower. With SALT, the crypto asset holders aren't necessitated to liquidate their assets as the platform keeps them as collateral and demands an interest rate of something between 14 to 15%. Moreover, SALT does not force a time frame for the loan repayment, making the crypto-based consumer loan quite a lucrative offer.
Read more about SALT Cryptocurrency Lending Platform :- What is SALT Lending Platform ?
ETHLEND 
ETHLend is an Ethereum Blockchain based decentralized lending application (dAPP) which allows peer-to-peer lending backed bysmart contracts.
ETHLend strives to remove the control and power held by traditional banks and large financial bodies to democratize the process-heavy lending drill. In stark contrast to other blockchain loan applications, ETHLend allows both the borrower and lenders in deciding the essential loan details without the requirement of a middleman. Thus, the interested parties can create a loan contract according to their own terms irrespective of their geographic positioning.
Based on Ethereum Blockchain connects borrowers directly to the lenders. The terms and conditions are formulated an negotiated between the duo. Functioning on the Ethereum blockchain, the platform is basically a networking site for investors and lenders to meet a potential borrowers and crack a deal or two. Ethlend allows all loans on any ERC-20 tokens as collateral.
The crypto lending platform uses LEND tokens as fuel for the lending engine.
Read more about ETHLend Cryptocurrency Lending Platform:- What is ETHLEND Lending Platfrom? 
BITFINEX 
Although Bifinex is famous as one of the best cryptocurrncy exchanges in the world, it also offer cryptocurrency lending and borrowing services.
Since 2016, users can borrow or lend their assets to other interested parties on Bitfinex. The cryptocurrency trading platform provides an interesting service known as "Margin Funding" in which users are able to provide funding in the form of multiple currencies to Bitfinex traders.
Bitfinex offers to earn daily passive income by just lending USD or cryptocurrencies. You just need to create an account and deposit crypto assets. Once, the crypto funds are deposited, then you can send funds to the "Funding" wallet address, and set it up for a passive income. The interest will start crediting in your account.
Watch this video to learn how to lend/borrow cryptocurrencies in Bitfinex:-
POLONIEX
Again a cryptocurrency exchange, but similar to Bifinex, Poloniex also offers cryptocurrency lending platforms but not fiat currency lending.
The process of crypto borrowing and lending on Poloniex is quite similar to that in Bitfinex.
MONEY TOKEN
Money Token cryptocurrency lending platform provides cryptocurrency loans using a stablecoin known as MTC and a decentralized exchange (DEX) service. Money Token raised more than $35 Million in their ICO.
The platform is powered by a technology called Amanda, which is an Artificial Intelligence Assistant which analyses clients' activity including loan awarding and repayment so as to generate predictive actions for future financial services. Money Tokens accept Bitcoin or Ethereum as collateral to borrow loan on it's crypto lending platform.
CEO of Bitcoin.com and Bitcoin CASH Supporter, Roger Ver who is also known as Bitcoin Jesus is the adviser to the project. Here is what he says about Money Token:-

NEXO – The World's First Instant  Crypto-backed Loans
NEXO is currently backed by Credissim, a publicly listed European FinTech company. The NEXO Cryptocurrency lending platform specializes in instant loans, bill payment services, and e-commerce financing. NEXO platform allows users to access fiat loans against crypto holdings.
An interesting feature that differentiates NEXO from other crypto lending platforms is that the borrower can spend the loan money through NEXO Credit card. The borrower can also receive the part or full amount of loan in their own bank account. The loan amount would be granted once, the borrower deposits the crypto assets in the NEXO Wallet.
How NEXO Cryptocurrency Lending Platform works?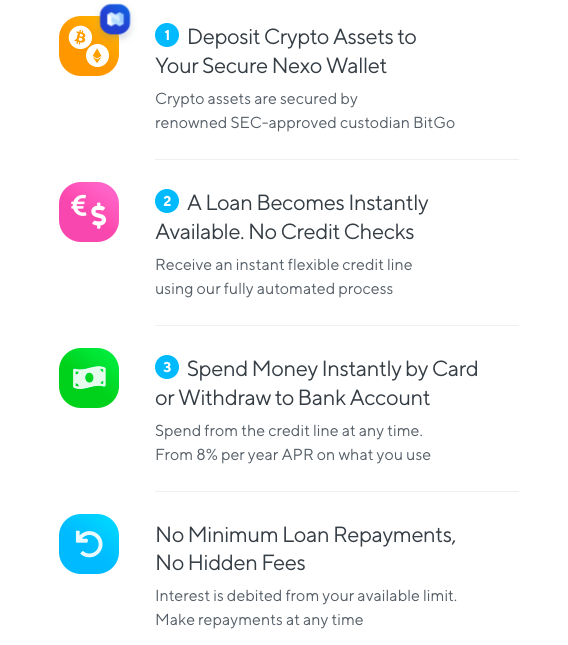 UNCHAINED CAPITAL 
Quite similar to SALT it offers the user liquidity without selling off their crypto assets. The difference is that Unchained Capital runs and works of the Bitcoin blockchain. Well, that's not the only difference between SALT and Unchained Capital is, they differ in the department the amount of loan, Interest rates, and repayments.
Borrowers on Unchained Capital can take a loan worth the 50% of the collateral assets. The platform takes between 11% to 16% interest and the borrowers have to pay interest every month.Users of Unchained Capital can use the same wallet used for collateral. Once the final principal payment is done the collateral payment is returned to any address of user's choice.
How Unchained Capital is different from other Crypto lending platforms?
Here is how Unchained Capital claims to be different from other cryptocurrency lending platforms:-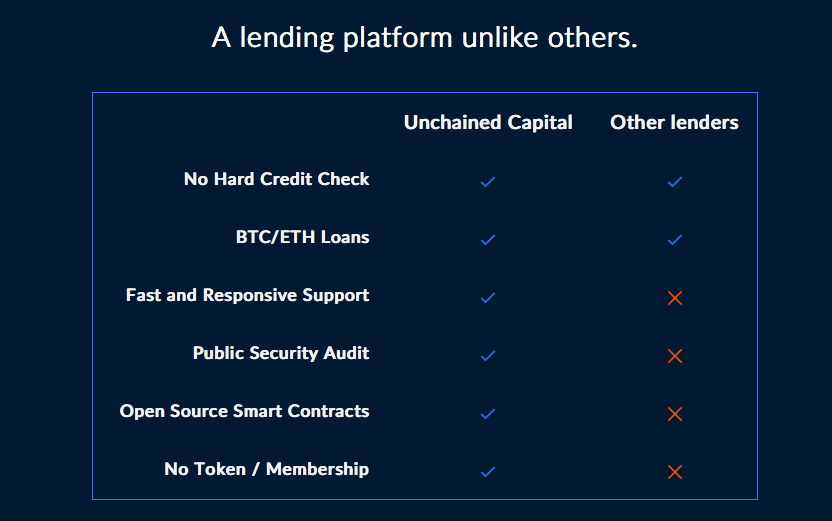 BlockFi 
BlocFi another crypto lending platform is located in New York and offers users the possibility to borrow money against Bitcoin or Ethereum as collateral. Borrowers have to pay a monthly interest on payments in dollars or cryptocurrencies.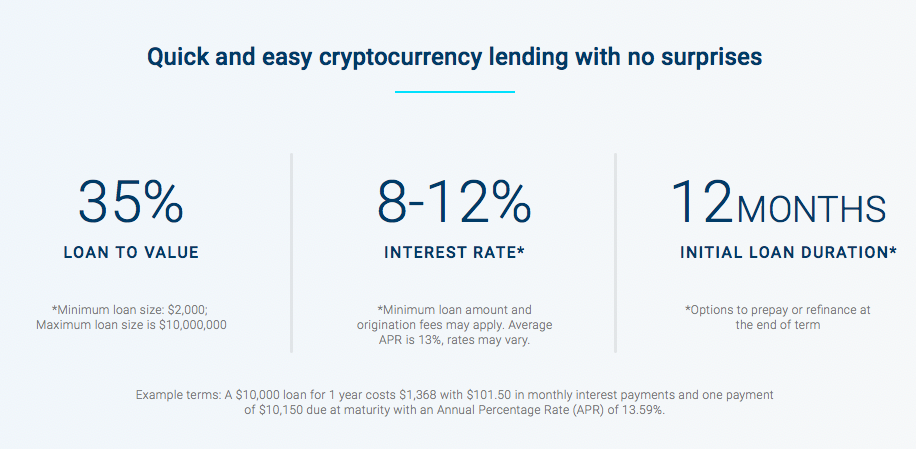 There are different benefits for institutional borrowers that use this platform.They can have access to fiat liquidity and support daily business operations and more. Moreover, they can make large cryptocurrency-backed investments in other markets. The interest rate provided by the company is around 12 percent.
BITBOND 
As the name suggests, BitBond runs and works on the Bitcoin blockchain. The user can borrow up to $25,000 USD. BitBond crypto lending platforms offers an average of 13% rate of interest to lenders. Borrowing interest rates start from 1% per month.
Bitbond platform connects the lender and the borrower, only after evaluating the financial assets of the latter. The website claims that over 3,000 loans have been originated from over 120 countries on the BitBond cryptocurrency lending platform.
All the loans are bitcoin-secured and thus the repayment must be done on the platform itself. Since the platform offers no-limit investments, it has attracted a lot of traction in the community.
BTCPOP 
BTCPOP offers a unique P2P Banking experience with Instant Loans, Investment Pools, Collateral Tied Loans and more.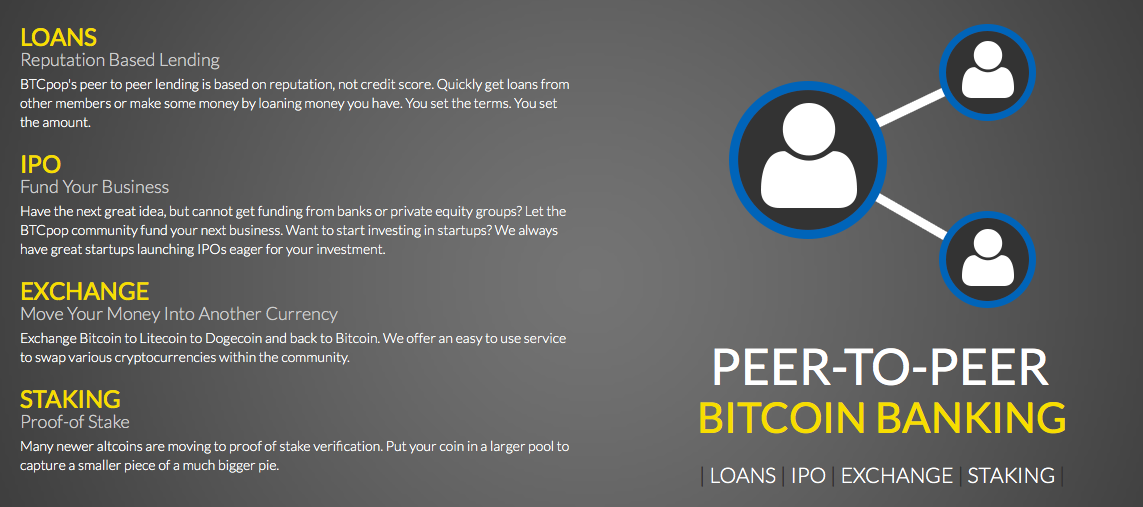 BTCPOP is another bitcoin blockchain based cryptocurrency lending platform service that  allows the  two parties to exchange messages, discuss integrities and to develop a mutually agreed agreement. Before connecting the lenders and the borrowers the platform checks the identification, financial status, of the borrower.
CREDIBLE FRIENDS 
Credible Friends claims to be the world's first peer-to-peer credit card and enabling social lending that was never possible before.
An entirely different platform from the aforementioned ones. Here instead of the platform looking for a lender, you can only select and borrow bitcoins from people in you 'friend' list. Credible Friends is a unique peer-to-peer credit card replacement app that works in a similar manner as a credit card.
Credible Friends platform allow users to borrow bitcoin as a credit loan from other users on their list. The payment is also done in the same way you waver of credit card bills.
COINCHECK
Coincheck is one of the most famous cryptocurrency exchange and wallet service provider in Japan. It claims to be a leading Bitcoin and Cryptocurrency Exchange in Asia. Coincheck was also offering cryptocurrency lending services for a long time but as of now, it has stopped accepting new applications. The platform use to offer 5% rate of interest to cryptocurrency lenders.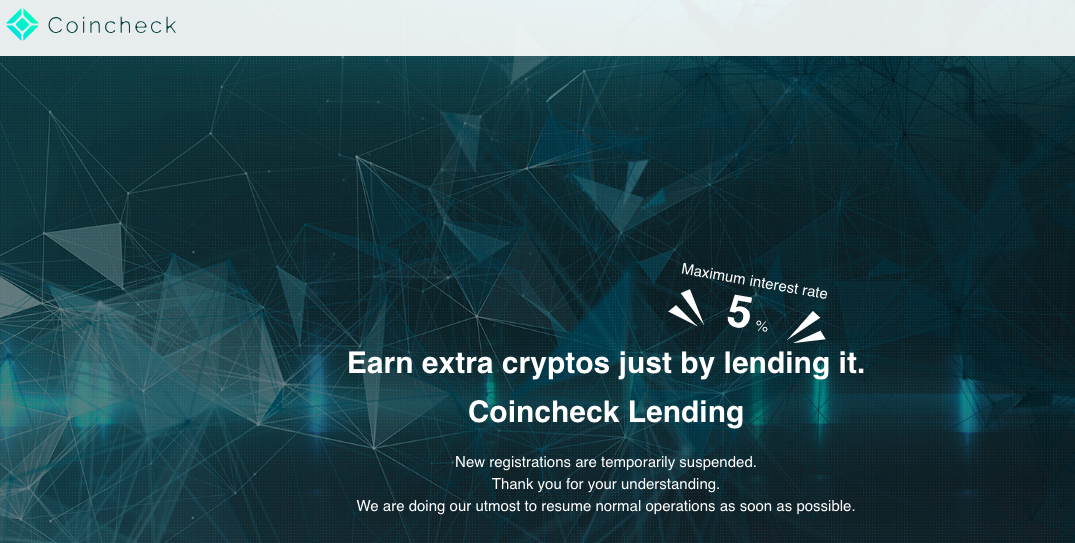 COINLOAN
On CoinLoan Cryptocurrency Exchange Platform, a borrower needs to deposit the cryptocurrencies as collateral and can get 70% of the market value as loan.Once the amount is paid back, they get their crypto collateral.
Lenders needs to deposit fiat currencies and will get back along with the earned interest once the loan is repaid by borrowers.
How CoinLoan crypto lending platform works?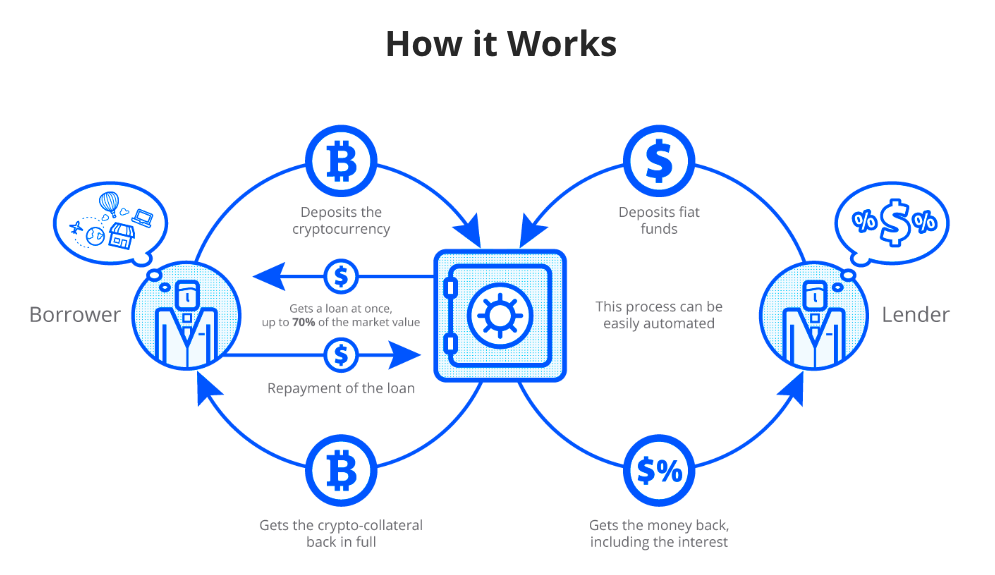 CoinLoan platform works internationally, and the minimum loan amount is as low as $50 dollars. The maximum is limited only by the borrower's and lender's budget.
LENDING BLOCK
Lending Block allows hedge funds, investors, market makers and traders to borrow crypto assets to support trading, fund working capital or any other requirements.
The Lenders can be any individual or institutions who can earn a safe interest income on their crypto assets.
As per the website:-
"Lendingblock is an open exchange for cryptocurrency loans, where borrowers and lenders are instantly matched in a simple, secure and transparent way."
The crypto lending platform only supports crypto to crypto lending.Back in April, the company was able to raise $10 million dollars in an Initial Coin Offering and it uses LND tokens as fuel for the lending engine.
LENDO
Lendo is a blockchain technology based cryptocurrency lending platform that enables regulated lenders to provide loans secured by crypto assets as collateral. These assets will be stored in Lendo's high security Crypto Vault.
At the time of publishing this article, Lendo was ongoing with it's ICO and plans to start global lending operations in April 2019.
Apart from crypto lending, Lendo will also offer range of additional services, such as a crypto wallet, a credit card and a crypto trading exchange, leading to a complete cryptobanking ecosystem.
In case we have missed out any other cryptocurrency lending platform, let us know in the comments section below.
Get latest cryptocurrency news and updates on KryptoMoney.com