Why I Believe TRON Cyptocurrency (TRX) Price Will Moon?
If you are looking for that cryptocoin which can make you super rich in 2018, Tron is the best pick for the current ongoing bull run. Earlier this year, TRX shot up rapidly and moved all the way up to the 10th position in the global market. At the time of publishing this article TRON cryptocurrency is ranked at number 11 in the list of top ten cryptocurrencies as per market cap. In this article i have listed out some of the noteworthy points and updates for TRON Cryptocurrency which has the potential to increase the TRON Price manifolds.
You may experience intense levels of FOMO from what I'm about to discuss about TRON. Just ten days back, around 15 April 2018, price of TRX was only at $0.04 and 500 Satoshis. At the time of publishing this article, price of TRON cryptocurrency moved upto $0.072 and 800 Satoshis giving a return of more than 50% in just 10 days. However, this is just the beginning. Tron has the potential to give multiple returns in upcoming days and re-gain the spot in Top 5 Cryptocurrencies.
But, before I move ahead to point out several insights about TRON, here is a short background about TRON cryptocurrency for those who are not very well informed about it.
But before, mentioning the points about why I believe TRON could be in the top 5 cryptocurrencies, a quick note about "What Is TRON (TRX) Cryptocurrency" for those who still aren'r aware.
What is TRON Cryptocurrency?
TRON is a blockchain-based decentralized protocol that aims to construct a worldwide free content entertainment system with the blockchain and distributed storage technology. The protocol allows each user to freely publish, store and own data, and in the decentralized autonomous form, decides the distribution, subscription and push of contents and enables content creators by releasing, circulating and dealing with digital assets, thus forming a decentralized content entertainment ecosystem.
Tron was founded by Justin Sun, the former Greater China Chief representative of Ripple. Justin was featured in 2015 Forbes China 30 under 30 and 2017 Forbes Asia 30 under 30 and was a member of the first batch of entrepreneurs at Jack Ma Hupan University, the founder of Alibaba Group.
Now lets discuss why TRON price can rise and give you massive returns.
Why TRON Price can rise significantly in upcoming months?
The following reasons can be held accountable, which according to me will make the TRON price skyrocket in the coming months :
1. TRON Foundation will be part of the Taiwanese Blockchain Self Regulatory Board
TRON will open an office in Taiwan soon and be a part of the Taiwanese Blockchain Self Regulatory Board. This was concluded after a live interview between Justin Sun and one of the country's Legislator and Member of Parliament, Jasun Hsu. This move by TRON Foundations will boost the blockchain technology related jobs and entrepreneurial opportunities to a population of roughly 24 Million residents.
2. Tron Cryptocurrency Main-Net launch on 31st May 2018
The Tron Test-Net is already live and the Tron Main-Net will be released on 31st May 2018.
What is Main-Net and Test-Net?
Every blockchain usually has a a Main-net and a Test-net. Test-Net is used for testing the transactions between the team members and project members. On the other hand, Main-Net is used to actually make public transactions, i.e, the general public can now use the blockchain to transfer the tokens and make transactions. Hence, as TRON launches it's Main-Net, it opens upto a huge crypto and blockchain community which can significantly drive up the price of TRX. Along with Tron Main-net release, Tron will migrate all of it's token from Ethereum Blockchain to it's own public blockchain. The process will begin on June 21, 2018(GMT+8). The tokens will be migrated automatically and all TRX tokens holders have been requested to transfer the TRX tokens to cryptocurrency exchanges
.The Tron Main-Net release was even covered by NASDAQ
UPDATE (4 May 2018) : Justin Sun, the founder of TRON cryptocurrency tweeted that Gate.Io and Bibox cryptocurrency exchanges will be supporting the TRON token migration.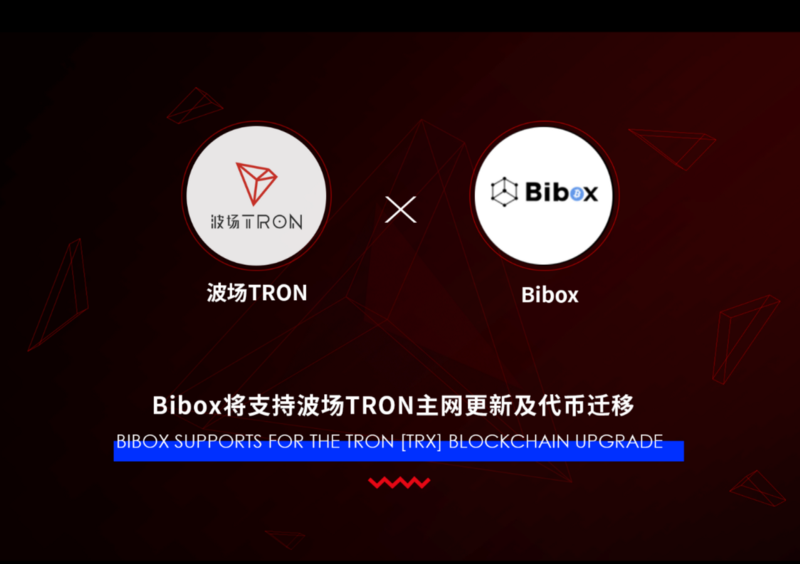 3. TRON-USDT Trading Started On Bittrex
On 23 April 2018, Bittrex – one of the biggest cryptocurrency exchange launched TRON-USDT trading pairs, thus giving more volume to trading of TRON Cryptocurrency.
Quick update: The USDT-$SC and USDT-$TRX markets are open for trading on the "https://twitter.com/BittrexExchange?ref_src=twsrc%5Etfw">@BittrexExchange.

— Bittrex (@BittrexExchange) "https://twitter.com/BittrexExchange/status/988522402442285057?ref_src=twsrc%5Etfw">April 23, 2018
Technical Analysis Of TRON Cryptocurrency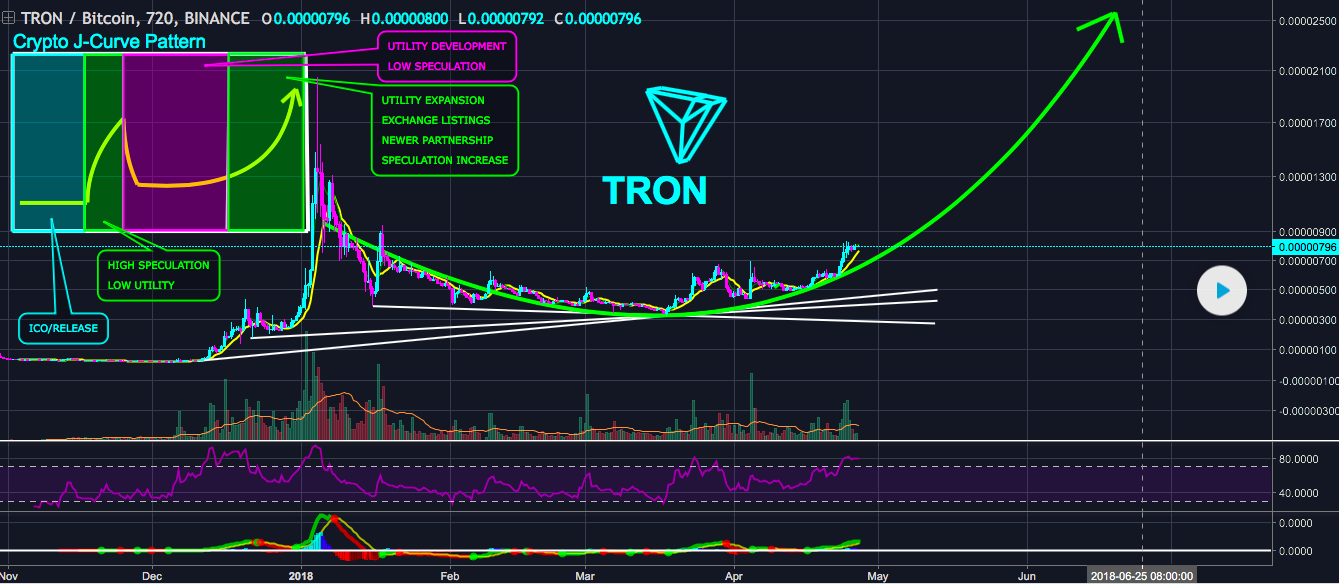 TA Chart- TradingView.com
The above technical analysis chart suggest TRON price to reach 2500 Satoshi around 18-19 June 2018. The all-time high price of TRX is $0.25 and 1687 satoshis. Considering the above factors which are fundamentally very strong for TRON, it's highly likely that TRON could break it's all time and even cross 2500 satoshis. Hence, we can expect a minimum of 3X from the current price – 835 sat.
Some More Positivity For TRON Cryptocurrency
TRON was the most mentioned cryptocurrency on Twitter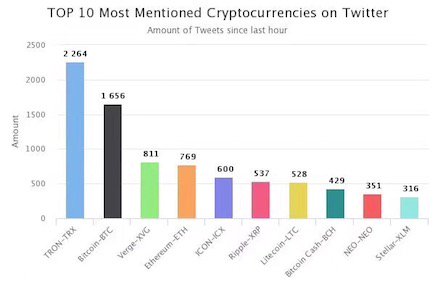 TRON Was The Top Most Cryptocurrency Based On The GitHub Commits
Recently, TRON Cryptocurrency was ranked Number One by CryptoMiso CryptoMiso ranks cryptocurrencies according to the number of GitHub Commits.
Crypto Miso reports that "https://twitter.com/hashtag/TRON?src=hash&ref_src=twsrc%5Etfw">#TRON has reached #1 ranking worldwide in "https://twitter.com/hashtag/Github?src=hash&ref_src=twsrc%5Etfw">#Github commits! Visit "https://t.co/mr1u2etMSg">https://t.co/mr1u2etMSg to join the community. Contributions are eligible for rewards. "https://twitter.com/hashtag/TRONPG?src=hash&ref_src=twsrc%5Etfw">#TRONPG "https://twitter.com/search?q=%24TRX&src=ctag&ref_src=twsrc%5Etfw">$TRX "https://t.co/r6SjBmUSWU">pic.twitter.com/r6SjBmUSWU

— Justin Sun (@justinsuntron) "https://twitter.com/justinsuntron/status/988946015343394818?ref_src=twsrc%5Etfw">April 25, 2018
Although, TRON is now no longer at number one spot in the list of CryptoMiso, it still stays in Top Ten Cryptocurrencies.
TRON Cryptocurrency Enters In Malaysia
Tron Cryptocurrency gets listed on Malaysian Cryptocurrency Exchange CoinBene. This is the first Malaysian Cryptocurrency Exchange to list TRX. More listing on exchanges, will bring more volume to trading of TRON and thus may boost it's prices. The trading of TRON on Coinbene started on 25 April,14:00 (UTC+8)
TRON Cryptocurrency Expands In India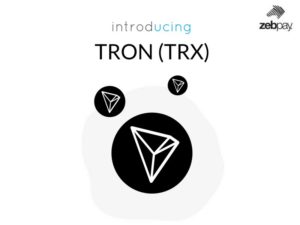 Zebpay, India's leading Cryptocurrency Exchange lists TRON. Trading of TRON On Zebpay started on 27 April at 1 PM (GMT+5.30). Although, Zebpay is not the first Indian cryptocurrency exchange to list TRON, still it is one of the biggest cryptocurrency exchange in India and may attract huge volume in trading of TRON. We have mentioned below,some more Indian cryptocurrency exchanges which has listed TRON. Keep on reading.
Huge Community Support
The community energy that TRON has is massive. There are about 21,000 members who have subscribed to the TRON (TRX) "https://t.me/tronnetworkEN" target="_blank" rel="noopener noreferrer">telegram channel. TRX HODLers are still optimistic of more gains with day traders laughing at their daily gains and hoping for a dip in the TRX value so they can bag some more.
( If you are liking our content, I would suggest you to join our Telegram Channel to get more awesome updates and latest crypto news)

Some Big Partnerships 
Following are some of the big and noteworthy partnerships that TRON has made recently:
TRON partners with BaoFeng (Chinese Netflix)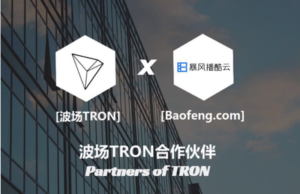 With currently more than 200 million users, BaoFeng is widely recognised as Chinese Netflix.bfc.baofeng.com has reached a blockchain technology cooperation agreement with TRON, with the signing of Blockchain Consensus Network (BCN). Bfc.baofeng.com and TRON will cooperate in the deployment of full nodes in the blockchain network, the integration of blockchain with online entertainment industry, the building of open source community of blockchain and so on, opening a new era of blockchain-based online entertainment. In the future, Baofeng BFC hardware devices will support TRON and run the full nodes of the TRON's main chain. This will undoubtedly provide a sound infrastructure for the TRON main chain's launch and operation and lay a solid foundation for blockchain-based online entertainment's development. Now imagine if BaoFeng having 200 Million users starts accepting TRON (TRX) cryptocurrency on it's platform. The TRON price would go through the roof by witnessing the demand from at least 200 million customers.
TRON partners with Peiwo ( an app aspiring to become China's Snapchat )
"|">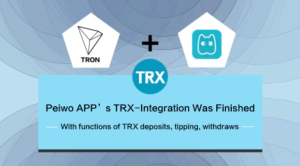 TRON will launch the first online entertainment scenario based on 10-million Peiwo APP users community to provide authentic entertainment experiences to the young generation. Peiwo APP is the largest audio content community in China, with over 10 million global registered users and more than one million monthly active users. The users of Peiwo APP  are distributed in China's first-tier cities in Beijing, Shanghai, Guangzhou and Shenzhen as well as in North America, Western Europe, Japan, Korea, Australia and other places all over the world and are mainly in the age between 16 and 25 Through online audio live streaming, Peiwo APP not only provides young people with a platform "Not look at your face" to show themselves, but also brings them opportunities of self-fulfillment via the crypto currency system on the platform. Again big userbase which can lead to surge in demand for TRON and thus rise in TRON price
TRON partners with GIFTO
"http://www.gifto.io/" target="_blank" rel="nofollow noopener noreferrer" data-wpel-link="external">Gifto, is a virtual gifting blockchain platform which partnered up with TRON to leverage TRON's underlying technology to help facilitate massive transactions of users using virtual gifts. Gifto is being launched by Asia Innovation Group, the creator of "http://www.up.live/" target="_blank" rel="nofollow noopener noreferrer" data-wpel-link="external">Uplive, a live streaming mobile application with over 20 million users that uses virtual gifting to reward content creators on their platform. Every month, millions of people use Uplive to view livestreamed content from over 60,000 content creators on their platform.  The company has stated that it will earn over $100 million of projected revenue in 2017 alone from virtual gifting on Uplive. With Gifto, this technology is being brought to the blockchain and made universal so that virtual gifts can be created, curated, tracked, bought, sent and exchanged across any content platform such as YouTube, Instagram, and Facebook.
TRON Partners with O-BIKE
Singaporean bike sharing operator O-Bike to Launch it's own cryptocurrency In association with Tron. (Read full article)
Apart from the above, TRON partnered up with more organisations such as:
Game.com- an online gaming platform which centers on blockchain game content,
Global Social Chain (GSC) –  World's first new generation of social network chain that owns hundreds of millions of social users. This social chain is determined to use block chain technology to subvert centralized social networks such as Facebook, WeChat, etc., which plays a dual role as "manager" and "arbiter" simultaneously for the former social networking platforms.,
Mico,
Kitt Live,
Waka,
Yay
"https://twitter.com/hashtag/TRON?src=hash&ref_src=twsrc%5Etfw">#TRON has built a strategic partnership with Mico, Kitty Live, Waka, Yay, and GSC (Global Social Chain). Mico is a stranger social platform with 100 million users and Kitty Live is a streaming Apps in Southeast Asia with 20 million users. "https://twitter.com/hashtag/TRX?src=hash&ref_src=twsrc%5Etfw">#TRX "https://twitter.com/search?q=%24trx&src=ctag&ref_src=twsrc%5Etfw">$trx "https://t.co/N5vRCX9Ov8">https://t.co/N5vRCX9Ov8 "https://t.co/sVZouwdWmr">pic.twitter.com/sVZouwdWmr

— Justin Sun (@justinsuntron) "https://twitter.com/justinsuntron/status/957389617807765504?ref_src=twsrc%5Etfw">January 27, 2018
Although the above mentioned partnership updates are not new, the purpose of mentioning is to just inform that TRON has access to huge userbase through these partnerships. And in crypto world, more the users, higher the prices.
TRON And Alibaba
And finally last but certainly not the least, it is highly anticipated that TRON may partner up with Alibaba. Why? Take note of following points:
Tron founder Justin Sun, the former Greater China chief representative of Ripple, was hand picked by Jack Ma himself to study at the Jack Ma Hupan University for entrepeneurs which has an acceptance rate lower than Princeton. Justin Sun is the first Millennial to graduate from the university Jack Ma Hupan University. Jack Ma has a history of investing in the projects of Hupan University's graduate projects

Lucien Chen joined the TRON Team and will be responsible for the main blockchain development of TRON. Previously, Chen has worked for Tencent and Alibaba, and has officially joined the TRON team as Technical Lead, managing TRON's global technical teams and arranging all project development schedules.
Considering the above facts and hearing out from my industry connects, it is highly anticipated that TRON could partner with Alibaba and this could be one of the biggest partnerships in crypto world.If happens, TRON prices skyrocket to the moon.
Where To Buy TRON Cryptocurrency (TRX)  :
Tron (TRX) Cryptocurrency is listed on following cryptocurrency exchanges:
UPDATE (4 May 2018): Justin Sun, the founder of TRON tweeted that TRON Cryptocurrency (TRX) will be listed on "https://www.cointiger.pro/exchange/index.html" target="_blank" rel="nofollow noopener noreferrer">CoinTiger cryptocurrency exchange. Deposits of TRX began on 3rd May 16:00 ( UTC+8)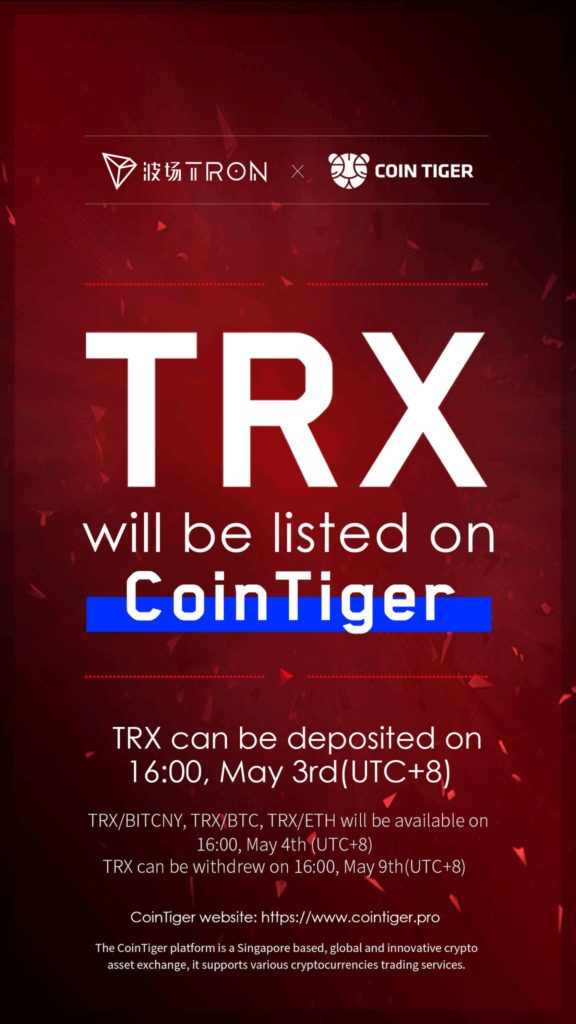 Where To Buy TRON Cryptocurrency (TRX) In India :
Indian Cryptocurrency traders and investors can buy Tron (TRX) Cryptocurrency from the following cryptocurrency exchanges in India:
TRON Cryptocurrency Wallets
As of now, TRON is still an ERC-20 token and will migrate to it's own blockchain in near future. Hence, TRON can be safely stored on wallets that are ERC-20 compliant such as:
MyEtherWallet,
Ledger,
Trezor,
MetaMask,
ImToken,
Eidoo Wallet,
What are your views on TRON Cryptocurrency for the upcoming months, specially considering it's Main-Net launch? Let us know in the comments section below.
KryptoMoney.com publishes latest news and updates about Bitcoin, Blockchain Technology,Cryptocurrencies and upcoming ICO's.