Tezos is undoubtedly one of the most bullish tokens in the crypto market being hallmarked by its frequent massive rallies. Its bullishness has been steered partly by its staking feature as the cryptocurrency is known to provide returns through the staking APY to investors who lock up their XTZ tokens on the blockchain.
In 2019, subsequently after being listed on Coinbase, the glitz that accompanied the crypto asset's staking feature added with a growing interest in DeFi made the cryptocurrency surge. In April 2020, Binance.US launched its staking rewards in which the exchange will be taking hourly snapshots of the user's XTZ balances to determine rewards.
Ranking 10th by market cap, Tezos is the only crypto asset that seemed to rival Chainlink in its bullish momentum. Being one of the top-performing assets in 2019, the Altcoin went ahead to gain the reputation of being among the top investments to embark on in the year 2020.
Just like Chainlink, Tezos also went to set new all-time highs earlier on this year, but later fell in March market carnage to trade as low as $1.00.
Tezos bullishness may have been steered by its staking feature undoubtedly, but the rate of growing utilization of the token may have contributed to its bull run.
Recently, its usage extended into real estate as Tezos teamed up with Vertalo and Overstock's tZERO to build a new tokenization platform.
Bulls Maintain Strength Despite Market Downswings As Utility Extends to Real Estate
Tezos at the moment is exchanging hands at $2.23 up from its weekly lows of $1.85. The bulls were able to steer the asset to a high of $2.37 from which it reclined to its current levels due to selling pressure.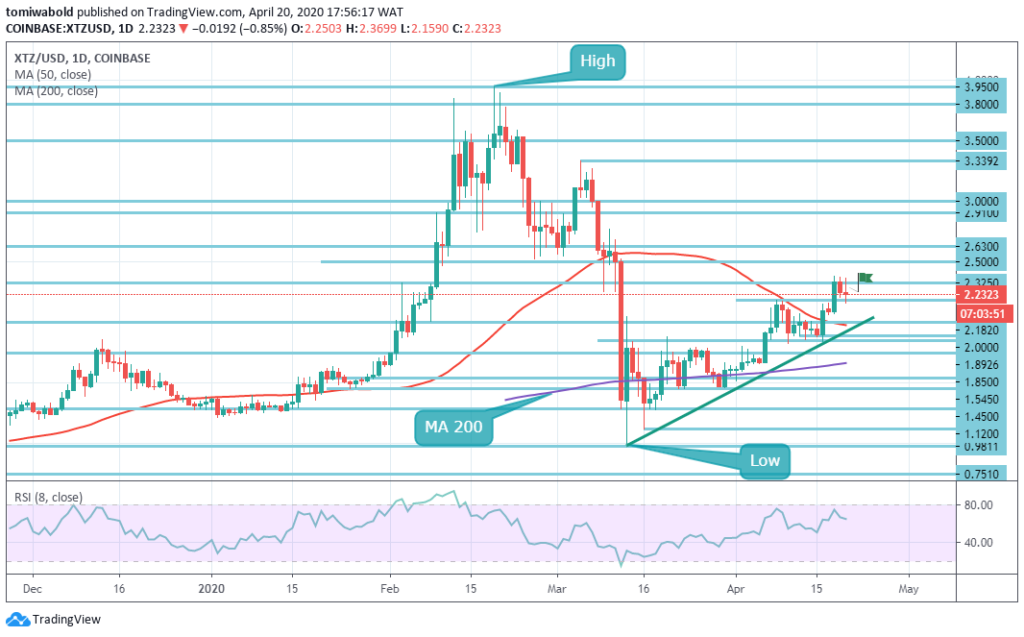 With an influx of $300 million from real estate into the Tezos blockchain in a multi-firm collaboration which included Advantage Blockchain, a consulting firm, Vertalo, a digital transfer agent and Overstock's tZERO, tokenization of the portfolio of Class A properties which a boutique firm has to its name will be undertaken in the first phase of the deal.
Consequently, this will pave way for other real estate tokenization projects to be undertaken by Tezos. Analysts are however of the opinion that Tezos may see negative price activity if its usage in the real estate does not correspond with the huge increase recorded in its price action.
However, on the macro-outlook, analysts see the bulls gaining more strength for every retreat it suffers while referring to these potential near-term price retreat as good entry points.
Image Credit: Shutterstock