Bearish sentiments seemed to have gotten hold of top cryptocurrency Bitcoin, as it found itself falling off a proverbial cliff in the last few days.
This had not always been the case as Bitcoin earlier had a massive rally that blew it off the lid to the price of $10,500, which threw the market into euphoria.
In a twist of events, Bitcoin was scrunched by the volatility tide which hit the cryptocurrency market in the last few days as it plummeted past $8,500 key handle on its daily chart, shedding off nearly 19% with millions of contracts liquidated. Subsequently, Bitcoin entered the bearish zone.
BTC: Below $6,000 Possible?
An analyst who in the process of studying BTC price trends noticed that there is a distinctive semblance in price trends between the 2013 to 2015 period when BTC price escalated and its recent trend in the last one year.
In the last year, BTC experienced a run which pushed it up to hit highs, then mid-year 2019, it experienced a pullback as bearish sentiments gained control after printing a death cross and earlier this year, it printed a golden cross in which it experienced a major rally.
Also, there is a striking semblance between the short term moving average (50-day) and long term moving average (200-day) as seen on the MACD divergence of 2014/2015 to this last year.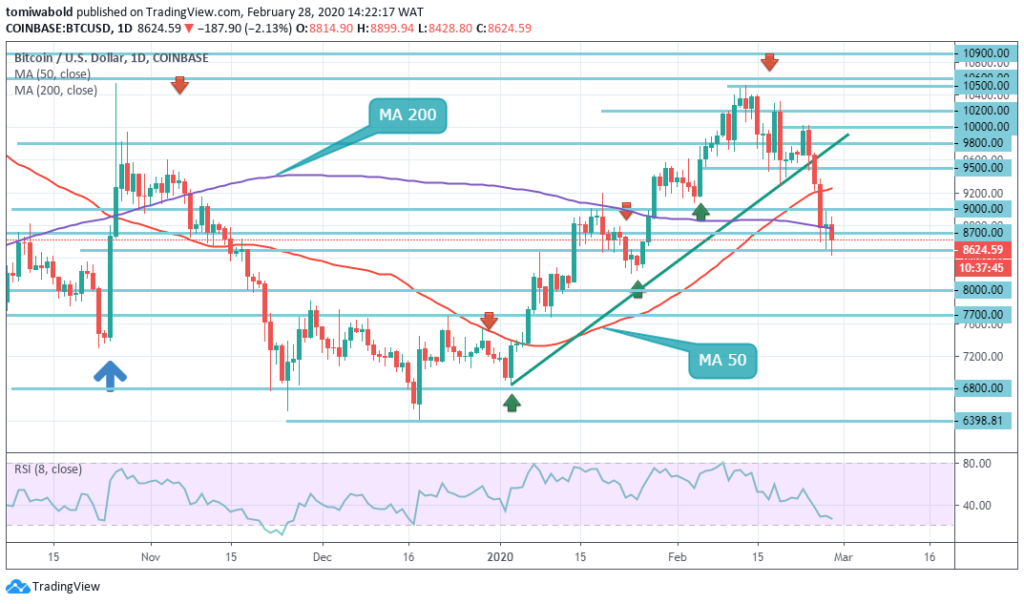 Some analysts are however of the opinion that when BTC bottomed its chart at $6,000 in December 2019, this might not be the actual long term bottom. This was inferred after studying the BitMEX funding rate from October 2018 till the aforementioned period.
Conclusively, it was deduced from the premise stated above that if $6,000 isn't the actual long term bottom, BTC may have to topple down further from its recent price by 30% to reach below $6,000 to hit the actual bottom.
BTC's Short Term Bottom Impending?
Analysts are proposing that BTC may bottom its chart in the short term since BTC had been on a critical downtrend in the past few days.
Several analysts have to use the rule of thumb that whenever the market is wildly bearish, then a rally may be imminent as the bottoming of the chart is achieved. This could also be vice versa. This had proven true in the late 2018 scenario when BTC blew off its top to trade at above $4,000 and December 2017 when BTC crashed from its ATH of $20,000.
Image Credit: Shutterstock