Bitcoin (BTC) recently hit new highs of $40,425 as part of a tremendous price rally, although BTC experienced a slight pullback as it met selling pressure at this key level, it quickly rebounded back.

There are however mixed opinions on where the first and largest crypto asset trends next, as the calls for BTC reaching overbought territory are on the rise. However, some analysts and key metrics indicate that Bitcoin's bull run has just begun.

"Bitcoin is in the process of starting its post halving bull cycle," Diginex CEO Richard Byworth stated.

Data from Bitcoin's network value to transaction (NVT) ratio also indicated that the Bitcoin bull run is beginning, not ending. A report from Stack Funds gives the NVT to be trading in the middle of the range at the 70 handles suggesting that Bitcoin is not overvalued despite the rally.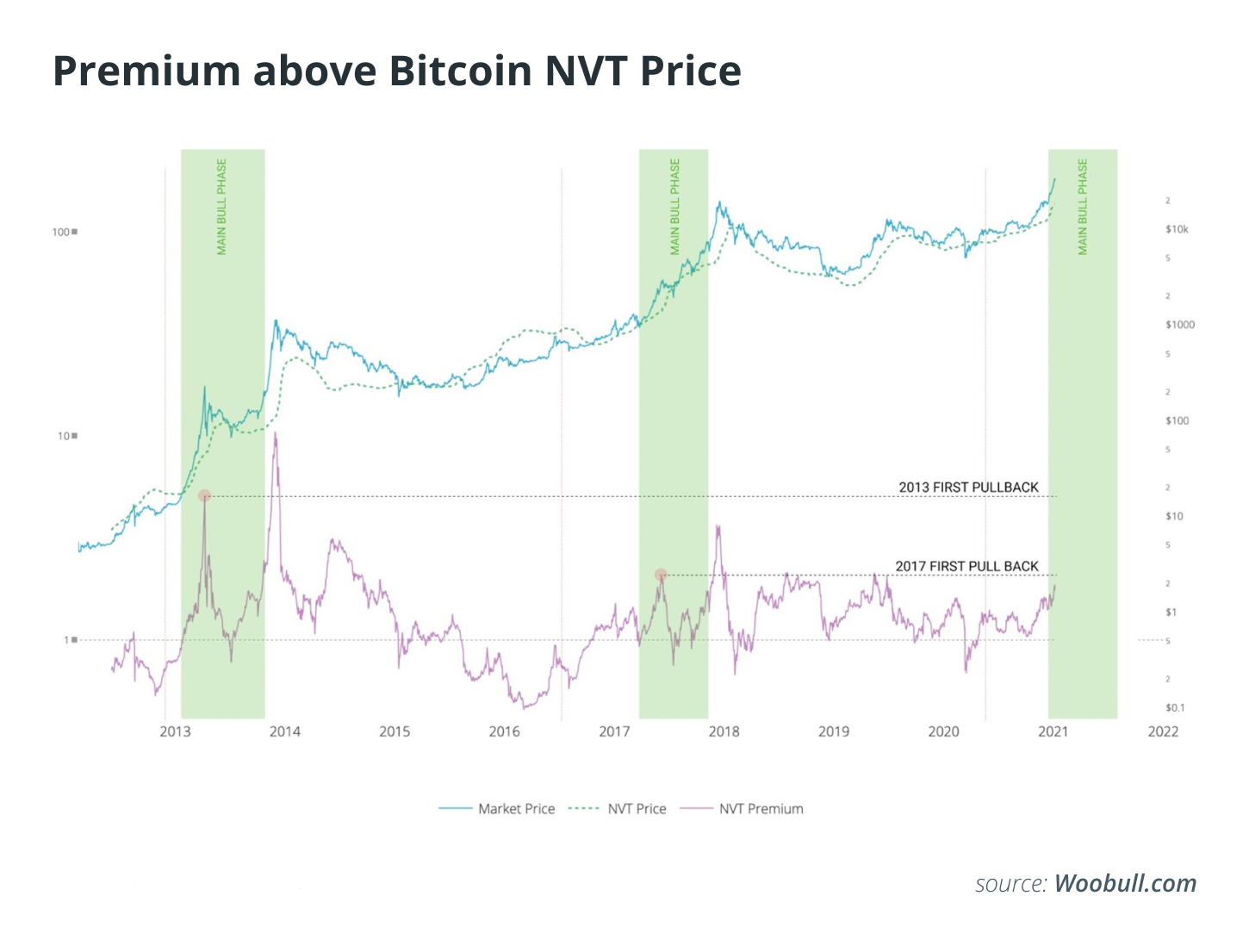 The previous year 2020 kicked off a trend of large mainstream players such as MicroStrategy, MassMutual allocating massive sums of capital toward Bitcoin. A further round of stimulus checks at $2,000 is another positivity for BTC, Mike Novogratz of galaxy digital stated: "A lot of that [stimulus] will find it's way into the markets"
Atop this, the BTC hash rate has risen to new record highs. A strengthening Bitcoin fundamental and the unrelenting technical momentum reduces the chances of a deep correction in the near term. Still, cascading liquidations could happen at any given moment, as one big sell order or a sell-the-news event could trigger the liquidation of over-leveraged long contracts. But when will this be?
Analysts Are Saying This
An analyst recently said 'Shorting a rally because it is overbought on all time frames could be a losing proposition because, during a blowoff top, the price could continue to remain overbought for much longer than most traders expect'

Mike Novogratz stated "You've got to watch for the cracks, One day we'll wake up, and markets will be reversing, and then they'll reverse hard. I just don't know when that is,"

Ki-Young Ju, CEO of CryptoQuant recently said that BTC needs more institutional investors for it to continue rallying without a big correction. Considering this, he emphasized that a pullback could occur when Grayscale BTC holdings do not expand, which would mean fewer institutions are buying BTC.

BTC/USD Daily Chart
Bitcoin presently trades at $39,663 after trading at highs of $40,425.
Thus for Bitcoin to see a sharp correction; institutional inflows into BTC would have to decrease, and cascading liquidations would have to occur in tandem. Whether this will happen anytime in the near term remains uncertain.

The biggest chance of this trend forming would be when Coinbase sees lower buyer demand, as its premium reduces. So far, the premium on Coinbase remains in the positive territory. The Bitcoin futures market has reached a new all-time high in open interest at nearly $11 billion raising the probability of a long or short squeeze. A long squeeze is when long contracts or buyers are forced to market sell their positions if the price of Bitcoin corrects sharply. This may lead to a cascade of liquidations.

Bitpay's chief commercial officer Sonny Singh speculates that a near term Institutional profit-taking could spur a fresh wave of BTC sales. He stated that institutions may start selling sooner than planned. He believes a lot of the institutional buyers bought in around $20,000, so that may be Bitcoin's likely floor.
"but I think if Bitcoin hits $45,000 next month or so, they're going to say, 'wow we just made 2x, you know, we don't need that three-year horizon anymore, let's start selling some."
Image Credit: Woobull.com, Shutterstock