ZEBI – The Indian Big Data Blockchain marttartup Trying To Propel The Digitisation Drive
The annual data consumption in India is increasing rhetorically with experts predicting that the South Asian nation will consume 3 zebibytes of information annually by 2020. Amidst this burst of positivity, a sharp increase is also seen in the quantum of data leaks, data hacks, identity thefts and data tampering which has presented the public and private organisations of India with an annual loss figure of $30 billion. In such a scenario, a growing demand is being felt for a blockchain technology driven digital solution which could provide users readily with sensitive data for legitimate use. Here comes, ZEBI in the picture.
What is Zebi ?
Zebi, a Vishakhapatnam based startup is providing big-data solution based on blockchain architecture to organisations. Zebi can guarantee complete protection to its users from tampering and third-party hacking coupled with its highly secure core infrastructure while obtaining consent of the participating individuals. The platform constitutes of Zebi Chain which provides immutability to critical records and a central hub termed as Zebi Data Gateway assisting in instantaneous and secure data exchange via Data-as-a-Service (DaaS) APIs.
The name "ZEBI" comes from zebibyte=1024?.
Zebi can also be integrated with the Ethereum blockchain for providing customers with supreme flexibility in regards to smart contract deployment and public/private blockchain utilization. The platform ensures absolute consent of its participants prior to data exchange who subsequently get their deserved share of data monetization.
The company has already initiated discussion with various state governments for digitizing their land record data empowered by big data scheme. A pact has already been signed by Zebi with the government of Andhra Pradesh following which it is undergoing conversations with the governments of Maharashtra and Telangana. The company is trying to identify specific trends and patterns pertaining to both unstructured and structured data while securing the same via Blockchain.
Andhra Pradesh and Blockchain Technology
The Andhra Pradesh government has given it's approval and backed Zebi which has boosted the blockchain ecosystem in India.
Andhra Pradesh is on a mission to become its first major adopter of Blockchain Technology in India and is being dubbed as the New Tech State of India. The four smart City projects in Andhra Pradesh are set to be completed by 2020–21. Zebi has aligned itself with the governments Smart City Mission and believes that it can be an ambassador for Blockchain Technology in India.
Some more articles highlighting the adoption of Blockchain Technology by Andhra Pradesh:
What is the Smart Cities Mission?
The Smart City Mission launched in 2015, which has plans for the development of one hundred smart cities by the year 2020. The projects $7.5-billion injection will be used towards the development of core infrastructures such as:
Water and electricity supply
Urban mobility
Affordable housing
Sanitation
Health
Safety
The project is looking to implement smart solutions to drive economic growth and this is where a project like Zebi will help pave the way for a smarter future for India.
The government aims to develop 100 smart cities under this scheme.
Problems That Zebi Aims To Solve
Individuals and organizations often make use of high value data which are highly vulnerable to both forgery and theft given their paper-based nature. Zebi wishes to come ahead with a holistic solution to make these high-valued data readily available to customers without breaching the security parameter. Data owners and data requestors can connect seamlessly over this platform for a consent-based exchange which is going to be the first of its kind in the data industry.
Key Attributes Of Zebi
Customers can exercise utmost flexibility coupled with the use of blockchain technology. This lightweight satellite application allows for supreme immutability on being installed at the office of data providers who can avail of the same through a monthly subscription mode or annual maintenance cost mode with license.
All the stakeholders can benefit from their share of data monetization as data exchange takes place following the consent of owners. Transaction fees are levied on data requestors for each of the transactions made. Revenue earned by the requestors of data are shared with data providers and other individuals as an incentive for propelling further transactions using this platform in upcoming days.
The process is completely automated thus paving the way for a true paperless information exchange where all transactions and communications are recorded on blockchain-based audit trails.

Working Mechanism Of Zebi
Zebi Chain, which serves as a primal component of Zebi platform can be installed into the existing digital infrastructure of enterprises, educational institutions and even government departments for generating, updating, issuing and facilitating data requirement of requesters. This lightweight application can be set up within just a couple of minutes.
Expert Speak
The CEO and founder of Zebi, Babu Munagala revealed that:
"We are in talks with several state governments including Telangana and Maharashtra to deploy our solutions for digitising land records. It has passed the technical evaluation and is awaiting results of financial evaluation from Telangana government. As part of its technical collaboration with Andhra Pradesh Capital Region Development Authority (APCRDA), Zebi will offer its package of solutions including Zebi chain, which is based on blockchain, and Zebi data gateway, to digitise and safeguard over 1 lakh land records in Amaravati."
He also added that,:
"Zebi has created a Blockchain driven, first of a kind and holistic solution to make high value or sensitive data readily available for legitimate use, while protecting it against hacking or tampering, and taking individual consent wherever appropriate. It comprises of a satellite component Zebi Chain™ to provide immutability to critical records, coupled with a central hub viz., Zebi Data Gateway which enables secure and instant data exchange through Data as a Service (DaaS) API's. We have a healthy pipeline of prospects across India. All Zebi Chain™ installations will be connected to Zebi Data Gateway to serve the data for authorized business purposes. As we rapidly scale and add more Zebi Chain™ customers, the value proposition of Zebi Data Gateway will enhance exponentially."
 Zebi Founder Babu Munagala on CNBC:
Co-founder Sudheer Kuppam holds the view that:
 "Data is a nation's treasure and regulations are rising globally as consumers, enterprises and governments are getting more conscious about securing all forms of sensitive data. Increased awareness of data thefts and emergence of new age technologies such as blockchain have created a large market for data protection worldwide. India is yet to implement Data Sovereignty regulation with over a billion people with digital identity (Aadhaar), and over 400 million internet users that is doubling in the next 3-4 years." 
Road Ahead
The Indian market has been extremely welcoming to Zebi Chain which has been selected by APCRDA for safeguarding their land assets. Shri N. Chandra Babu Naidu, the honourable Chief Minister of Andhra Pradesh launched the Amravati Blockchain Asset Management System as an immutable and tamperproof data security solution powered by blockchain for catering to the maintenance of land records. Fake transactions, documents and resultant litigations are expected to be eradicated by Zebi's solution. People interested in a specific property can view and verify the date of previous transactions.
Sensitive and high-value data elements is going to be the immediate focus of Zebi. The system will however expand to customer transaction and interaction data in days to come. Thus, Zebi holds the potential of transforming the recording, storage and consumption of critical data in various industries such as Personalized Product Creation, Credit Scoring, eGovernance, Fraud Detection and Consumer Lending.
Zebi Coin (ZCO) | From Where To Buy Zebi Cryptocurrency | How To Buy Zebi Cryptocurrency
Zebi platform has it's own native token named Zebi Coin (ZCO). 
Zebi Coin (ZCO) is an ERC20 standard token based on Ethereum Blockchain powered smart contract. It is a utility token which will be used as a mode of payment for all Zebi services, including transaction processing through the Gateway and data protection by Zebi Chain™
At the time of publishing this article, Zebi cryptocurrency was listed and could be purchased from the following list of cryptocurrency exchanges:-
Hotbit,
IDEX,
LATOKEN,
Qryptos,
DDEX
Indian crypto traders and investors can buy Zebi coin in India from the following Indian cryptocurrency exchanges in exchange of INR:-
Where To Store ZEBI Coins (ZCO) ? | Zebi Wallets
As mentioned above, Zebi Coin is an ERC-20 token, so ZCO tokens can be stored in wallets that supports storage of ERC-20 Tokens like:
MyEtherWallet (MEW),
MetaMask,
Coinomi,
Ledger Nano S,
Trezor, etc
Here is a full list of wallets that are compatible and supports storage of ERC-20 tokens:- Best Wallets To Store Your ERC20 Tokens
Zebi Team & Advisors
Zebi was established in December 2015 and has been managed by a stellar team of experts belonging to MIT, IITs, Stanford and Oxford since then. With offices in Hyderabad and Visakhapatnam locations in India, this dynamic company is providing ground-breaking solutions to utility, education, health, transaction and employment records amongst other things.
The development teams of Zebi have been trained by Silicon Valley based veterans who are offering top-notch expertise at Indian prices. Babu Munagala is the chief executive officer and co-founder of Zebi Data India Pvt. Ltd. He has gathered more than a decade's experience in Asian digital space after working with different high-profile government-affiliated tech entities. Sudheer Kuppam, who served as managing director at Intel Capital, has co-founded the project. Here is the complete list of Zebi Team: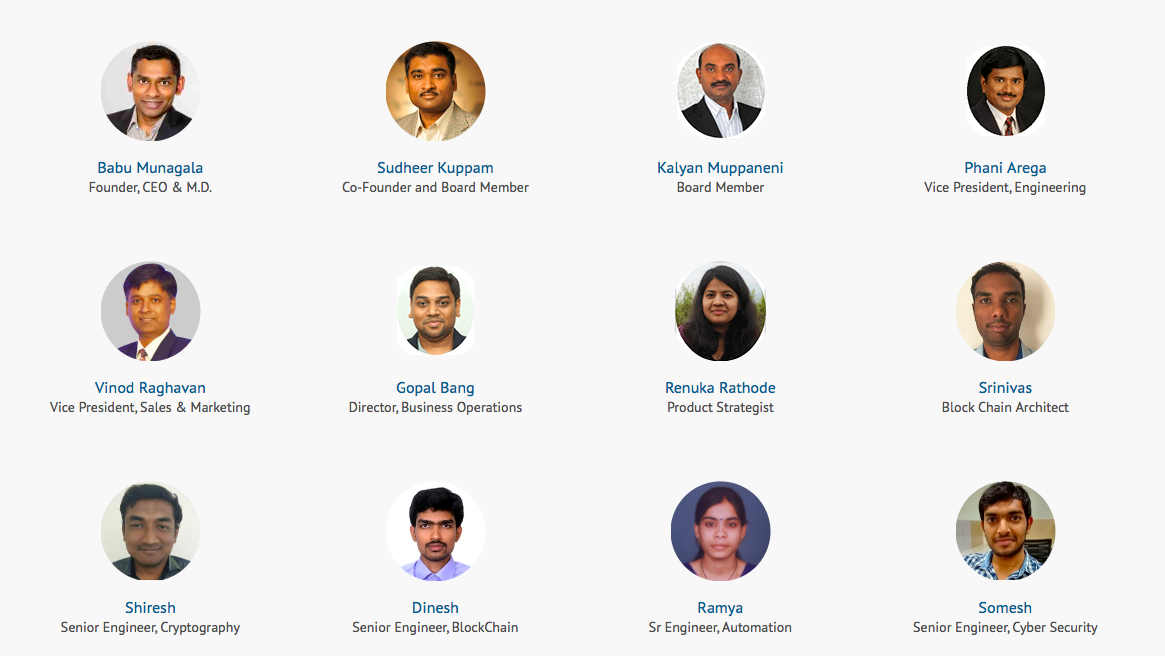 Zebi Advisors
Following are the board of advisors to Zebi:


Zebi Resources List
Conclusion
Zebi wishes to deliver a holistic blockchain-driven solution by safeguarding data from tampering and hacking and obtaining consent of individuals before sharing the same for legitimate usage. ZCO trading pairs are being offered currently on IDEX and Qryptos.
KryptoMoney.com publishes latest news and updates about Bitcoin, Blockchain Technology, Cryptocurrencies and upcoming ICO's.
Other Cryptocurrencies which might interest you:-