Enjoy The Yummy KFC Chicken In Canada In Exchange Of Bitcoins
Imagine munching on those delectable chicken wings coming straight out of KFC kitchen and paying for the same using your Bitcoin wallet! Surely a dream come true for every food lover who is on the lookout to splurge his bitcoin wallet for some gastronomic pleasure. Well, this has become a reality in Canada where Kentucky Fried Chicken has launched a crypto themed chicken bucket. And just like all other good things, this particular offer shall be available only for a limited span of time.
"The Bitcoin Bucket" is the name of this brand-new marketing gimmick which brings along a live-tracker based on Facebook stating the current product price which is presently moving around the 20 Canadian dollars' range. But if you think that you can walk into any of the Canadian KFC outlets and try paying for the meal using crypto tokens at the cash counter then you surely shall be in for a heartbreak. You will have to pay for the same via BitPay in the online check-out-page of KFC and the mouth-watering snacks shall be delivered at your doorstep.  The check-out process shall levy an extra fee on $5 dollars.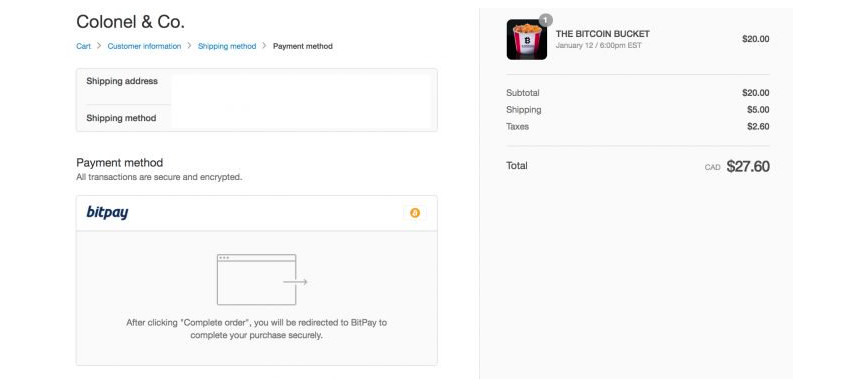 The company has understood this very well that cryptocurrencies shall pave the future of tomorrow. Thus, it is trying hard to inculcate the same in its operations. However, unlike other public-traded firms which have been benefitted from sky-high stock prices in the aftermath of their crypto collaboration, Yum! Brands the parent company of KFC did not have any such good news to announce.  A KFC Canada representative took to social media to suggest that more forms of cryptos shall be added under their umbrella of finger licking goodness in days to come.
Also Read:  Subways Accepts Bitcoins In Payments
KryptoMoney.com publishes latest news and updates about Bitcoin, Blockchain Technology , Cryptocurrencies and upcoming ICO's.
Subscribe to our newsletters and join our Telegram Channel to stay updated.