[toc]
List Of Top Ten Best Bitcoin Books
What Is Bitcoin? Bitcoin is the world's first decentralised cryptocurrency meant for peer-to-peer transaction eliminating the need of any centralaised third party such as Banks or Money Transfer agents. Bitcoin was created by a person or a group of persons under the pseudonym Satoshi Nakomoto. Bitcoin Whitepaper was introduced in 2008 and the first Bitcoin transaction took place in January 2009 between Satoshi Nakomoto and Hal Finney. Various authors have explained what is bitcoins through their books and in this article, I have listed out " Top Ten Best Bitcoin Books"
( Read more details : What is Bitcoin?)
Starting from 2009, Bitcoin has undergone awe-inspiring change in becoming one of the biggest phenomena of the millennium. Its birth and growth statistics was much like the Internet which was also predicted to bring doom upon the society. Coming back to modern times, both Bitcoin and its underlying technology i.e Blockchain is increasingly being implemented by fintech start-ups on the constant lookout for innovative applications of the same. In such a scenario, it is imperative to enhance our knowledge in cryptocurrency and blockchain sphere which can only be brought about by browsing through scholarly articles on the same. The market for cryptocurrency books has a long way to go before reading saturation point. If you are planning on increasing your Cryptocurrency and Bitcoin knowledge, I would advise you to start with the same by scanning through Satoshi Nakomoto's white paper primarily and follow that up with the following list of top ten best bitcoin books
Top Ten Best Bitcoin Books
1. "Mastering Bitcoin" by Andreas M. Antonopoulos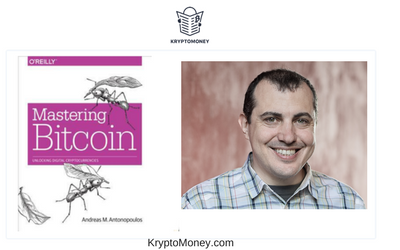 "Mastering Bitcoins" is a  key book on Bitcoins which can be of comprehensive help in understanding the concept of decentralised currency operating in the digital world. Published in June 2017, Mastering Bitcoin investigates the core purpose of virtual currencies by examining the technology fuelling its growth and applicability in the real world.
The book also offers a sneak peek into empowering concepts of the underlying blockchain technology and functioning of bitcoin wallets.   A new edition of the book was released in July 2017 containing important updates on the latest developments in cryptocurrency sphere. The immense subject mastery of the author has helped him in easily explaining "What is Bitcoin?" and the complex subject of cryptocurrencies to laymen. the Bitcoin book comes stocked with clear diagrams and flowcharts lining out how bitcoin functions in a crystal-clear fashion.
Antonopoulos has also authored another two-series Bitcoin book known as "The Internet Of Money" which is also worth a good read.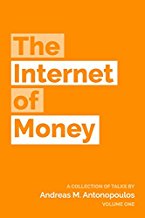 According to the official website of Andreas M. Antonopoulos, the author will release his another book called "Mastering Ethereum" in the last quarter of 2018.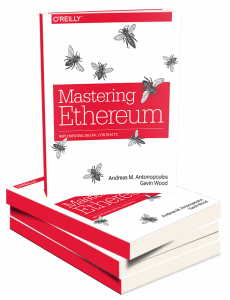 2. "Cryptoassets: The Innovative Investor's Guide to Bitcoin and Beyond " by Chris Burniske and Jack Tatar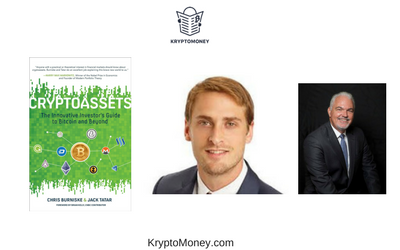 The "Cryptoassets" book by Chris Burniske and Jack Tatar is a "how-to" guide on digital asset investment which was published in October 2017 to share tips on investment decisions in regards to cryptocurrencies and "tips to navigate inevitable bubbles and manias" as revealed by the book's official website.   John McAfee, the founder of McAfee Associates and a big-time blockchain and cryptocurrency investor quotes about the book as follows:
"For the uninitiated, the world of cryptocurrencies is fraught with risks and pitfalls. No one should venture into this world without preparation. Cryptoassets explains, in simple to understand terms, the full paradigm of Bitcoin and its successor currencies, and it provides everything needed to explore this exciting world."
Apart from the signature topic of digital currencies, this book penned down by an angel investor in collaboration with the founder of a cryptocurrency asset firm also focuses on related commodities and tokens. The easy-to-read style of this book on bitcoins which comes well stocked with facts and figures can be of great help in enhancing your Cryptocurrency and Bitcoin knowledge. Apart from offering smart investment strategies, this book can help you in understanding the background behind creation of these assets and its rapid evolution over the years.
3. "Blockchain Technology Explained" by Alan T. Norman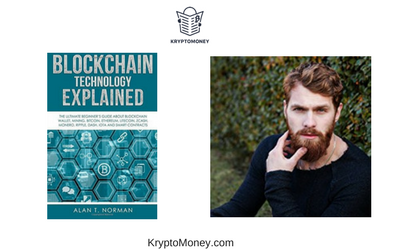 "Blockchain Technology Explained" was published by Alan T. Norman in December 2017 and is an ultimate beginner's guide about Blockchain Wallet, Mining, Bitcoin, Ethereum, Litecoin, Zcash, Monero, Ripple, Dash, IOTA and Smart Contracts
Instead of talking about investing, the book focuses on how blockchain technology works and how it might be used in the future. Following are some of the topics that you can expect to see in this book:
What problem does blockchain solve?
How can technology make our institutions faster and less expensive?
Could technology replace our institutions (like governments, banks, etc) altogether?
How does blockchain build trust between strangers?
How does blockchain increase security for transactions and contracts?
Can blockchain be used outside of finance?
What is a block?
What is the chain and why do we need it?
What's a technical explanation of what happens in the blockchain?
What is mining and why do we need it?
Are there alternatives to mining to create a blockchain?
What's the story of Bitcoin?
Does Bitcoin have any problems?
What is Ethereum, and what is a smart contract?
Are there other blockchain technologies I should know about? -How are companies adopting blockchain?
What regulatory hurdles might slow blockchain adoption?
4."The Book Of Satoshi" by Phil Champagne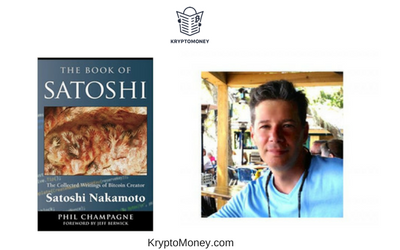 There is not much we know about the anonymous creator of Bitcoin- Satoshi Nakamoto. But "The Book Of Satoshi" by Phil Champagne  tries to fill in this void by investigating about this powerhouse creator and how he created this ground-breaking concept without revealing his identity to the general public. This bitcoin book which was published in June 2014, chronologically presents the original internet posts and emails shared by Nakamoto and texts encompassing a wide array of technical bitcoin topics which have been broken down to simple terms.  The economic potential as well as the future implications of this dynamic currency form has also been discussed in the book which presents the original white paper presented by the incubator of Bitcoin.
5."Cryptocurrency" by Abraham K. White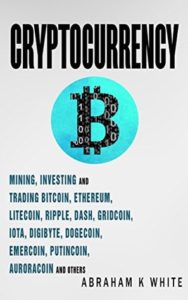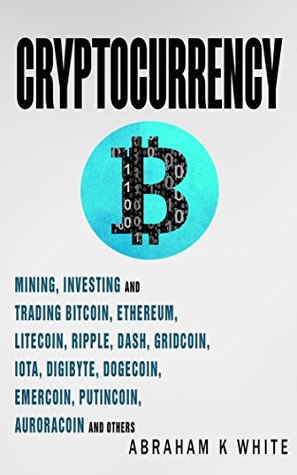 "Cryptocurrency" book by Abraham K. White was published in October 2017 which educates about investing, mining and trading in every virtual token apart from the world's first decentralised cryptocurrency, i.e Bitcoin in an easy-breezy manner. The book does contain bits and pieces about Bitcoin but can be of greater help in developing a clear understanding of lesser-known other cryptocurrencies. The book comes packed with references and research materials which can be of great help in taking informed decisions when it comes to the topic of cryptocurrencies
6."Bitcoin : From Beginner to Expert" by Christian Newman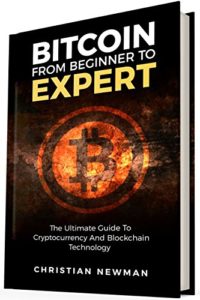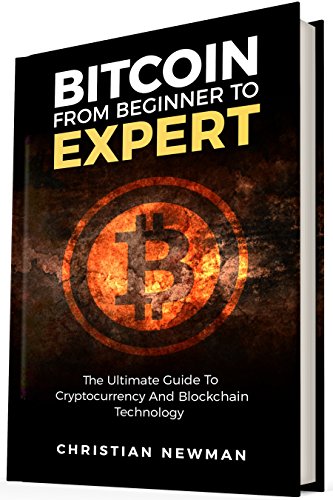 "Bitcoin : From Beginner to Expert" by Christian Newman" book looks at the intricacies of blockchain technology supporting bitcoin and practicalities of investing in the same. The easy language and simple modules of this bitcoin book makes it perfect for amateurs without prior experience in the subject. But once they come at par with the basic cryptocurrency linguistics, they can enhance their knowledge in the advanced topics of cryptocurrency.
The book was published in October 2017 and aims to help readers take informed decisions in regards to cryptocurrencies such as Ethereum, Bitcoin, Ripple, Litecoin and Dash with a thorough combination of references and research. Topics such as:
Mining,
Investing and trading in cryptocurrencies,
Blockchain technology,
Digital marketplace and wallet mechanism come under the table of contents of this book penned. 
7. "Digital Gold" by Nathaniel Popper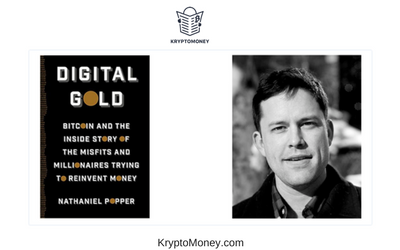 "Digital Gold" was published in May 2015 and was shortlisted for the position of Financial Times and McKinsey business book of the year. Written by Nathaniel Popper, a New York Times reporter, this book traces the early beginning of bitcoin by investigating its anonymous creator Satoshi Nakamoto. The bitcoin book also enumerates the course of bitcoin from the point of view of several central characters who had a big role to play in scripting its success story. The book strings various threads ranging from Charlie Shrem and Mark Karpeles at Mt Gox to the journey of Xapo and Wences Casares. Nathaniel is also seen conducting vivid comparisons between the dynamic cryptocurrency and the yellow metal by stating how the virtual tokens can slowly evolve in to a globally accepted store of value.
The book also contains facts about the Winklevoss twins who were recently crowned as the very first "bitcoin billionaires" courtesy their thorough-bred investment in the effervescent cryptcurrency since the very onset.
Former Treasury Secretary Larry Summers reviewed the book stating that:
"Bitcoin may be a product of computer science, but it is a very human story. … This highly entertaining history reminds us yet again that truth can be stranger than fiction."
The brilliant writing style of this book has made it a top favourite amongst cryptocurrency enthusiasts who simply cannot get enough of the unfolding stories and intricacies which unravels with the flowing bitcoin timeline.
8. "Bitcoin: The future of Money" – by Dominic Frisby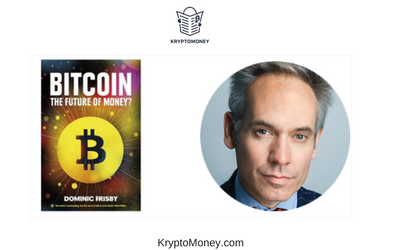 "Bitcoin : The Future of Money" was published in November 2014 by Dominic Frisby. Frisby does his own research by attending various meetups, interviewing the key people in the Cryptocurrency and Bitcoin industry while penning down his bitcoin book.
The book explains the controversial new digital currency and how it came into existence, casting lights on its strange and murky origins and in particular the much-disputed identity of Nakamoto himself.
9. "The Age of Cryptocurrency" by  Paul Vigna and Michael J. Casey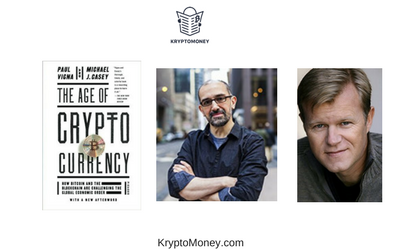 The book " "The Age of Cryptocurrency" by  Paul Vigna and Michael J. Casey was published in January 2015. The Wall Street Journal reporters seeks to explain how a world running on digital currency would differ from today's system of physical cash, banks, credit and debit cards, checkbooks and gold through their bitcoin book.
10. "Blockchain Revolution" by Don Tapscott and Alex Tapscott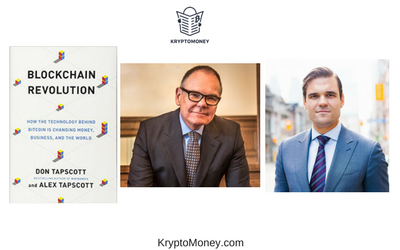 The "Blockchain Revolution" book by Don Tapscott and his son Alex Tapscott explains the underlying technology behind Bitcoins, i.e, Blockchain. The books was published in 2016 which explores how the blockchain technology can impact the global systems.
Steve Wozniak, the Co-Founder of Apple says the following about the book:
"What a spectacular book. Mind-blowing in its expansiveness and profundity. It makes me think we're at one of those times in technological, economic, and social history where the sky is the limit."
If you know any more awesome Bitcoin books which must be given a read, mention it in the comments section below.
KryptoMoney.com publishes latest news and updates about Bitcoin, Blockchain Technology , Cryptocurrencies and upcoming ICO's.