Top Bitcoin Price Predictions From Various Experts
The Bitcoin price has come like a wave, reached a high point and crashed back into the ocean. The never ending regulations, Bitcoin sell off and the tax formalities made it much, much worse. With the Bitcoin price plunging in the quarter one of 2018, to as low as $6000, several exchanges and investors withdrew, government across varies nations put clamp downs on the cryptocurrency.After the horrendous first quarter that the Bitcoin market witnessed in terms of the plunging prices, Crypto experts have firm faith that the BTC Market will rebound, only to get back bigger. In this article I have mentioned some of the top Bitcoin price predictions for the year 2018 and ahead made by various crypto and financial experts
Thomas Lee from Fundstrat : Bitcoin Price To Touch $25,000 By December 2018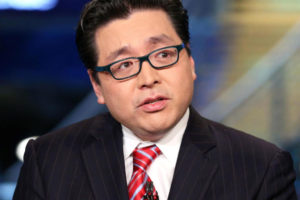 Fundstrat's famous Bitcoin bull Tom Lee went on record again recently to assert that BTC's bear market is loosening its grip. Lee is confident that Bitcoin prices will reach touch $20,000 in June 2018 and $25,000 by 2018 end, having previously eyed a $125,000 surge by 2022.
Also Read: Thomas Lee had also predicted that Bitcoin price will touch $91,000 in 2 years.
Thomas Lee has also predicted that Bitcoin price will hit $1,25,000 by 2022. Lee make bitcoin price prediction based on strong statistics and data science. Also, he has been quite famous for his bullishness on Bitcoin and Ethereum in the past.
Who is Thomas Lee?
Thomas Lee or Tom Lee  is a Managing Partner and the Head of Research at Fundstrat Global Advisors. He is an accomplished Wall Street strategist with over 25 years of experience in equity research, and has been top ranked by Institutional Investor every year since 1998.
Fundstrat Global Advisors is an independent research boutique, serving a broad array of clients, including institutional investors, wealth advisors, pension funds and high net worth individuals.
Prior to co-founding Fundstrat, he served most recently as J.P. Morgan's Chief Equity Strategist from 2007 to 2014, and previously as Managing Director at Salomon Smith Barney. His areas of expertise include Market Strategy, Small/Mid-Cap Strategy and Telecom Services.
Tom Lee is a regular guest on CNBC's Fast Money show, where he usually quotes his Bitcoin price prediction.
Also Read: A New Bitcoin Index Created By Wall Street Analyst Tom Lee Helps You To Decide When To Buy Bitcoins
John McAfee: Bitcoin Price Will Touch $1Million By December 2020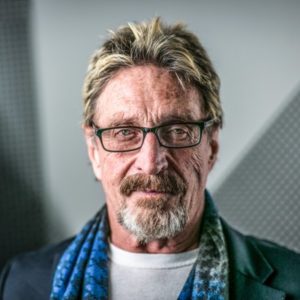 While originally from 2017, McAfee made headlines for vowing to consume his own manhood if BTC/USD failed to attain $1 million by 2020. He recently mentioned in his tweet that:
Slowly. But Surely. The cryptoworld wizards are beginning to catch up with my Bitcoin price predictions. I stand fully by my certainty that there will be no dick eating on Dec 31st. 2020."https://t.co/mYyr6JhvJO">https://t.co/mYyr6JhvJO

— John McAfee (@officialmcafee) "https://twitter.com/officialmcafee/status/985239423888576514?ref_src=twsrc%5Etfw">April 14, 2018
Initially John McAfee predicted that Bitcoin price would touch $500,000 by December end 2020, but later he raised the target and said Bitcoin price will touch $1 Million by 2020 December end.
Who is John McAfee?
John McAfee is a British-American computer programmer and businessman. He founded the software company McAfee Associates, (the company behind the famous McAfee Antivirus) in 1987 and ran it until 1994. His fame boosted when he made a wild statement that he would eat his own D*ck if Bitcoin price does not touches $1000,000 by December end 2020.
Advisor and mentor to a large number of a Blockchain based projects, John McAfee is one of the world's leading Blockchain and Cryptocurrency Influencers with 819K number of twitter followers.In May 2016, McAfee became chairman and CEO of MGT Capital Investments Inc., a bitcoin mining firm. Later that year, the Securities and Exchange Commission (SEC) subpoenaed MGT, causing the stock to fall.Eventually, McAfee stepped down as chairman and CEO of MGT in August 2017 and left the company a few months later.
Tim Draper : Bitcoin Price Will Touch $250,000 by 2022
This is a recent bitcoin price prediction made by Venture Capitalist Tim Draper. On April 12, Tim Draper predicted that Bitcoin price would reach a price of $250,000 by 2022. He sees cryptocurrencies like bitcoin eventually replacing fiat currencies such as the U.S. dollar and the Euro.
Who is Tim Draper?
Tim Draper is an American Venture capitalist. Draper founded the Silicon Valley venture capital firm Draper Fisher Jurvetson which invested in Skype, Hotmail, Tesla, SpaceX and Baidu Inc. Draper has also founded Draper University.
On June 27, 2014, Draper purchased, for an undisclosed price, nearly 30,000 bitcoins which had been seized by the US Marshals service and auctioned to the public.The accumulation of bitcoins was estimated to be worth US$19 million at the time.
Draper is postive about a cryptocurrency powered future. He says:
"In 5 Years If You Use Fiat Currencies, They Will Laugh At You"
Draper also caught the attention of Indian Crypto community when he said that Bitcoin should replace the Indian Rupee and further commented that:
"If I had a meeting with Modi, I would have let him know he is making a huge mistake. (Bitcoin) should be the national currency." 
The statement was made by Tim Draper after RBI, the central bank of India disallowed banks and e-wallets to deal with cryptocurrency and bitcoin exchanges
Tim Draper has also invested in Unocoin which is India's one of the leading Bitcoin and crypto exchange. Tim Draper is now considered one of the top most Bitcoin and cryptocurrency influencers
Brian Kelly: Bitcoin Price Will Touch $250,000 By 2022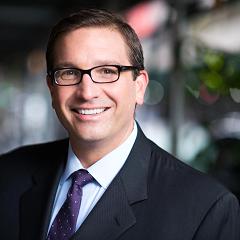 CNBC host Brian Kelly joined investment mogul and serial HODLer and BTC Millionaire Tim Draper as he also predicts that Bitcoin Price will touch $250,000 by 2022.
Who Is Brian Kelly?
Brian Kelly is Founder and CEO of BKCM LLC, an investment firm focused on digital currencies. He is the portfolio manager of the BKCM Digital Asset Fund. Brian is the author of "The Bitcoin Big Bang – How Alternative Currencies Are About to Change the World."
Recently, around April 18, Brian Kelly also predicted that Bitcoin Cash price would surge as he displayed his skills of analysing charts on CNBC's Fast Money Show. At that time Bitcoin Cash price was around $830 and at the time of publishing this article, price of Bitcoin cash was $1181. Click here to watch the video.
Abra CEO Bill Barhydt : Bitcoin Price To Rise Till $50,000 in 2018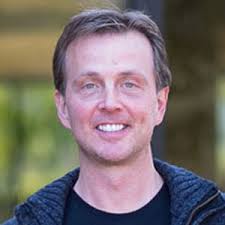 Bill Barhydt, the CEO of ABRA, a cryptocurrency exchange and wallet service provider has recently predicted that the cryptocurrency market will eventually move out of its dip and in the long term, Bitcoin price will hit $50,000.
Bitcoin Bull Phillip Nunn: Bitcoin Price to Hit $60,000 By The End of 2018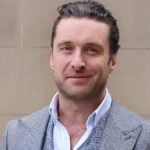 Phillip Nunn, CEO of The Blackmore Group and Wealth Chain Group, piqued the interest of the cryptocurrency and investing communities in January of this year when he made a prediction that the price of Bitcoin, in the year of 2018, would reach a bottom of $6,000 and a high of $60,000.
Kay Van-Petersen: $100,000 By December 2018
The Saxo Bank analyst, Van-Petersen previously has had considerable luck in correctly guessing Bitcoin's path for several years.
In January this year, the bitcoin bull asserted that he believed prices will continue upwards to $100,000, even as the fall from $20,000 to under $6000 was already underway.
Read: Bitcoin Price Will Reach $50,000 to $100,000 in next 18 Months Says Kay Van-Petersen
Source- CNBC
Who is Kay Van-Petersen?
Kay Van-Petersen has a deep passion for all things crypto global macro, markets, investing + trading, learning, human chess, peak performance & running.
He has a decade plus of experience in the financial markets primarily as a trader & analyst in finding opportunities under global macro, long/short, fundamental value, as well as event-driven and special situation strategies – all under an asset & product agnostic approach.
James Altucher : Bitcoin Price to touch $1 Million by 2020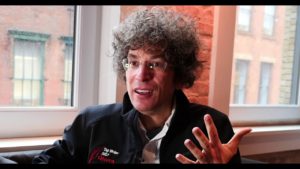 Matching McAfee's wavelength of thought, Altucher thinks the Bitcoin price will reach $1 million by 2020. In 2013, Altucher released his book Choose Yourself, which for several weeks, could only be purchased via Bitcoins.
Who is James Altucher?
James Altucher is an American hedge fund manager, entrepreneur, best-selling author, venture capitalist, and podcaster.He has founded or co-founded more than 20 companies, including Reset Inc. and says he failed at 17 of them. James Altucher, the founder of StockPickr, is an entrepreneur, angel investor, fund manager, and self-help guru. StockPickr was later acquired by TheStreet, Inc.
Altucher made a bold prediction in 2007 by stating that Facebook could become a $100 billion company, which it did in 2012.
Chamath Palihapitiya : Bitcoin Price to touch at $100,000 by 2020/2021, $1 million by 2037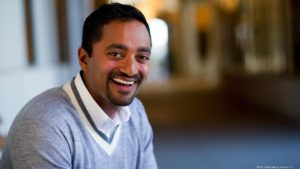 Palihapitiya believes the bitcoin price to swell up largely. On December 12, he predicted that bitcoin would reach a price of $100,000 in three or four years, and $1 million within 20 years.
Palihapitiya is known for making bold predictions. Like he sees Amazon reaching a market capitalization of $3 trillion. Last year, he predicted that Tesla Inc would eventually capture 5% of the global market for cars and a $336 billion valuation.
Such bold predictions make him one of the top Bitcoin bulls.
Here is what Chamath Palihapitiya says about Bitcoin back in 2013 at a TechCrunch Event:-
Who is Chamath Palihapitiya?
Chamath Palihapitiya is a venture capitalist. He was born in Sri Lanka, raised in Canada, and has worked for much of his life in Silicon Valley. Palihapitiya is an owner and board member of the Golden State Warriors. Chamath Palihapitiya founded and ran the AOL Instant Messenger and later served as an executive at Facebook, Inc. He founded the venture capital firm Social Capital in 2011, which has invested in startups such as Box Inc and Yammer, which was acquired by Microsoft Corporation in 2012.
Palihapitiya purchased the Bitcoin quite early, where it was only priced at $100. By October 2013, he owned $5 million in bitcoins, when it was trading under $200.
Also Read: List of Top Blockchain and Cryptocurrency Influencers To Follow
Some more Bitcoin Price Predictions 
Pantera Capital: $20,000 By December 2018
Dan Morehead, the investment firm's CEO, in an April newsletter that he has a "rarely had such strong conviction on timing" as he predicts a $20,000 BTC price in 2018. Pantera Capital is actively investing in blockchain and crypto startups, "../koinex-indian-crypocurrency-exchange-gets-funded/" target="_blank" rel="noopener noreferrer">Pantera Capital has also invested in Indian Cryptocurrency Exchange, Koinex.
Alistair Milne: Ranging between $35,000 and $60,000 By Next Block Reward Halving
Milne summarized various bitcoin price predictions in a tweet April 15. Now the serial investor has time and again restated his belief that even under serious conditions, $35,000 per bitcoin is on the cards by the time the block rewards reduces 50% again in 2020.
Anthony Pompliano: $50,000 By December 2018
Pompliano shared his opinion on Bitcoin price back in February when BTC/USD fell below $7000, the Full Tilt analyst said he "easily" foresaw prices recovering to $50,000 by the end of this year.
John Pfeffer: $75,000 By December 2018
The London-based investor in January 2018 produced a report examining likely BTC price scenarios, to which he concluded that $75,000 was realistic for this year.
Get latest Bitcoin news and updates on KryptoMoney.com