In the Ripple price prediction, XRPUSD is ranging within the descending triangle. A bullish breakout may push the price towards $0.42 level. A bearish breakout may pull the price down to $0.35 level.
Ripple Price Prediction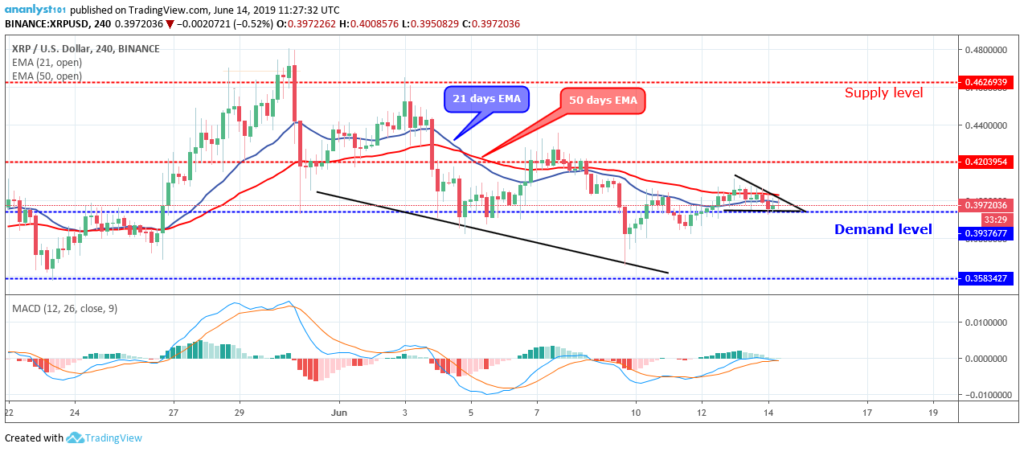 Ripple (XRP) price is ranging from the medium-term outlook. On June 11, the price of Ripple was below $0.39 price level, the bullish engulfing candle formed on the same day strengthened the Bulls and Ripple price was pushed back up to break the barrier at $0.39 level. The price equally broke the resistance level and moved up towards the $0.46 level.
However, the price could not reach the $0.46 level as the bullish momentum weakened. The bear, however, became exhausted as well and the XRP started consolidating at $0.39 level and then formed a descending triangle
The two Exponential Moving Averages (EMAs) are flat horizontally at $0.39 level and the two are close to each other with the coins hovering over the 21 periods and 50 periods EMAs. This suggests that consolidation is ongoing. The Moving Average Convergence Divergence (MACD) period 12 with its histogram is horizontally flat at zero levels and the signal lines close to each other and remain flat at the level which connotes that consolidation may continue for short time.
In the meantime, Ripple price is already exposed to $0.42 level; hence. further increase in the bullish' momentum may push the coin to reach the target of $0.46 level. On the other hand, if the bears exert downward pressure on the demand level of $0.39, Ripple price may fall to the previous low level of $0.35.
XRPUSD Price Short-term Prediction
The price action on Looking at the 1-hour chart, XRPUSD price is ranging in the short-term outlook as it has led to the formation of a descending triangle pattern. XRPUSD price is ranging within the triangle. Depending on the momentum, a bullish or bearish breakout is imminent for the cryptocurrency.  A bullish breakout may place the price at $0.42 level while the bearish breakout may see the price decline to previous low at $0.35.
Supply levels: $0.42, $0.46, $0.49
Demand levels: $0.39, $0.35, $0.29
Disclaimer
Arathur Stephen is not registered as an investment adviser with any federal or state regulatory agency. The Information above should not be construed as investment or trading advice and is not meant to be a solicitation or recommendation to buy, sell, or hold any cryptocurrencies. The information is solely provided for informational and educational purposes. Always seek the advice of a duly licensed professional before you make any investment.