NEO cryptocurrency did exceptionally well last year when it rebranded from Antshares to NEO. It's value increased by 21000% in 2017 alone. Investors have predicted that it will also do well in 2018 considering that it is a touch competitor to Ethereum which was reported to have some of the loopholes that many commentators and developers. This makes Ethereum smart contracts to be vulnerable to hackers. If you are looking to buy NEO, you will need a NEO coin wallet to safely store NEO Cryptocurrency. In this article, I have listed out some of the best NEO Wallets to safely store NEO Coins.
Aside from NEO crypto, another cryptocurrency is available through the same blockchain, known as GAS (formerly Antcoins), this cryptocurrency is the actual coins used in the system, as opposed to NEO which only represents the shares..
List of Best NEO Wallets To Safely Store NEO Coin And Gas Coin
NEO Desktop Wallets
Following is the list of best NEO Desktop wallets:-
1. Guarda Wallet
Guarda Wallet is a hot multi-currency wallet that is available on all the platforms: Web, Desktop (MacOS, Windows, Linux), Mobile (IOS, Android), and Chrome Extension versions. The mobile app was recently updated with some nice features like more coins for staking, online chat with support, new fiat currencies for buying, filter options for wallets, and much more.

A great thing about the wallet is that it is non-custodial, which means only users have access to their funds. Guarda supports 45+ coins and 10k+ tokens. Built-in services let users exchange and buy crypto inside the wallet. One more thing worth mentioning is that Guarda supports currency-specific features like staking, delegation. Also, multisignature functionality for BTC is supported on Guarda Wallet, which makes it the first multi-currency wallet to support the feature. Thanks to the support of Unstoppable Domains, FIO protocol, and ENS, users can create human-readable addresses with memorable names, which makes the crypto management even simpler.
2. NEON Wallet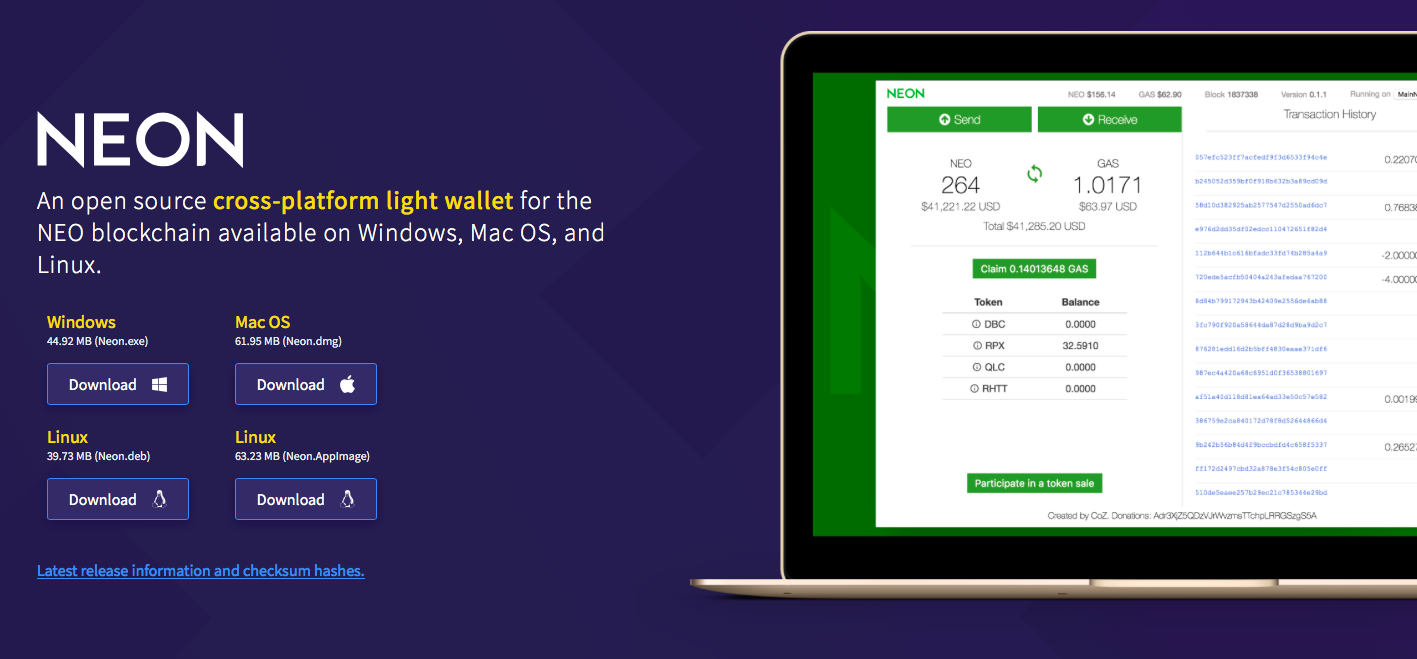 If you're worried that you may even lose your hardware wallet, then well, with the NEON Wallet (developed by the City of ZION) you can safely store NEO coins on your desktop itself.
NEON wallet is a desktop wallet for NEO coin which is available  for Windows, MAC and Linux. A simple but a special feature is that it allows you to send or receive or simply store NEO cryptocurrency or GAS anytime. It's compatible with Windows, Mac, and Linux.To make it even more better, holding NEO Cryptocurrency in NEON wallet automatically generates GAS which can be claimed within seconds at any point in time and since the private keys aren't stored anywhere it is all decentralized, so you're still in charge. It is also perfect for hardware wallet newbies the installation and use the wallet is very easy and user friendly.
3. NEO GUI Wallet
The NEO GUI wallet is one of the 'official' NEO desktop wallets. It was developed by the NEO developers.  A GUI wallet, the NEO GUI wallet is developed to allow users to interact with it via a graphical user interface. However, the NEO GUI is not a 'light' wallet like NEON wallet. It is a synchronizing wallet, which means that it downloads the whole NEO blockchain onto your system.
Now, this can take up a lot of space on your hard drive, as well as taking a significant amount of time to download. Once the NEO blockchain has downloaded, NEO GUI allows users to create a new wallet with password protection, as well as providing for the ability to make a backup of the wallet by encrypting the private key.
NEO WEB Wallets
Following is the list of best NEO web wallets:-
1. NEO Tracker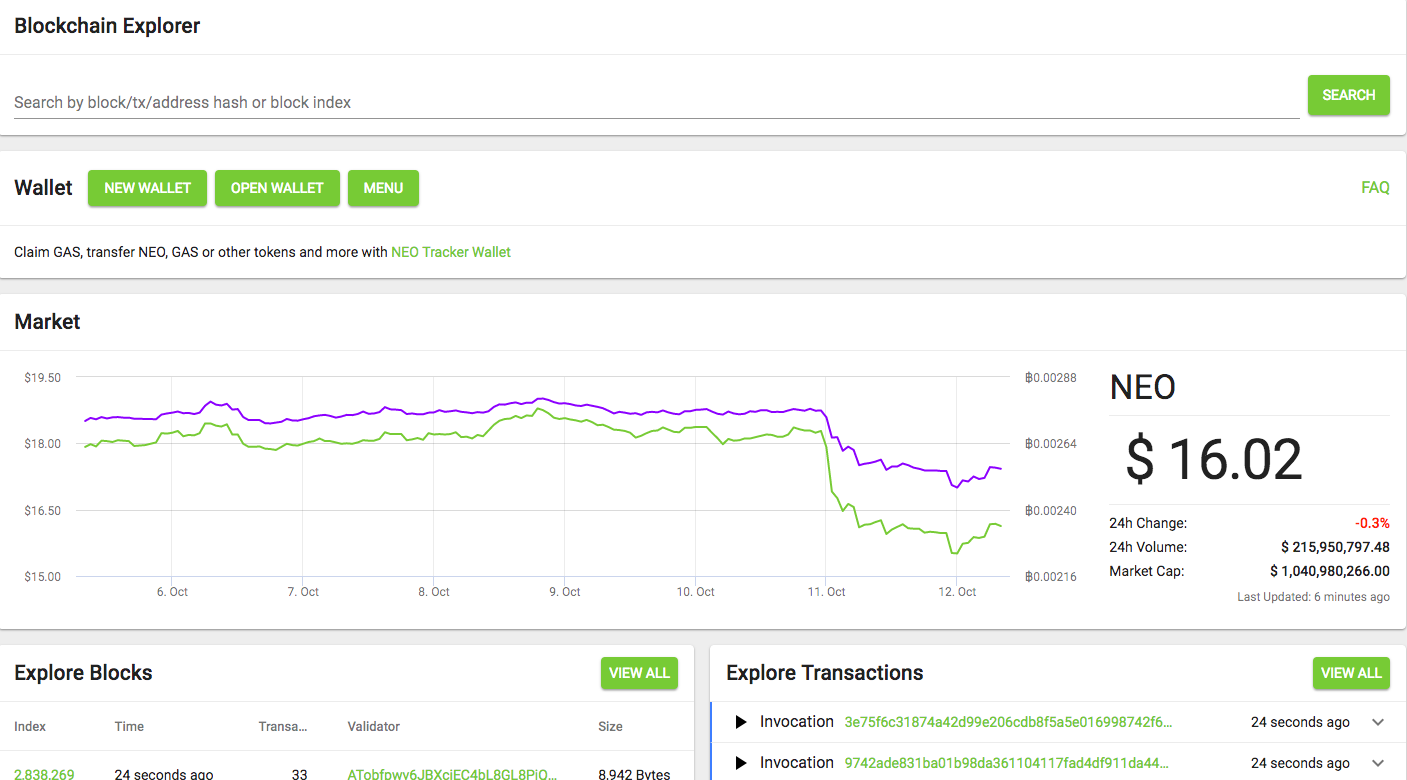 The NEO Tracker wallet is a 'light' NEO web wallet that has been developed independently from NEO and allows NEO coins holders to interact with and explore the NEO blockchain via the web.
Developed as an open-source project, the NEO Tracker officially acts as an 'offline' wallet in the sense that the data necessary to explore the blockchain is generated by the user's browser, and no information is stored on NEO Tracker's servers.
NEO Tracker wallet allows users to store, send and receive NEO COIN and GAS COIN, as well as allowing users to claim the GAS generated by holding the NEO Cryptocurrency.
In addition, the NEO Tracker wallet allows users to take their NEO cryptocurrency into cold storage by allowing for the printing of paper wallets (i.e. pieces of paper with the public key and private key printed on them).
2. NEOWallet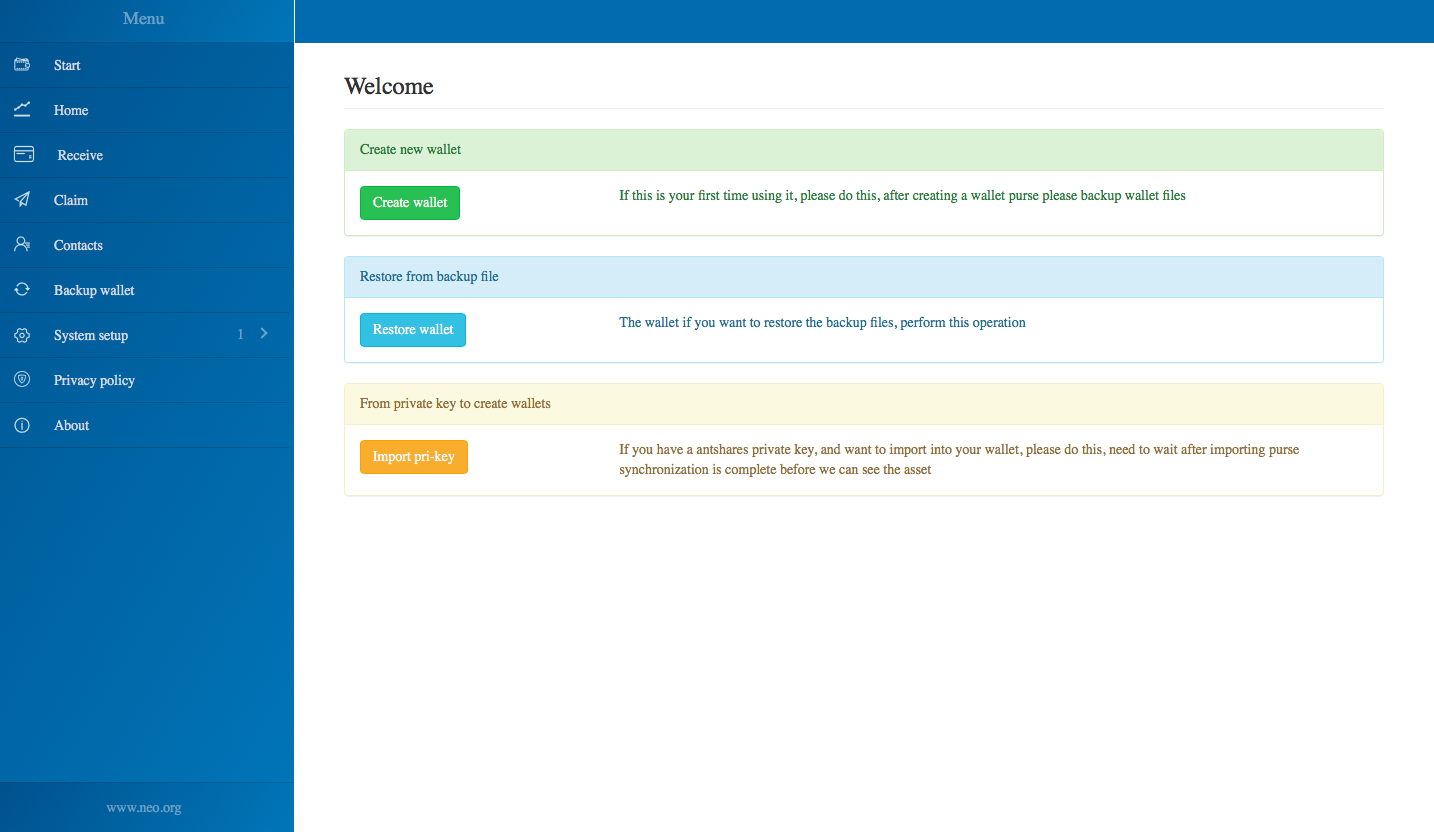 NEOWALLET is an open-source, free, 'light' NEO web wallet developed by onchain team for storing NEO cryptocurrency. This wallet is similar to NEO Tracker where you can Store, Send and Recieve your NEO & GAS. This wallet also allows you to claim your free GAS by holding NEO coin.
Though NEOWALLET is an Online Wallet, your keys are not stored on NEOWallet servers thus leaving any chance of any hack/theft. You can also backup your NEOWallet to control the private Keys.
Based on API (Application Programming Interface), the NEO Wallet allows for all messages to be encrypted before transmission.
Getting started with this wallet is really very simple. Just go to NEO Wallet and Create a New Wallet by setting up your passwords.
NEO Hardware Wallet
1. Ledger Nano S 
If you are planning to hold your NEO cryptocurrency for a longer time span, then physical hardware wallets like Ledger NANOS can be your best pick.
Ledger Nano S is a secure and safe wallet that comes with additional features like its compatibility with NEON wallet. If you use a combination of Ledger Nano S + Neon wallet, then you don't have to enter the private key or even save it on a computer. This reduces the chances of your account being hacked. The best part is that you can even store other cryptocurrencies in this wallet.
NEO Paper Wallet
1. Ansy
"https://kryptomoney.com/paper-wallet-create-paper-wallet/" target="_blank" rel="noopener">Paper wallets are simply printed pieces of paper that contain a cryptocurrency public address and private key that are accessed using a QR code.The advantage of using the Ansy paper wallet to hold NEO Cryptocurrency is that it takes the form of cold storage as the wallet is not connected to the internet.
Therefore, providing that the paper is stored securely, the Ansy paper wallet should reduce any risk of your NEO Cryptocurrency being stolen. Although the Ansy wallet is compatible with both NEO and GAS, as the tokens are taken into cold storage, the wallet does not allow for GAS coins to be generated by holding NEO Cryptocurrency.
Binance (Cryptocurrency Exchange)
"https://www.binance.com/?ref=10870173″ target="_blank" rel="nofollow noopener noreferrer">Binance is fast growing to be one of the biggest exchanges and for NEO holders it's the ideal pick. That's because unlike most exchanges Binance lets you collect your accumulated gas on every 2nd of the month by holding NEO Cryptocurrency in Binance Exchange.
Click here to create an account on Binance
The wallets reviewed above represent the best options currently available to store NEO and GAS. As the popularity of the NEO blockchain continues, it is likely that more and more options will become available, especially in the area of hardware and mobile wallets.
However, it is still recommended that you do ample research before holding your NEO coins in any of the above mentioned NEO wallets.
Other Cryptocurrency Wallets
latest crypto news and updates on KryptoMoney.com
Rohit Kukreja
Rohit Kukreja is a Commerce graduate with Financial Markets expertise involving Stocks, Forex, Futures & Options Market and now Bitcoins & Cryptocurrency Markets. Blockchain Enthusiast but not a techie, Rohit is an active member of various Blockchain & Crypto communities all over India.