It has been a turbulent week so far for the first and largest crypto asset by market cap, Bitcoin (BTC). Bitcoin saw a huge sell-off which caused the flagship asset to mark lows last seen since late July when Bitcoin broke out of its consolidation bout to trade past $11,000.

Earlier on today, Bitcoin traded briefly at $9,895 before bulls swung into action to push prices above $10,000. BTC selloff came after it tested $12,000 earlier in the week but met huge rejection. It all started on September 3rd when Bitcoin, gold, and the S&P 500 plunged in tandem causing a fear sentiment to pervade the markets as BTC traded beneath $11,000.

Two factors that likely steered the Sept 3rd Bitcoin crash are first, Bitcoin Miners' cash out within a short time. Second, a strengthening U.S. dollar index. Bitcoin continued its downward journey as it traded beneath $10,000 earlier today.

Some attributed this downward price action to a CME gap which exists around $9,700 while some attribute it to a high correlation between Bitcoin and the legacy market. The tech sector saw a 4% crash in the S&P 500 earlier today.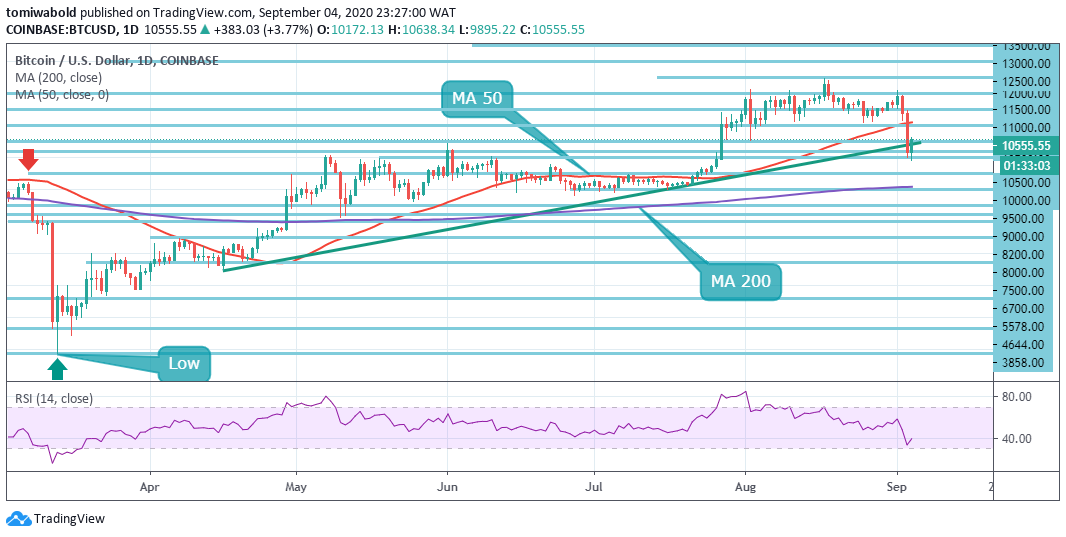 BTC/USD Daily Chart
Bitcoin is presently trading at $10,555 marking lows of $9,895 on the day.
Three Hard Facts on BTC Recent Crash
Historical Coincidence With the Great Crash of 1929: A Bitcoin commentator, Holger Zschaepitz noted that today September 4 marks 91 years to the day that markets began their rapid descent during Wall Street Crash. This he said:
"Just to put things into perspective: After the fabulous gains on the stock market in the 1920s, the crash began just on Sep 4th, 1929!".
The great crash was preceded by several months of gains in equities which was also replicated in 2020 after a renowned economist earlier described the growth in stocks to have reached a high plateau. The commentator's statement is just in time when precarious concerns are emanating on the health of gold, silver, and the US dollar index.

Bitcoin Bull, Raoul Pal Asserts BTC Price Decline Is Nothing Unusual: Bitcoin investor and asset manager, Raoul Pal recently stated in a tweet that Bitcoin's correction is on course and subsequently 'healthy'. He calls the recent dips 'buying opportunity'. This he said:
"In the post-Halving bull cycles, Bitcoin can often correct 25% (even 40% + in 2017), throwing off the short-term traders (or giving swing traders a shot at the short side),". "Each of those was a buying opportunity. DCA opportunity ahead?"
By DCA opportunity, the investor meant dollar-cost averaging investing which refers to buying a set amount of Bitcoin at regular intervals to slowly build up a portfolio.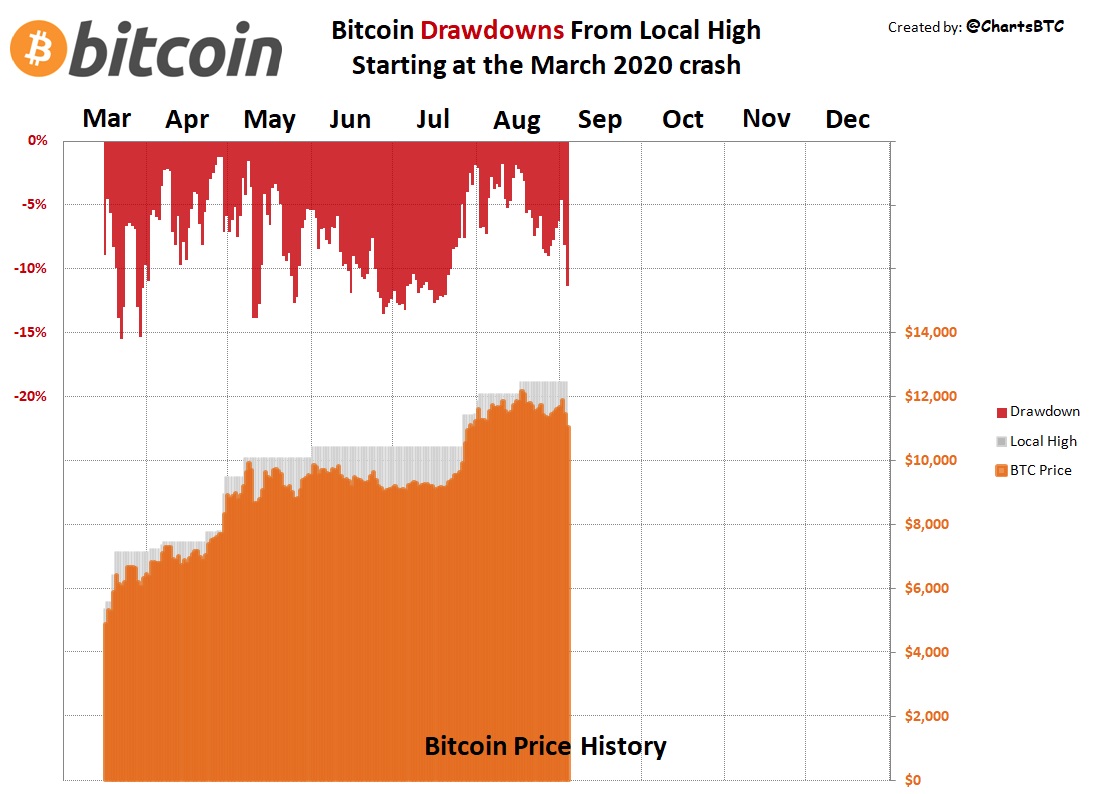 Bitcoin price drawdowns comparison. Courtesy: ChartsBTC/ Twitter
A comparison of this recent decline to recent drawdowns from local highs indicated that Bitcoin has not performed poorly in context than price indices would suggest.

Others Remain Bullish: eToro crypto-asset analyst Simon Peters stated that this recent drawdown could spur buyers who have been sitting on the sidelines to at last invest in Bitcoin. He stated that there is a silver lining in the near term considering the substantial amount of funds on the sidelines, especially in the Stablecoin market.

A Dramatic Shift in Investor Sentiment: A spiral effect of the recent BTC drawdown is a dramatic shift in investor sentiment from 'greed to fear'. According to the Crypto Fear & Greed Index, the index which was in the "greed" zone days back, dropped by more than 30 points out of 100 today to stand at 40 or "fear" for the first time since July.
Image Credit: ChartsBTC/ Twitter, Shutterstock