Over the last week, Chainlink (LINK) ranked among the first five performers in which Ethereum, Stellar, and Tezos had made it to the list of top performers. Although Bitcoin offshoots, Bitcoin Cash (BCH) and Bitcoin SV (BSV) had their halvings in the previous week, both performance, however, weren't up so much as expectations of miners' switch to the Bitcoin network seemed to undermine the cryptocurrencies.
Chainlink (LINK), 11th cryptocurrency by market cap is an Ethereum-based cryptocurrency that powers a decentralized oracle created to connect smart contracts to external data sources, has soared expectations by gaining almost 50% in its price value in the previous week, amid lockdown from the Coronavirus pandemic and a gloomy stock markets outlook.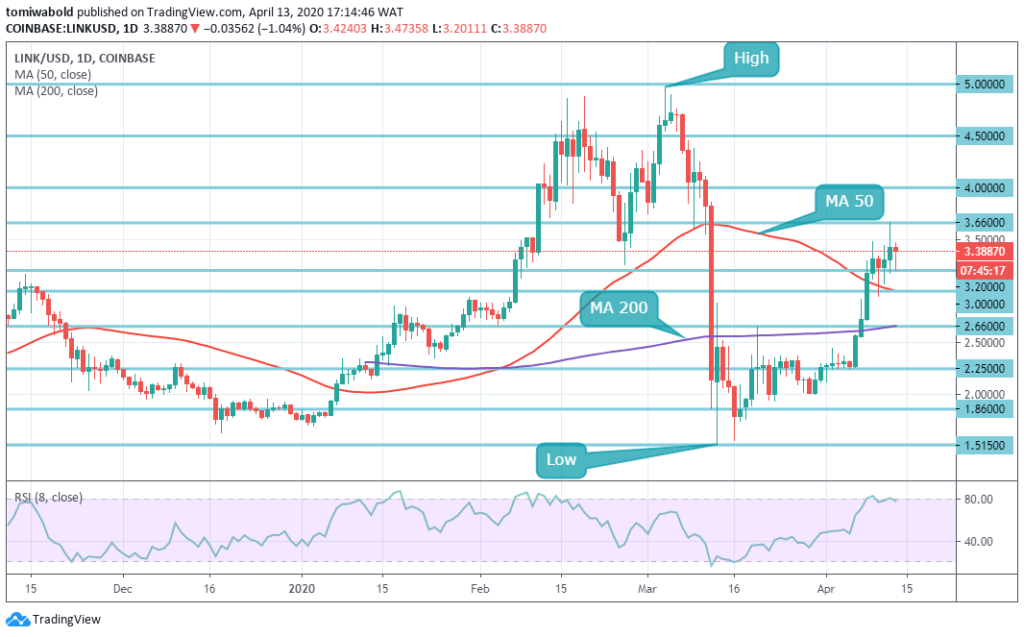 This cryptocurrency which has been dubbed the "Bitcoin challenger", had grown exponentially in the year 2019 by a whopping 500% price increase.
The overly bullish crypto gained over 35% to breach the $3.00 level, the first time since the bloodshed which was seen in the crypto market earlier in March. Chainlink rose higher to trade up from the $2.25 lows that were set earlier in the month to set new weekly highs, gaining 38.7% in the process.
At the time of this report, LINK is exchanging hands at $3.38, though slightly down by 0.7% from its daily high of $3.50, the "Bitcoin challenger" still shows a bullish tendency.
LINK and Bitcoin: A Non-Correlatable Duo
Bitcoin has been a firm guide for the rest of the cryptocurrency market, as other cryptocurrencies have posted similar price movements to Bitcoin recently. However, Chainlink is showing signs of a break away from this normal trend. As Bitcoin is trying to consolidate its gains amid the Coronavirus outbreak, LINK went to incur new parabolic uptrends.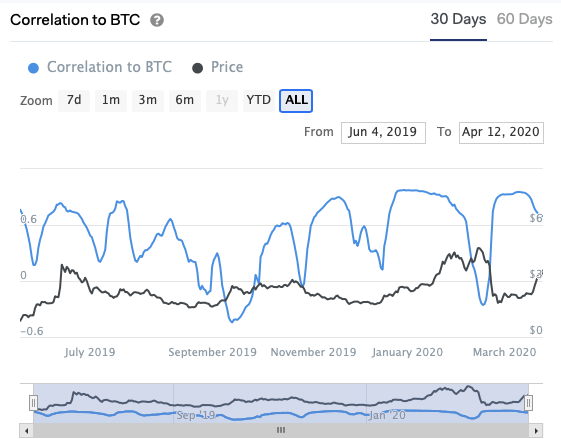 This is further substantiated by on-chain data which indicated that the decentralized oracle is starting to severe its correlation with Bitcoin, earlier in the year, the crypto had hit an all-time high of $4.88 in its USD pairing while setting fresh ATH in its Bitcoin pairing.
From IntoTheBlock metrics, in the last couple of weeks, LINK's correlation with BTC has been on the decline, coming off at a time of being remarkably high. However, historical data have indicated that a decoupling happens just before fresh rally kickstarts.
An Impending Bull Run
LINK bulls may be poised for a run as Chainlink is manifesting signs of a gradual decoupling from Bitcoin which historical data has indicated to be a highly bullish signal.
This breakaway is becoming more obvious as LINK starts to outshine Bitcoin. Analysts have matched a sharp decline in the crypto's correlation to BTC to parabolic uptrends.
If this connection continues to severe, Chainlink will likely record a bullish continuation regardless of BTC, with a potential rally imminent.
Image Credit: IntoTheBlock, Shutterstock