From the lie of the land, the first and largest cryptocurrency, Bitcoin (BTC) recent price action has been impressive. From lows of $11,200, Bitcoin cracked various resistance levels to achieve the much-coveted $13,000 level. Furthermore, on October 31st which marked the 12th anniversary of the asset's Whitepaper, BTC surged past $14,000 but the rally was however shortlived. On a 7-day basis, Bitcoin is up by 6.16%.

The same cannot be said for Alternative cryptocurrencies otherwise referred to as Altcoins which were dealt with striking blows during the week. On a 7-day basis, Ethereum (ETH) is down by 4.34% as the second-largest crypto-asset struggles to reclaim $400 as support. Ripple (XRP), Chainlink (LINK), and Binance Coin (BNB) are down by 5.32%, 7.47%, and 6.49% respectively.

Analysts and traders who have been paying keen attention to this present bull cycle noted that a historical trend may be set to replay itself based on Bitcoin and Altcoins price action.

BTC/USD Daily Chart
Bitcoin is trading presently at $13,828. Since September 13 when BTC dominance marked lows of 56%, the index has not remained likewise surging by nearly 7.4% in the last two months. The Bitcoin dominance index is presently at 63.6%.
Bitcoin (BTC) vs ETH, XRP, LINK, BNB
The year has been quite remarkable for the majority of Altcoins as seen in their year-to-date (YTD) returns even surpassing that of Bitcoin. A recent report highlighted YTD returns of Cardano (ADA) as 224%, Ether (ETH) 217%, Monero (XMR) 182%, Binance (BNB) 123% while Bitcoin's YTD stands at 83%. Chainlink has outperformed every other cryptocurrency with year-to-date returns of over 600%.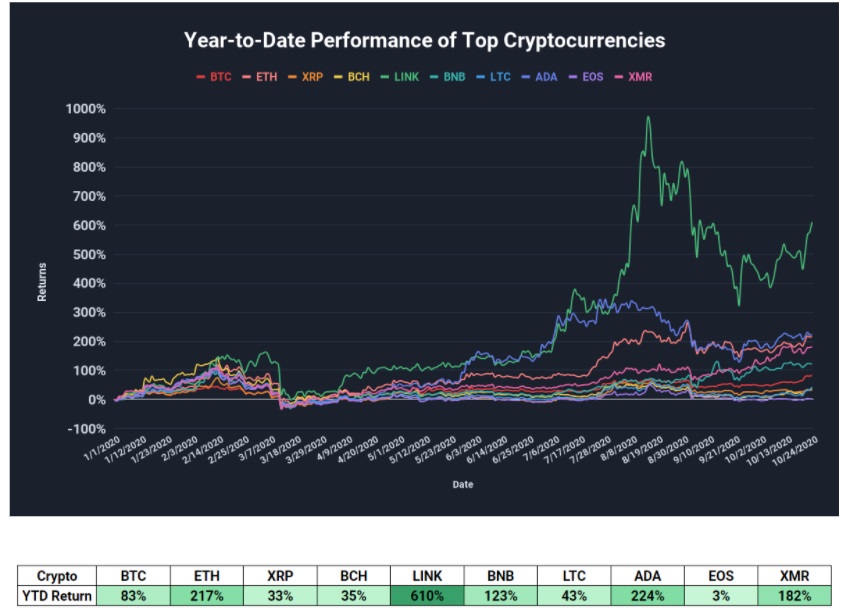 Major cryptocurrency 2020 returns comparison. Courtesy: The TIE
However on a comparison basis with all-time highs indicate that Bitcoin remains the cryptocurrency down the least versus its historic all-time highs, which is around 36% against its 2017 ATH of $20,000 peak. Chainlink (LINK) is down 41%, ETH 73%, and Cardano (ADA) slid by 92%.
The worst performers out of the major cryptocurrencies, especially the top ten are Ripple (XRP) and Bitcoin Cash (BCH) which are both down by 94% from their all-time highs. Among the major cryptocurrencies, Binance Coin, Bitcoin, and Chainlink are closest to their all-time high prices.
This Historical Trend Is Set to Replay in This Present Bull Cycle
Analysts and traders have noticed a trend that usually plays out in most bull cycles which is also corroborated historically – during bull cycles, Bitcoin was always the first to experience a rapid uptrend. Then, Altcoins followed suit mostly after BTC reaches new highs or ATH as the case may be.

Traders believe there are likely chances this historical trend replays out in this present price cycle, not expecting an Altcoin recovery until 2021 when BTC may have settled and rounded off its rally. At present, the Bitcoin market dominance of 63.6% is gulping the volume of Altcoins.

Recently, researchers at on-chain analytics firm Santiment noted the growth in volume and dominance of Bitcoin as Chainlink (LINK), Ether (ETH) and Binance Coin (BNB) tried to match up. This was stated:
"The dominance involving #Bitcoin is continuing to display itself, particularly via trading volume. When comparing other top blockchains in the past day, note the decline in $ETH, $XRP, $LINK, and $BNB trading volume, while BTC's levels stayed high."
Image Credit: The TIE, Shutterstock