Generally speaking, Bitcoin, the largest cryptocurrency by market cap could be said to have had a positive week so far. After diving to lows of $8,600, Bitcoin (BTC) had a strong rebound in the last few days pushing it past the $9,500 key handle, setting an 8-day high in the process.
Despite Wall Street giant Goldman Sachs's critical outlook on Bitcoin recently, Bitcoin bulls remained defiant as they pushed further to highs of $9,625. Bitcoin has been consolidating within the sub $9,000 levels in the last few days, not posting any decisive trend after it met resistance at $9,700 key level.
The top asset, Bitcoin (BTC) had embarked on an impressive rally since April surging from the $3,800 lows it hit during the March 12th market carnage. Since then, Bitcoin (BTC) has gained over 150% implying that Bitcoin (BTC) has outperformed generally than any other multi-billion dollar asset in the time frame mentioned.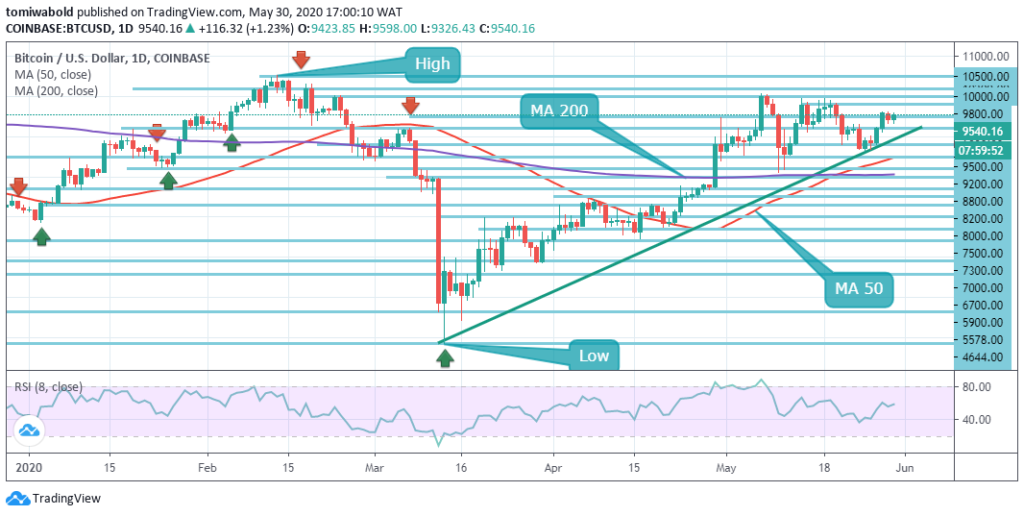 BTC/USD Daily Chart
However, Bitcoin (BTC) setting new highs hasn't been enough reason for many to think Bitcoin has entered a bull market. A pseudonymous analyst and S2F creator "PlanB", recently stated that Bitcoin is not yet in bull market territory citing its weekly relative strength index.
Bitcoin's present rejection at $9,700 seemed to depict the weakness of buyers, as they have been unable to staunchly break the $10,000 resistance this year. Selling pressure caused by Miner's outflow dragged Bitcoin Price to as low as $8,100. Despite this, Bitcoin (BTC) is showing signs of fundamental strength as seen in the fact that over 60% of the Bitcoin supply has not been moved in over a year, indicating that investors are taking a long-term approach to their BTC holdings.

Image Courtesy of Glassnode
The previous week also saw Altcoins like Ethereum (ETH), Cardano (ADA) starting to deviate from Bitcoin's price action as it had been a firm guide for the rest of the cryptomarket.
At the moment, Bitcoin (BTC) is trading at $9,540, even though Bitcoin seems caught in a consolidation stint, finance analyst, Preston Pysh sees Bitcoin bull case bolstered in June.
These Factors May Bolster Bitcoin's Bull Case
Miners Adjust to Post Halving Operations: Despite the impact of Bitcoin halving in which mining reward was halved from 12.5 BTC to 6.25 BTC on Miner's outflow, the analyst noted that Bitcoin Miners remained strong, even after their revenues dropped. The finance analyst noted that Bitcoin returning to $9,500 implied that Miners have begun to stabilize in their operations after the halving event. With this, he sees that the chances of Bitcoin having a huge market crash after halving being lessened significantly.
The Rate of BTC Accumulation by Grayscale Clients Surged: An analyst recently noted that Grayscale Investments has accumulated 18,910 BTC while miners have mined 12,337 BTC since the halving. Grayscale clients which are major institutions may depict wall street ingress into the crypto sphere.
Pysh thinks the Bitcoin bull case may be bolstered by this scenario as a demand surge meets decreased supply due to the halving event.
Chinese Yuan Sees a Drop as US-China Trade Escalation Looms: Recently the new security law that was proposed and passed by Beijing officials on Hong kong widened the impasse between the US and China.
Pysh believes that this geopolitical event will cause a demand surge for Bitcoin, with demand from Chinese investors seeking to hedge their funds in the current impasse. Chris Burniske noted that if Chinese yuan continues to drop against the US dollar, then history could repeat itself as seen in 2015 and 2016 where Bitcoin strength rode on yuan weakness.
A Weakening Fiat Currency System Amid the Coronavirus Fiasco: The analyst noted that the fiat currency system hinged on the global economy is potentially getting ready to crash as most countries may enter a recession, this will be the perfect opportunity for Bitcoin to act as a hedge against inflation created due to harsh economic effects of COVID-19. Bitcoin is seen as deflationary as its supply is capped.
Image Credit: Glassnode, Shutterstock