The first and largest cryptocurrency by market cap, Bitcoin (BTC) extended its upside rally today. The flagship asset in two straight days of bullish action surged past the multiyear resistance above $17,000 to set new yearly highs of $17,880. This is noted to be the first time since December 2017, BTC traded at this key level.

After dipping to lows of $15,708 on November 16, Bitcoin regaining its stability above $16,000 was noted to be a key for this latest rally. $16,000 was regarded to be a heavy resistance level, therefore there was a strong narrative from some analysts for Bitcoin to see a short-term pullback.

Other traders who recognize that Bitcoin would otherwise have seen a pullback at around $16,000 say market dynamics might have changed. A full-time derivatives trader "John Wick" wrote:
"This $BTC move is showing a spectacular continuation of strength. When an asset doesn't fail at a logical place it means the dynamics have changed."
Other factors that may have also contributed to this recent rally are BTC forming a new parabolic trend and Bitcoin absorbing whales' selling pressure.

BTC/USD Daily Chart
Bitcoin is presently trading at $17,661 up by nearly 6% since the day's start. Analysts have a mixed outlook on where the crypto asset trends next. Some say that BTC is primed for a pullback as whale deposits begin increasing. Others believe there is little resistance until $20,000 and that an all-time high is likely before the next deep correction.
Here Is What Analysts Are Saying
On Bitcoin forming a new parabolic trend, it was noted that BTC dipped below a parabola dating back to September. It was consequently stated that new parabolic trends could reemerge in a bull cycle.

Bitstamp cryptocurrency exchange described BTC surpassing $17,000 as a "stratosphere." It said:
"STRATOSPHERE: #Bitcoin passed $17k, placing us just 15.7% from a new ATH! The highest $BTC price at Bitstamp was 19666 on 17 December 2017."
Some analysts, industry executives, and long-time Bitcoin investors foresee a broader rally. Josh Rager, an analyst stated this;
"Bitcoin is shredding each resistance on the daily and high time frames With a close over $17,150, the next major daily/weekly resistance would be at $18,953 to $19,187."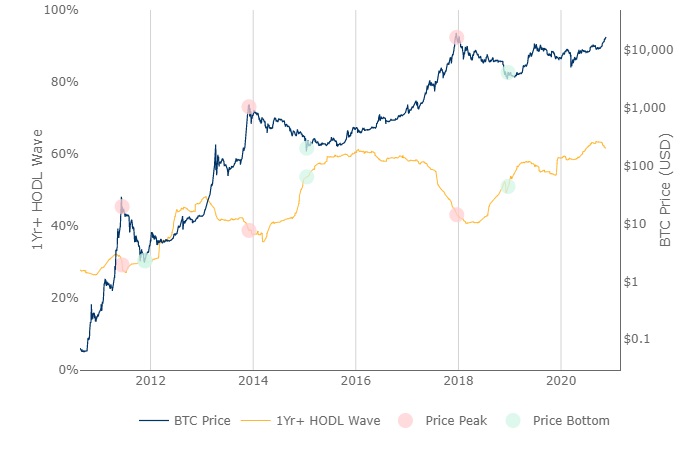 The One-Year Bitcoin HODL Wave. Courtesy: lookintobitcoin.com
Philip Swift, creator of Lookintobitcoin.com believes BTC's next target is $22,000 based on its fundamental and technical outlook. Alex Saunders, the CEO/co-founder of Nugget News AU, said that the Bitcoin market is about to see the greatest parabolic advance ever.

Bitcoin's momentum since October has been impressive based on this- Veteran trader Peter Brandt noted that during past bull cycles, BTC had up to nine corrections. But in this recent rally, BTC has recorded just two 10% corrections. Also, Bitcoin has steadily recovered from levels where corrections were expected, such as when it hit lows of $15,708 on November 16.

Atop the bullish technical structure of Bitcoin, the significant surge in daily volume in the crypto market supports BTC bull's case. Binance CEO Changpeng Zhao stated today that the exchange saw an all-time high system load, which indicates that the demand for cryptocurrency trading is surging.
Fund Flow Ratio of All Exchanges. Courtesy: cryptoquant.com
However, calls for a pullback are on the rise as BTC market sentiment heats up. Ki-Young Ju, CryptoQuant CEO, said that the Exchange Whale Ratio suggests whale deposits into exchanges are increasing. This could mount selling pressure on BTC in the near term. Traders also state that the recent highs of BTC near $20,000 may be front-run, leading to a correction before the level is hit.

However, the combination of Bitcoin's resilience, a new parabolic trend, and BTC absorbing whale selling pressure makes the BTC optimistic in the medium term.
Image Credit: Cryptoquant, lookintobitcoin.com, Shutterstock