In the last few days, top crypto-asset by market capitalization had been stuck in a consolidation stint as the bulls failed to reclaim the $6,900 territory. The bears later swung into action after the top asset held steady its position at $6,700 for 3 days, pushing down its price below its key support to its recent levels.
The activity of the bears extended as the king coin failed to reclaim the $6,700 level, trading down by 10% at $6,087 at the time of this report.
However, the bulls stepped up and guarded the $6,100 territory against further decline.
BTC's sharp decline by 10% from its daily high may seem bearish as a concurrent drop was recorded likewise in BTC dominance as stats from CoinMarketCap indicate a plunge from 66% to 64.9% in the last 3 days.
BTC Chart Stays Bullish Amid Sell-Off, $5,900 Key Level Suggests Bullishness
BTC near term structure may seem to have been tampered with by the sell-off, as traders, however, remain positive about the key asset movement. Analysts have noted that the stats indicating the magnitude of buy orders at the $5,900 level which is beneath BTC's recent price of $6,087 level seemed to be a bullish signal.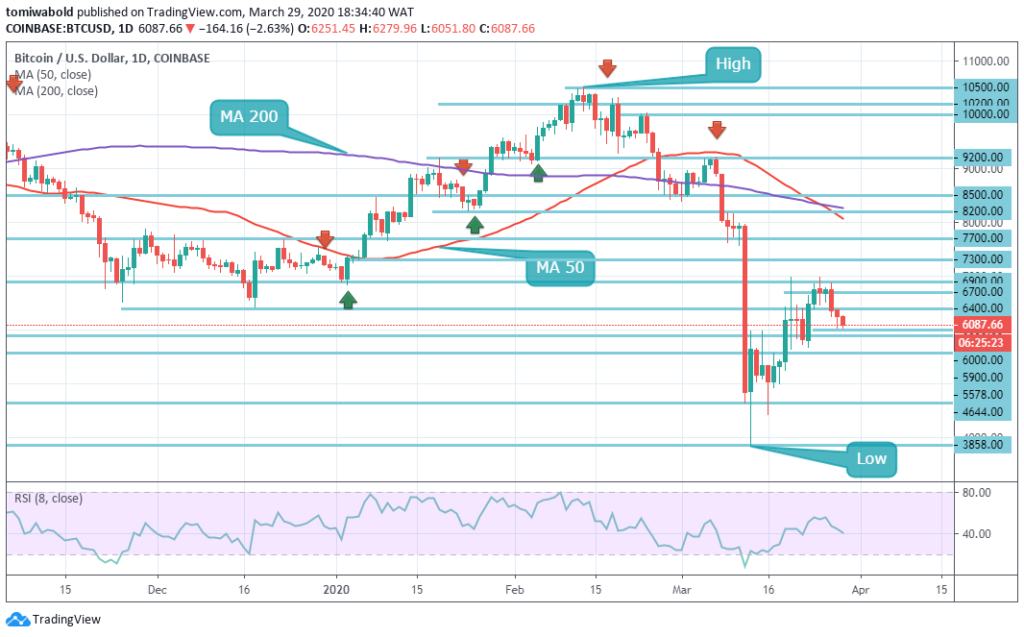 Bitcoin's recent plunge seems to be relatively tempered, and analysts now hold the opinion that the $5,900 support level could necessitate a rally.
A renowned trader who goes incognito as Flood tweeted that traders should go long at $5,900 level for "infinite money," a signal indicating that he expects the top crypto asset to see a strong reaction to this key support level.
He further substantiated this by reiterating the immense magnitude of buy orders placed at this level.
Another popular trader on twitter also noted the buy orders around BTC's recent price levels glaringly outweigh sell orders, indicating that the buys outweigh the selling by 30-50% at +/-4%, indicating a comeback may be impending.
As it stands, the gap between the number of buyers and sellers remain visible, suggesting that the recent sell-off was uncalled-for and that it may be followed by a rebound in the near term.
Dan Morehead and Joey Krug of Pantera Capital in a recent Pantera Blockchain Letter titled "Crypto In This Crisis" noted that BTC will "probably out-perform other tokens for a while," holding the opinion that the crypto market will start to re-centralize around BTC.
Morehead had previously stated that the unorthodox monetary and fiscal response to the crisis will be significantly bullish for BTC.
Nevertheless, amid the ongoing global turmoil, an interesting fact that came to light was that Bitcoin was less volatile in March than the S&P 500 stock despite the major sell-off it had on the March 13th market carnage and its subsequent rebound.
Image Credit: Shutterstock