What is Siacoin?
Sia, short for Siacoin provides a decentralized cloud storage service which is in direct competetion with centralized cloud storage providers such as DropBox, Amazon, Apple, and Microsoft.  Using Sia, anyone can let out it's hard-disk space and earn Siacoins in return. In simple terms, Sia allows anyone to rent out their free and idle storage space and in return earn rewards them in Siacoins
Siacoin found a niche worth billion dollars. Cloud storage is a big business, estimated at $178 billion as of late 2017. Amazon, Dropbox, Microsoft, and Google compete with other heavy hitters to convince users to store data on their cloud servers.
Sia is a platform for decentralized cloud storage. By allowing the formation of storage contracts with peers, Sia allows its users to store data across a wide network of participants in a secure, private, and reliable manner. Centralized storage services are prone to single points of failure, hacks and also the misuse of unencrypted data for higher business profits. (Remember, how often, pics of celebrities all over the world get's leaked from Apples cloud storage. Decentralised cloud storage can be a perfect solution to it)
The idea of Siacoin project was conceived back in 2013 at HackMIT, which is a hackathon hosted at the Massachusetts Institute of Technology. At present,cloud storage services are mostly centralized and the data is stored on a third party server. Siacoin aims to disrupt this  market with it's decentralized cloud storage platform.
Siacoin is popularly referred to as "Airbnb of hard drives".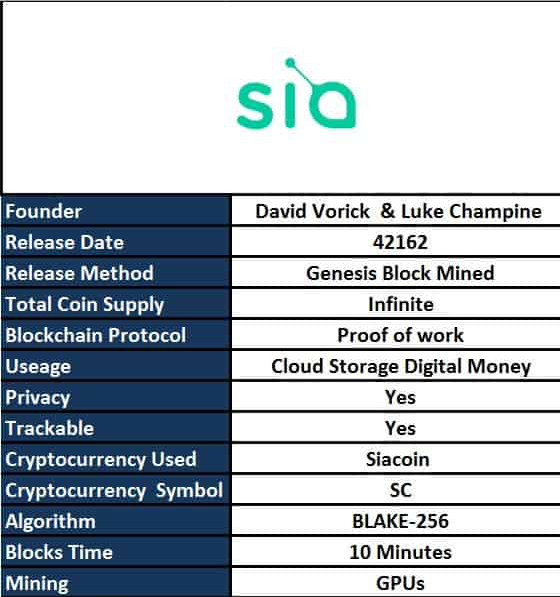 History of Siacoin
As mentioned above, the idea for Sia originated in the summer of 2013, when the present CEO of Siacoin, David Vorick began emailing fellow Rensselaer Polytechnic Institute student Luke Champine his ideas about the project. At the HackMIT hackathon the following September, Vorick drafted an initial whitepaper for the Siacoin project and began sharing it with the community and his friends.
The Siacoin project received a lot of appraisal and positive feedback. Thus, Vorick and Champine decided to pursue the Siacoin project full time.Sia was able to raise money through a crowdfunding campaign where "Sianotes" were sold on the NXT platform, and then later exchanged for Siacoins.
Since the crowdfunding, Sia has successfully raised $1.65 million through venture capitalist funding and grants. The venture capitalists includes:
Working of Sia's Decentralised Cloud Storage Ecosystem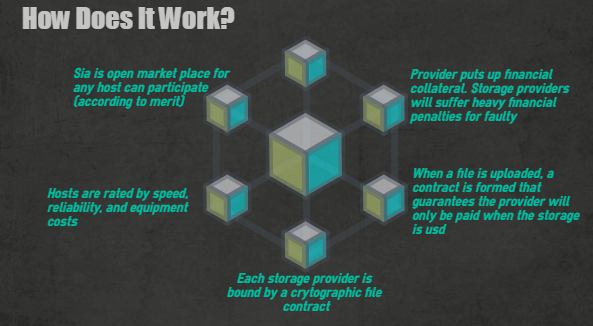 Sia's platform consists of both providers (hosts) and clients (users). Through the Sia platform, users can rent out the storage space from hosts, and the hosts are compensated for their services in return of Siacoins. Storage Contracts define the conditions under which a storage provider keeps user data, and requires the storage provider to periodically submit proof of storage to reassure the client that their data is in safe hands. These contracts are stored on the blockchain such that they are publicly auditable.
The storage providing service will be truly decentralized and flexible. In Sia's ecosystem, storage providers can:
Set their own prices for providing storage,
Advertise their level of reliability,
Can allow or deny a client asking them for storage at their own will.
Apart from the above advantages that the storage provider has in Sia's decentralized cloud storage ecosystem, it also offers various advantages to clients who requires the storage facility from the storage providers. These are:
Clients have the options to split copies of their data betweenmultiple providers to ensure file security and retrievability.
Clients can also reward the providers with incentives other than storage fees. These kind of payments will lure the providers to be more attentive to the client needs including faster document uploads, enhanced upkeep to process requests, etc.
Process of Initiation
A storage provider and the client can initiate the business by agreeing to draft a file contract which defines the terms of a storage agreement and ensure that both parties conduct their business accordingly This contract is stored on the Sia' blockchain and hence it is verifiable and immutable once it has been submitted to the network. The contract defines the duration of an agreement, how often a provider must submit proof of storage outputs to the network, and an agreed upon payout.
The terms and conditions in the file contract are decided by both the parties at their will when they reach a consensus.
When someone creates a contract as a client, he/she deposits some Siacoin into the contract for future payments. Whenever the client upload a document for storage, some of the Siacoins from the balance get's transferred to the storage provider. If some of the Siacoin balance is still unused, it is returned back to the client's wallet.
Sia's Proof Of Storage
Sia implements proof of storage to protect clients from fraudulent or malicious providers.  In order to receive payment, a provider must present a certain number of proofs to the network within time frames specified by the terms of the file contract. When the provider successfully provides proof of storage, the contract awards payment to a valid proof address. A series of spend conditions must be met before a provider can access these coins, including network signatures and time locks.
However, in case of failure in providing the proof of storage, the payment is Siacoin is transferred to a "Missed Proof Address" until the proof of storage is submitted. In case of continuous failures, the contract get's terminated
How to get started with Sia?
It's really easy to start with Sia's decentralized cloud storage platform Just visit the their website and downloading the wallet software. Once the software is up and running you will be instructed to create a wallet. Once the wallet is created, you can simply purchase storage space with Siacoins and start uploading files to host on the network.
Incase you want to rent out your idle hard-disk space to clients on Sia's platform, just select the storage folder in which you would like the files to get stored and click the announce button to let the peers know you area available for file hosting.
Advantages of Sia Cloud Storage Platform|Why Siacoin?
Sia's decentralized cloud storage platform offers a number of advantages compared to the other traditional and centralized cloud storage services such as :-
Affordable
Siacoin provides a cheaper cloud storage options as compared to other traditional and centralized cloud storage services. For example, 1TB of data storage using Sia can cost as little as $2 a month, compared to Amazon's services which run at $23 a month.
Private
In case of traditional and centralized cloud storage services, the host has full access to the date stored on their servers. But in case of Sia's decentralized cloud storage, all the data is encrypted. The data can be accessed only with a private key, making the owner of private key, in complete ownership of the data stored on Sia's platform.
Secured and Highly Redundant
Apart from encrypting the data, the decentralized cloud storage platform of Sia also offers the clients in splitting the documents and uploading it between multiple providers.Sia stores tiny pieces of files on dozens of nodes across the globe.This eliminates any single point of failure and ensures highest possible uptime, on par with other cloud storage providers.
More About Siacoin
Sia leverages blockchain technology as a transaction layer for its network, allowing hosting to be purchased and sold in a secure and trustful way. Cryptographically secure smart contracts ensure the encryption and transfer of data, leaving no room for a third party to interfere in any way.
Sia was launched into the market back on 7 June 2015, and it started trading at $0.000046 per Siacoin. At the time of publishing this article, Siacoin price was worth $ 0.016667 per unit. Siacoin price reached it's all time high at $0.09 in January 2018.
Supply of Siacoins
Siacoin has a unique supply mechanism. There will be an infinite number of Siacoins. Siacoin developers initially mined the first 100 blocks. The reward for the first block was 300,000 Siacoins. After the first block, the Siacoin reward will exponentially decrease by one unit for subsequent blocks.
It means that the:
1stblock had 300,00 Siacoins.
2ndblock had 299,999 Siacoins.
3rdblock had 299,998 Siacoins.
4thblock had 299,997 Siacoins.
The above process continues until the block rewards are reduced to 30,000 Siacoins.After that, for every block mined, 30,000 Siacoins will enter the system.
A new block in Sia's blockchain generates in 10 Minutes.
Competition of Sia Coin
Sia or Siacoin is not the only player in the decentralized cloud storage space. There are other blockchain technology based players as well such as:
Filecoin,
Storj,
MaidSAFE
Siacoin Team
Sia began in September 2013 as a project by David Vorick (CEO) and Luke Champine (Co-founder) when they were both undergraduate computer science students at Rensselaer Polytechnic Institute in Troy, New York. The original Sia project was conceived at HackMIT 2013.
Johnathan Howell (Sia Core developer): He started programming around age 10. He has an M.A. from Savannah College of Art and Design. He is working on the front-end of Sia to deliver a clean, well-built, and easy to use UX around the core functionality
Zach Herbert (Head of Operations): He excels at project and product management. He is studying for an MBA at Harvard Business School and graduated from Boston University where he studied mechanical engineering. He started working with the Sia team in January 2017.
Siacoin Roadmap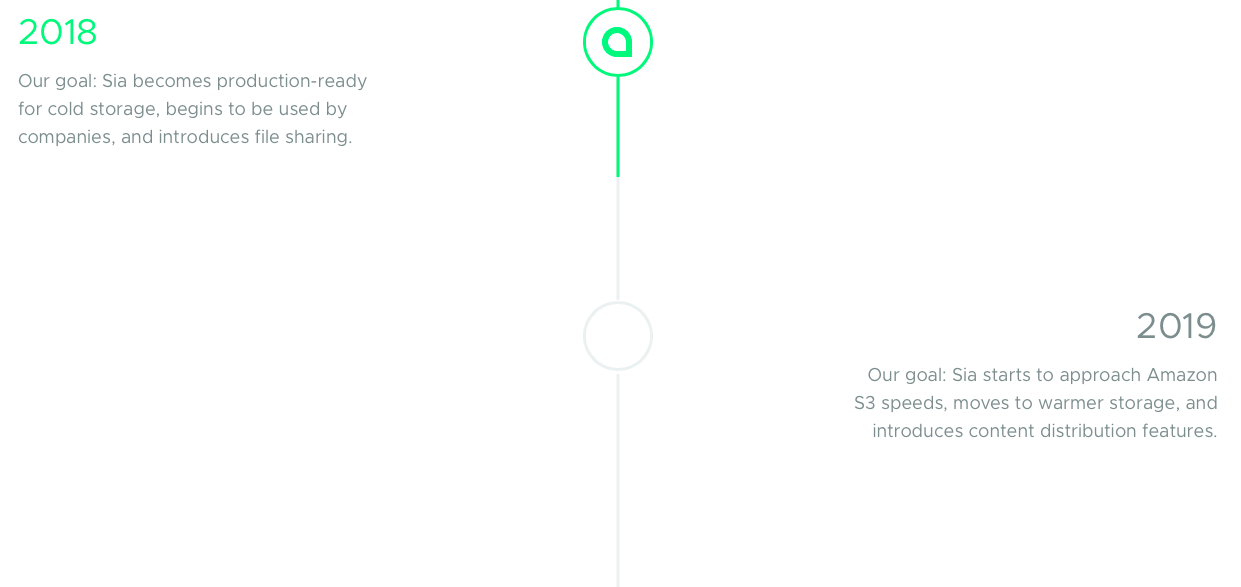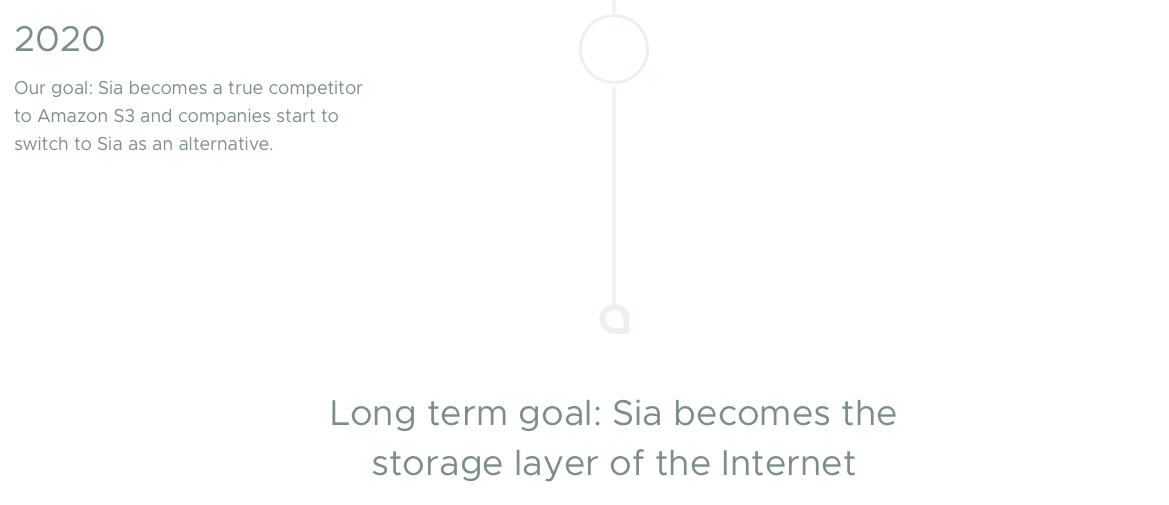 From Where To Buy Siacoin? | How To Buy Siacoin? | Siacoin Exchanges
Siacoin is listed and can be purchased form the following list of cryptocurrency exchanges:
Bittrex,
Upbit,
Fex,
Qbtc,
Poloniex,
HitBTC,
Lbank,
Abucoins,
Bisq
How to Buy Siacoin in India?
Siacoin can be purchased in India from the following Indian Cryptocurrency exchange in exchange of INR:
Future of Siacoin
While Sia isn't being mass adopted yet, it's not exactly a ghost town. And it's not the only project Siatech is working on.
Siacoin founder David Vorrick also has an ASIC manufacturing company called Obelisk, a competitor to ASIC-mining giant Bitmain. When Monero pushed back against Bitmain's ASIC mining rigs, Siacoin welcomed them, so long as they didn't compromise the Sia network and values.
It is estimated that the cloud storage market could be worth $74 billion by 2021. This means that if Sia could go some way to capturing a part of this market from the established companies such as Google, Microsoft, and Dropbox, then it could prove to be a very lucrative investment.
Like many in the crypto industry, Sia is focused on decentralization, and mining rigs specially built for a blockchain's algorithms can quickly monopolize an entire cryptocurrency.
Sia's unique p2p storage model could disrupt the cloud industry just like the transportation industry was disrupted by ride-sharing platforms like Uber. The major hurdle, however, is convincing people to adopt not only cloud storage, but blockchain technology.
Additional Siacoin Resources
Conclusion
With as little as almost no efforts in marketing, the Siacoin team has received a lot of attention in the past year, and for good reason. The team has been spending their time building a solid project from the ground up and hence the results speak for themselves. Siacoin is in direct competition with one of the world's biggest giant i,e Google and Apple and the strong Sia platform is in a good position to give these tech giants a run for their money.
Global markets for cloud storage is expected to increase from US$ 24 Billion in 2016 to around US$ 75 Billion by 2021 (as per markets and markets). Considering these figures and the time period where storing data in centralized places, it appears that Sia has come around at the right time to capitalize on this fast-growing market.Thus, Sia is definitely a project worth keeping your eye on both for technical and financial reasons.
Also Read:
KryptoMoney.com publishes latest news and updates about Bitcoin, Blockchain Technology, Cryptocurrencies and upcoming ICO's.