Top crypto asset, Bitcoin performed remarkably well in the previous week, being listed among the top gainers as it went ahead in a massive stunt to rally beyond the $9,000 crucial level climbing past the $9,200 level, gaining 25% more since the week's start. The flagship asset rose from the doldrums of $7,000 mid-level it was before to stand at its current price of $8,878.82.
Bitcoin Price, however, stays consolidated at $8,800, while key support remains around $8,500 and resistance at the $9,200 crucial level holds steady.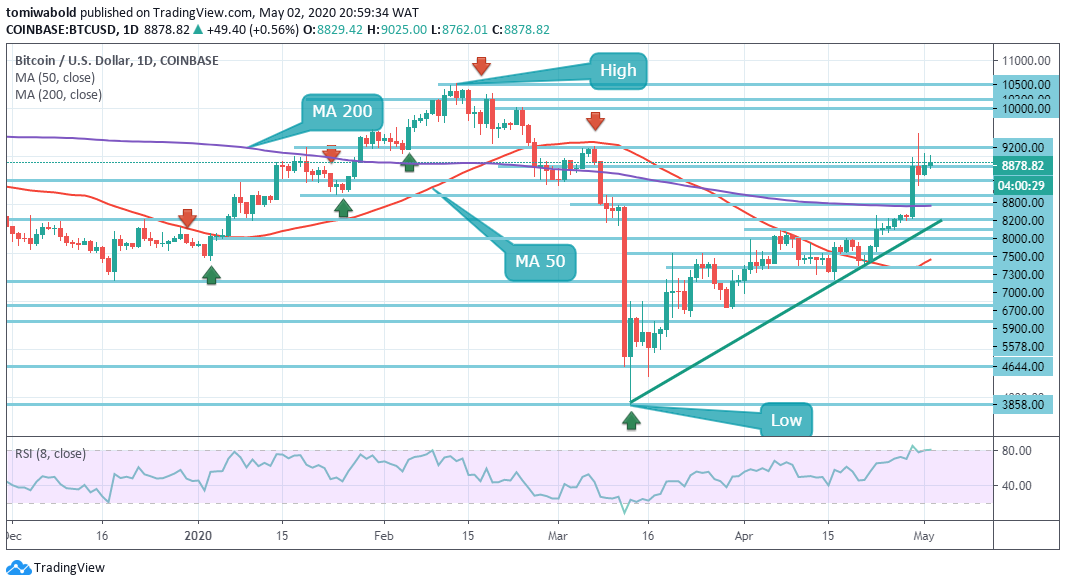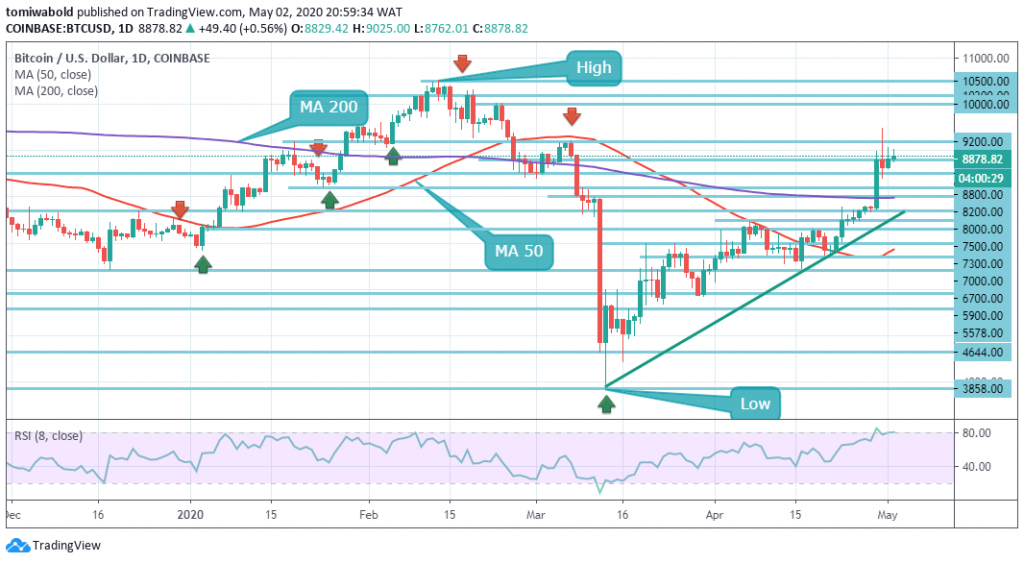 BTC/USD Daily Chart
Analysts Have Noted Four Key Facts Surrounding Bitcoin's Latest Stunt to Hit $9,000
1. US Equities Fell As Imminent 2nd Trade War Between the US and China looms
While Bitcoin gained more 20% to trade at the $9,000 mark, the S&P 500 futures dropped by 60 points marking a 2.26% decline despite amazon's positive earning report.
Recent concerns have been sparked about trade escalations between the two economies following the US indicting China of its role in the coronavirus incidence. Jerome Powell, Fed Reserve Chairman stated that the U.S. economy is presently in its worst trench in history as a result of the COVID-19 pandemic.
2. This Recent Rally Marks One of Its Strongest Moves Since 2013
In June 2019, Bitcoin had a massive rally which took it past $13,000, however, analysts think that this recent rally which took Bitcoin price from lows of $6,100 to as high as $9,400 was a more powerful stunt from Bitcoin bulls, the last it recorded such was in 2013 when BTC rose from barely $100.
3. BitMEX Open Interest Hit Historical Lows While Overall Sentiment Around Bitcoin Stays Bullish
Recent stats from Arcane research indicate that BitMEX Open Interest fell by 68% hitting historical lows. During the March market carnage, the BitMEX trading platform was sorely affected as it had to be taken offline before its prices started to rebound.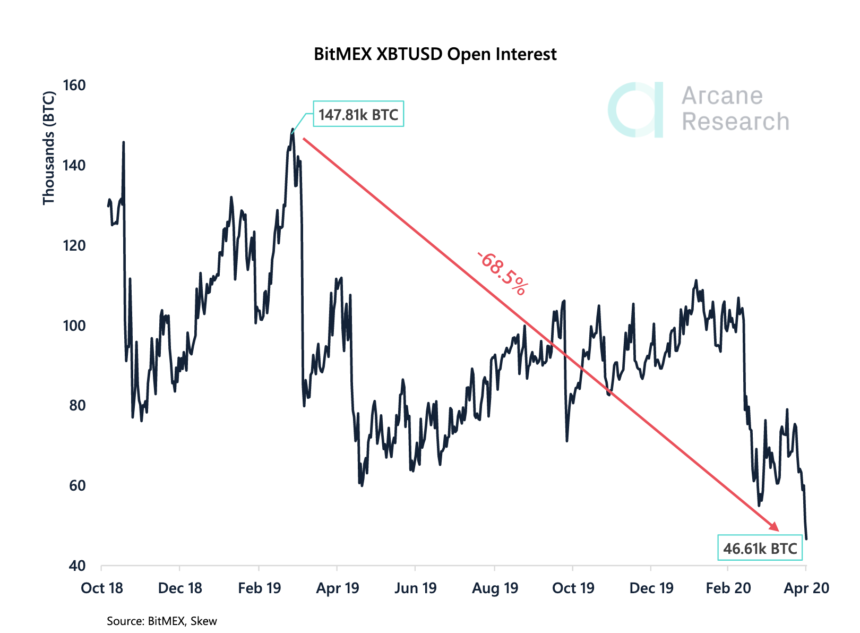 The impact on BitMEX was so visible at this point, that it left off a bad impression and quickly it became deserted while investors resorted to cold storage.
On the other hand, Kelvin Koh, a finance analyst noted that the COVID-19 pandemic is overall bullish for Bitcoin and other crypto-assets coupled with Central banks' liquidity pumps and halving reward ahead of BTC.
4. The Glitz About Bitcoin Spikes Ahead of Halving Event
On-chain analytics, Glassnode, and Coin Metrics noted that the number of Bitcoin and Altcoins users is on the increase while the CSO of Bitcoin development company Blockstream observed that the Chinese word for "BTC" spiked in popularity on Weibo. This comes subsequently after the Chinese word for "Bitcoin halving" had gained immense popularity a week ahead while the number of search queries related to halving rose exponentially.
Elon Musk, CEO of Tesla created a buzz in the crypto space with his May 1st tweet when he jokingly said ''Tesla stock price is too high IMO'' and in response to his tweet, @bitcoin account, a Twitter user said: "Bitcoin price is too low IMO".
Image Credit: BitMEX, Skew, Shutterstock